The mission of the RV Martin Sheen is to stop the destruction of marine ecosystems, to seek out and stand up for marine life and to boldly take a stand for the world's oceans when few else will.
The prefix of the ship — an 80-foot ocean blue ketch — stands for research vessel and is one in a nine-ship fleet called Neptune's Navy, belonging to the enterprising Sea Shepherd Conservation Society.
She was moored at False Creek's Fisherman's Wharf this past weekend where the crew invited people aboard for a tour of the roomy quarters (one woman's voice was overheard as she went from room to room, "A king-sized bed! Laundry! A living room bigger than mine!")
Once in the living room, one of the organization's volunteers hit play on the big screen to show Sea Shepherd's footage of Cuvier's beaked whales near Guadalupe Island and humpback whale and microplastics contamination studies in the Pacific Ocean's Archipelago of Revillagigedo. The RV Martin Sheen was also recently involved in a campaign to save one of the most endangered marine animals in the world — the vaquita porpoise, which is being wiped out in Mexico's Gulf of California due to the cruel fishing practice of using sweeping gillnets that unintentionally trap and drown all sorts of marine animals.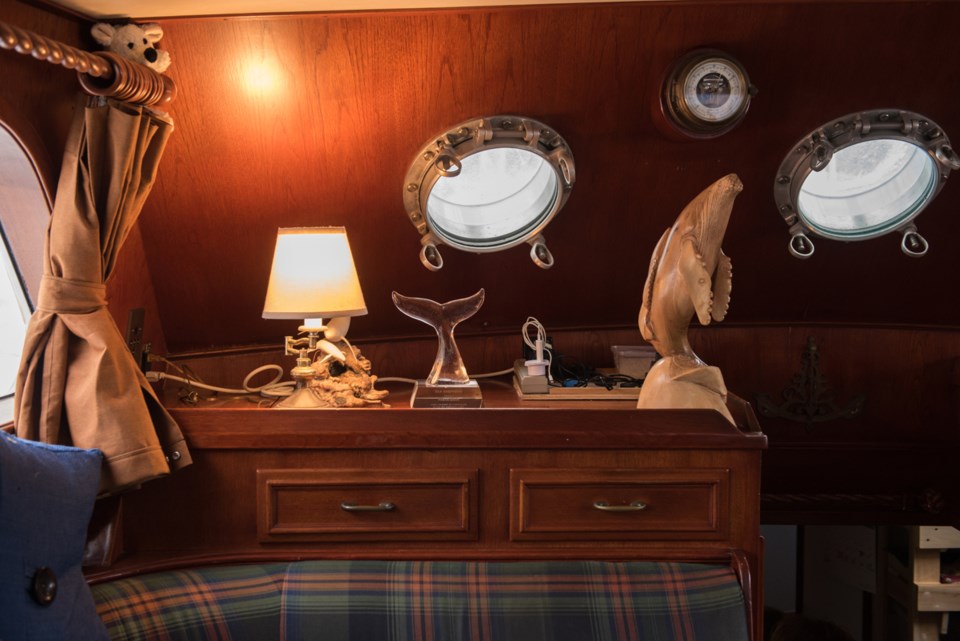 Next on the captain's log: Operation Virus Hunter II, a campaign led by marine biologist Dr. Alexandra Morton to protect wild salmon off B.C.'s coast. The RV Martin Sheen leaves Vancouver this coming weekend to study coastal fish farms, a vitally important mission, says Sue Waters, one of the coordinators of the Vancouver Sea Shepherd chapter.
"The plan is to go check out the different farms on the coast. Alexandra will be doing some research — sampling and photographs," said Waters, who will be volunteering as ship chef during the month-long campaign. "We're trying to really expose these farms to the public. One of the biggest fights we have is to protect wild salmon, and getting the pubic to boycott farmed salmon."
Just some of the issues with open-net pen fish farms, added Waters, include the ease of disease and virus transmission from captive to wild fish (especially as farms are near wild salmon migration routes), sea lice infestations and the escape of non-native fish into B.C. waters. The hope is to increase public awareness of the negative effects that open-net pen fish farms have on wild salmon and push the farming system from ocean to land-based containment farms, which Morton said is an environmentally and socially acceptable alternative.
As passionate about ocean causes as the ship's crew is, it's the attitude of determination that triumphs   confrontation, said Waters.
"We're more a direct action organization; we're not a protest organization. It's about making people accountable. The ocean makes up 71 per cent of the planet's surface, and it's probably the most lawless place on the planet."
The worldwide organization, based in Friday Harbor, Wash. and founded by former Greenpeace member Paul Watson, turns 40 this year. Its actions against illegal fishing, whaling, seal hunting and conservation efforts are widely known, thanks in part to 2008's weekly series Whale Wars filmed by Animal Planet. Sea Shepherd also has the backing of several celebrities such as actor Martin Sheen who unveiled the ship named in his honour in 2014. (In attendance at the Los Angeles-based christening was Simpsons co-creator and fellow Sea Shepherd supporter Sam Simon whose name is also on one of the fleet's vessels.)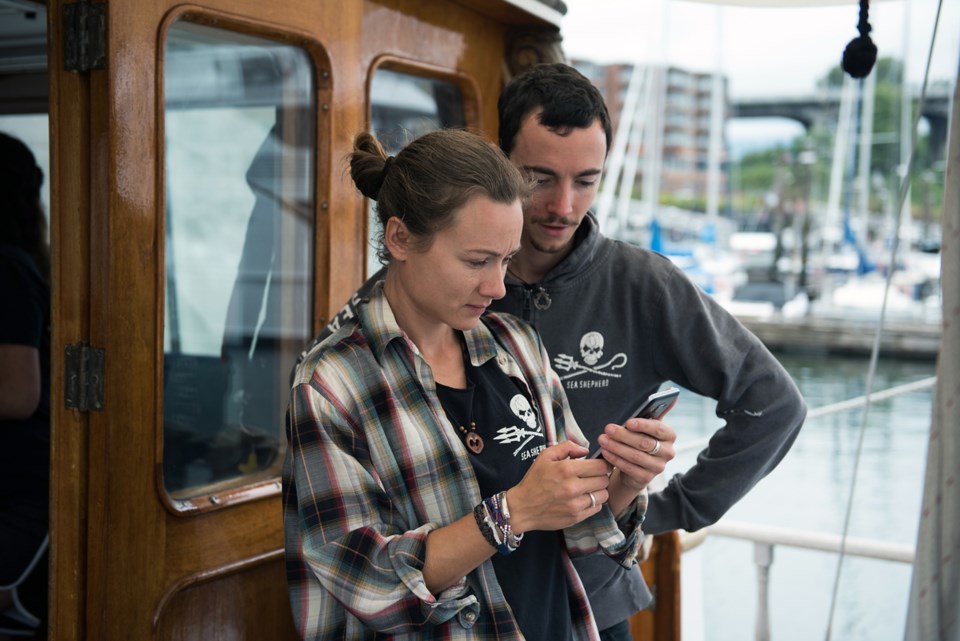 So, when the MV Brigitte Bardot, MY Sam Simon, or RV Martin Sheen turns up — all instantly recognizable with Sea Shepherd's take on the Jolly Roger flag — it's not to sign autographs.
"As Alexandra Morton said about this campaign last year, she said, 'You know there's a problem when Sea Shepherd shows up,'" said Waters. "And that's how we operate. When things are getting to be at their most desperate, that's when we step in. We need the world to see that we're going to lose this so pay attention."