It could have been the lighting. It could have been the clusters of candles on the ledges of the faux stained-glass medallions flickering in front of the 12 windows of St. Paul's Anglican Church hall. Or it could have been the speeches of appreciation in that low ceremonial light for Friday night's 20th anniversary celebration of the St. Paul's labyrinth.  
But when labyrinth liaison Sharon Connaughty suggested this writer walk the labyrinth to better understand it, the idea was met with hesitation. After all, the City Living feature is meant to be about observation, not participation. Plus I'd planned to read the guidelines posted on the lobby wall on my way out so I had no idea about labyrinth etiquette other than no shoes are allowed.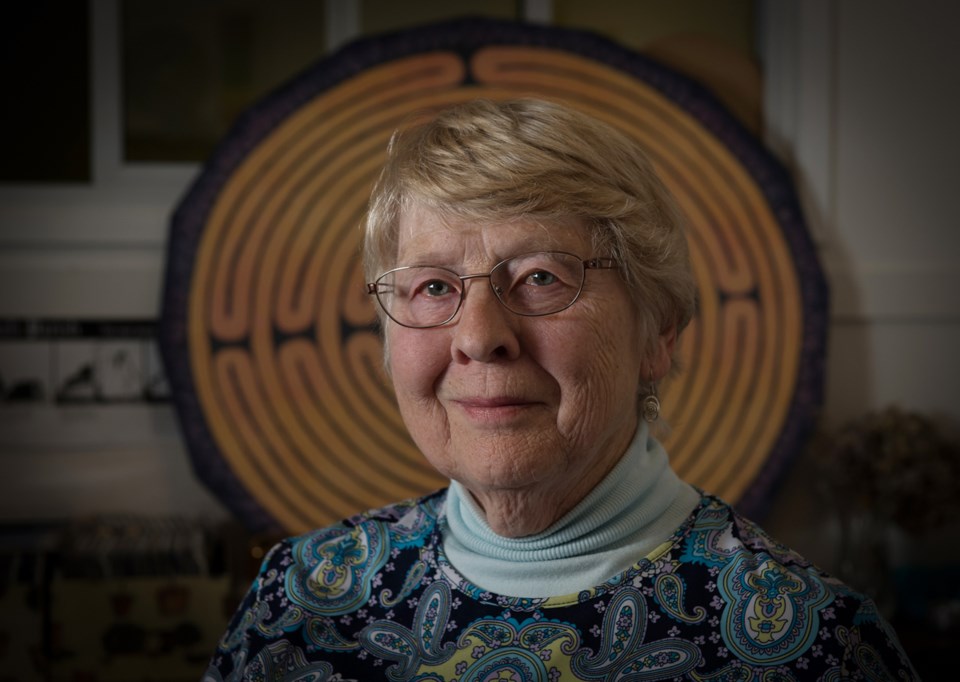 The St. Paul's labyrinth is painted on the wooden gym floor of the top floor of the old church hall in the West End, and its painted lines intersect with the thin and fading lines of a basketball court. The labyrinth, the first indoor one to be created in Canada, is 42-feet across — a replica of the one at Chartres Cathedral in France, which was built in stone in 1201.
St. Paul's labyrinth is almost a half-kilometre long from start to finish. Its centre is the rose of six petals where walkers are encouraged to stay and reflect. Even though a rose has five petals, a labyrinth will often have six in its centre, an even number thought to demonstrate perfection.
The labyrinth is a work of mathematic elements with ancient symbolism. The oldest labyrinth designs are found in art that dates back 3,000 years. While they are often connected with holy places and religious worship, meditative walking is practised in many traditions and cultures.
This is why the St. Paul's labyrinth is open to the public and not just members of its Anglican community where it's used for myriad reasons, from reflection and grieving, to healing and celebration, said Connaughty.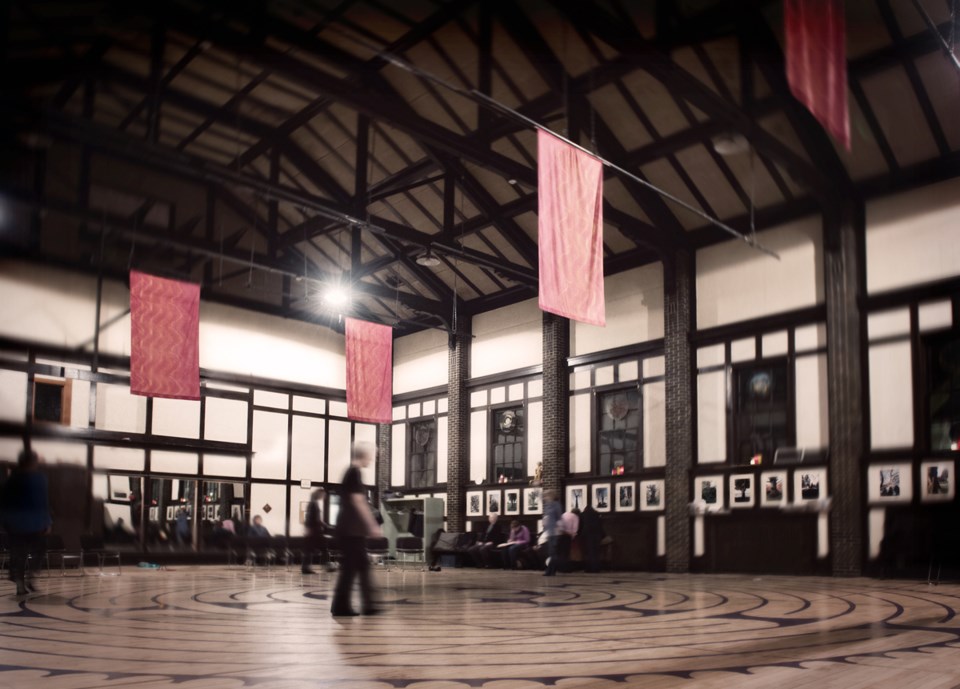 During my visit there was a quiet lineup at the entrance where the founder of the St. Paul's labyrinth, Rev. April Stanley, stood. She'd signal when to enter so there would be enough space between people, much like the job of a kid working at the top of a waterslide.
I focused on my feet, counting each step. I got to 380 when I realized I was walking too quickly — the heels of a pair of black socks with skulls were in my line of sight ahead.
The brochure states passing in the labyrinth is perfectly acceptable and there is no right way or wrong way to walk. The labyrinth is not a maze — there's only one way in and one way out. Essentially, there's not much to worry about. The whole point of it is a walking meditation.
But I hadn't yet read this so there was much to worry about. I figured a safe distance would be about the same as waiting behind somebody at an ATM. I slowed and looked up. A man stepped over one of the labyrinth paths to head in a different direction, and I waited for somebody to raise the alarm on the line-jumper. A woman, evidentially so familiar with the looping seven-circuit Cretan pattern that she sailed through the labyrinth, eyes closed, arms in air and spinning around the corners — her tunic waving behind her like a cape.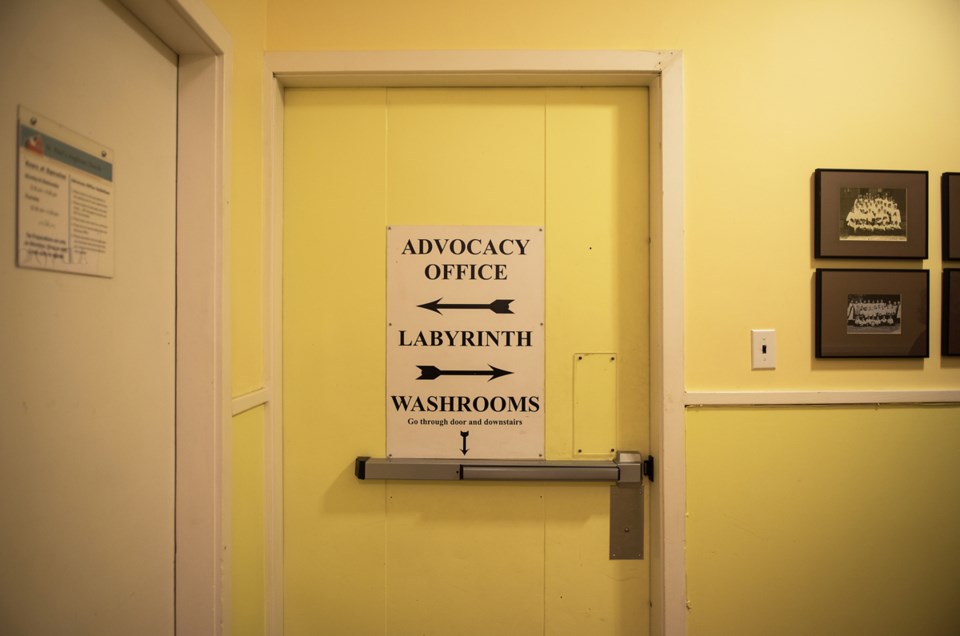 Stanley, the interim priest for St. Paul's at the time, had the idea for the labyrinth sometime in the mid-1990s when somebody handed her a copy of San Francisco-based priest Lauren Artress's book Walking a Sacred Path: Rediscovering the Labyrinth as a Spiritual Practice.
"A woman I barely knew insisted on giving me a copy of this book," Stanley recalled. "OK. I read it. I thought, 'Well, that's nice for San Francisco churches,' but then — I literally remember this moment — I went, 'the upper hall!' It had mostly been forgotten about. It was a really filthy, messed-up place. And so we slowly developed the idea."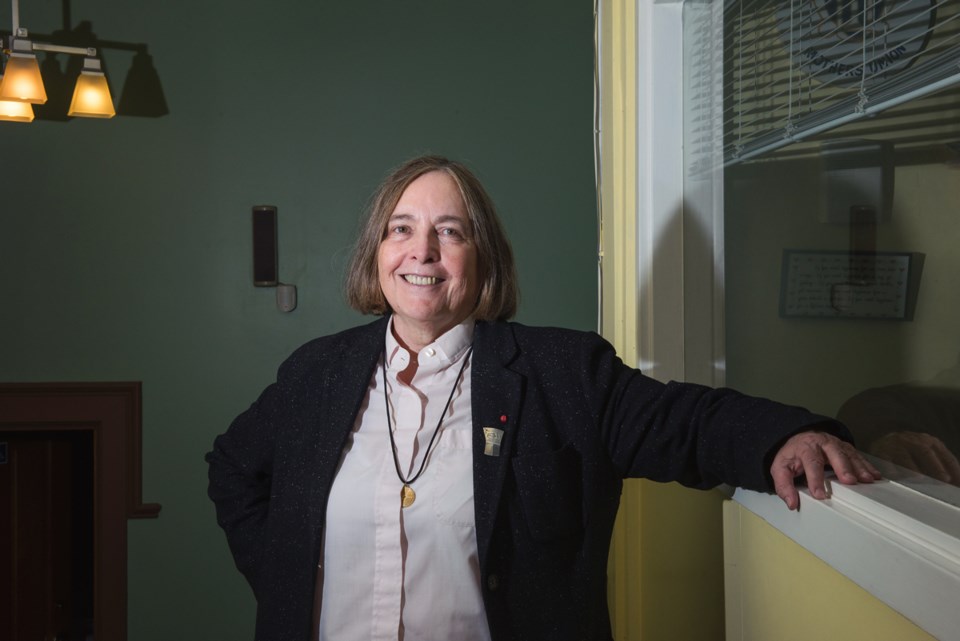 The upper hall at the time was primarily used for storage and required much cleaning and repairing of the hardwood floors. An army of volunteers got behind the labyrinth and spent 250 hours drawing and painting it. It opened as a sacred space in 1997.
For Connaughty, the existence of the labyrinth was enough for her to switch parishes in 2002.
"It was the labyrinth that brought me here," she said. "I have a variety of experiences, but, basically, it's a walking meditation... a number of us are not ones to sit in lotus position. For me, this involves body, heart, and soul."
The St. Paul's labyrinth is open Tuesdays through Fridays from 8:30 a.m. to 9:30 a.m., Saturdays from 10 a.m. to noon and Sundays from 9:30 a.m. to 12:30 p.m. Evening openings include Friday nights from 7 to 9 p.m. (the last Friday of the month features live music with recorded music on the other Fridays).
rvblissett@gmail.com
@rebeccablissett