Chris Wong has photographed celebrity staircases such as the Tulip Stairs of the Queen's House in Greenwich to humbler subjects such as the turquoise curves of Royal City Centre in New Westminster. Staircases are Wong's thing. Fibonaccian spirals, half landings, double winders — he loves them all.
Sometimes he shoots them from the bottom up; sometimes he shoots them from the top down. If they're from the top down, "you can't take the elevator," he said. "I always walk to the top."
Wong, in his early-50s, is @wongski on Instagram, where you can find his staircase photographs along with shots of his other urban interests. He's got 41,100 followers and counting, but is humble about his work. Wong is also a moderator of @stairwalkers, an Instagram account that curates photos of staircases from around the world, and as the account's name suggests, staircases must have someone walking them.
Those unfamiliar with Instagram, which now boasts 700 million users, might be surprised by the niche obsession. But staircases are only one of many specific urban moments documented and categorized in a Darwinian manner by Instagrammers around the world. There's #puddlegram and #puddleporn, for street and cityscapes doubled in a puddle. There's #strideby and #peoplewalkingpastwalls, for individuals in profile strolling past an interesting background. There's #soloparking and #asundaycarpic, for vintage cars, bonus points for shots with nostalgic architecture behind.
"That's the beauty of it," said Wong. "Anything that you're into, any style or situation, you can find it. And you can try it yourself."
Capturing and sharing these quiet moments might seem like a solo activity, but Wong will tell you it's anything but. Instagram has launched him into the global community of urban scavenger hunts for the perfect shot.
InstaMeets
Wong started Instagramming in February 2012. The photo-sharing mobile app was young then, less than a year-and-a-half online.
"My daughter had actually started and she influenced me to want to try it," said Wong. He works in digital communications and marketing, but the app was new to him. "I really didn't know what I was doing as far as what makes a good shot or what makes a good Instagram post."
Wong posted more photos: stairs, cars, buildings and more. He spent more time taking them and editing them.
And because Instagram is a kind of social media, Wong took the social part very seriously.
"I would interact on Instagram with local people."
Wong replies to almost everyone who comments on his images. "I'd follow their feeds and express a lot of appreciation for their photography, and a couple of them followed me back. It was such a huge moment. And it just kept on growing."
Then came a trip to Portland when Wong and his daughter decided to meet an Instagrammer to photograph the sunset together. It was the first time they met someone they knew online in person.
"I remember jokingly thinking, 'What if this person's a serial killer?'" said Wong. "It was kind of an irrational thought, but at the time, meeting a total stranger and going to take photos wasn't something that I was used to. And now, it's become a normal thing."
Wong was inspired to lead photo walks himself. Instagrammers call these community outings InstaMeets, and they happen all over the world. Wong led three meets in three Vancouver neighbourhoods with his friend Lucy.
At the Strathcona meet, when the group was walking on a caged overpass, someone took out a smoke bomb. "It let off green smoke. That was maybe the highlight of that meet," said Wong with a laugh. "But you don't need stuff like that. You just need a neighbourhood with character, with some walls. Whatever's there, people will make photos out of it. That's what I really enjoy."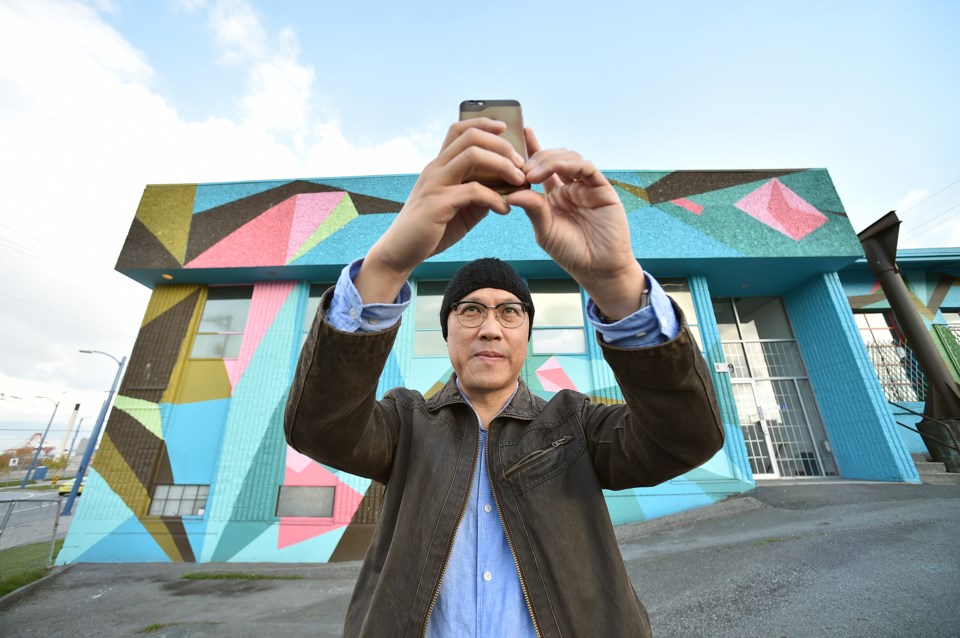 Moments in time
The Mount Pleasant meet was their best attended, with 80 keen Instagrammers. It's a special neighbourhood for Wong, because he's writing a book about its history.
Wong's love of Vancouver's street life, old buildings, restaurants and cafés was long in the making. Before his Instagram days, he was a journalist. Music was a specialty of his. He wrote about jazz for a number of local papers, the Courier included, and is working on a book right now about two jazz clubs both named the Cellar.
The older Cellar (1956 to 1963) was in Mount Pleasant on Watson Street, just off Main and Broadway. A controversial condo tower, the Independent, is under construction where the Cellar used to be.
The development doesn't bother Wong like it does others. His wish is just that people recognize the city's history.
"This place was once alive with jazz," said Wong of Watson Street. Charles Mingus and Ornette Coleman had played there.
"There was a little parking lot, and you had to go down these stairs to a very small door. And there, you got into the jazz club. It was very dark because the walls were painted black. It wasn't a fancy place, but people did dress up back then."
Vancouver has changed since then, he said. It used to feel like a small town. But his love of writing and photography helps him chronicle life as it is.
"It's the idea of capturing a moment in time," said Wong.
And he's not the only one documenting life. There are Instagrammers.
bychrischeung@gmail.com
@bychrischeung