For the past two years, Hilary and Cliff Atleo, indigenous partners in life and business, have operated a bookstore on wheels called Iron Dog Books. Maybe you've seen them booking it around the Lower Mainland in their distinct, large red-panel truck, setting up shop at various festivals and farmer's markets.
Inside the truck is a cozy cross between a tall ship's cabin and, as Hilary once described it, "an old British philosopher's den." Either side of the interior is lined floor to ceiling with dark wooden shelves filled with new and used books.
By having a rolling store, the Atleos managed to avoid Vancouver's notoriously high rents, bringing the books to you instead of the other way around.
But times are changing for the Atleos, who also have two young children. After two years on the road, they're parking the truck in the Hastings-Sunrise neighbourhood in order to open up a permanent bookstore.
"We've gone through two winters in the truck," said Hilary, who grew up in rural Ontario and has Anishinaabe and Scottish heritage. Her husband Cliff is Nuu Chah Nulth and Tsimsian. "When it rained a lot, we realized that the truck is really small."
The entrepreneurial couple found themselves searching for a bricks and mortar location, hopefully somewhere close to their Burnaby Mountain home.
"We looked at several different areas. Our priority was finding a community that needed a bookstore," Hilary explained. "It was really my husband Cliff who said, 'I think Hastings-Sunrise is the right neighbourhood for us.' We're really good friends with Paula Lindner, who owns Baaad Anna's Yarn Store at 2667 East Hastings St. When a real estate agent put up a sign in the store next to hers, she took a picture and sent it to me, saying, 'You have to call them.' I did, and here we are."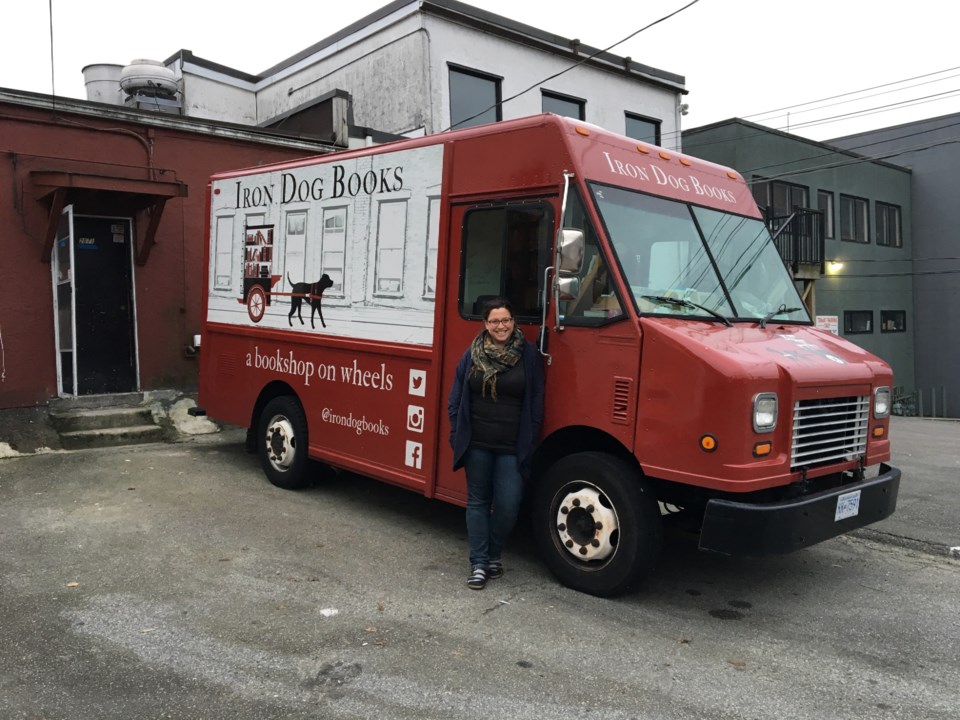 The new location of Iron Dog Books was previously occupied by the Curry Zone restaurant. There hasn't been a general interest bookstore in Hastings-Sunrise in many years. Before the Atleos moved in, the landlord completely removed the old kitchen and gutted the space, making it a 1,000-square-foot perfectly blank page.
"We've already been approached by a couple of local authors to do launches in here, which I'm extremely excited about," Hilary said. "I think we could pull people in from East Van, North Van and Burnaby, since we're right off the highway."
The store's design is essentially a larger version of their snug truck, with dark wooden shelves lining the walls. The new space will be a new and used "comprehensive generalist bookstore" and will also include a carpeted nook for kids books, middle readers, and young adult novels. The Atleos also encourage readers to bring in their used books.
"I really think bookstores are a partnership between the people who come in and the people who own them," Hilary said. "Anyone can bring us their second-hand books. We offer two options — we can give you a store credit, which can be used on anything in the store with no restrictions. The other option is you can drop off your books for donation, we calculate the store credit and give it to local organizations who could use it."
In recent years, Hastings-Sunrise has welcomed an array of independent retailers filling voids, such as Red Cat Records, Burcu's Angels vintage clothing and the Learnery, an inviting, educational shop that features games, kids books and crafts. The Atleos hope they'll fit right in.
"Our goal is to try and engage with and reflect the community we're going to be a part of," Hilary said. "The biggest change from the truck, which will occasionally still be in operation, is that the store can hold about 14 times as many books than the truck can hold. Just the ability to more closely provide what people actually want will be great."
Iron Dog Books opens this Friday, Dec. 6, at 2671 East Hastings near Slocan Street. Store hours will be 10 a.m. to 6 p.m. every day. Book it!