Residents of the Lower Mainland were treated to a dazzling lunar display last night as a supermoon illuminated partly cloudy skies. 
Known as the full "worm" moon, the March full moon gets its name from the time of year that it takes place. Since this full moon is the last one before the spring equinox, the name reflects the changing of the season. Specifically, the name refers to the time of year when birds begin to feast on earthworms that are pushing their way through the spring soil.
Since the worm moon qualified as a supermoon, it looked 15 per cent brighter and seven per cent bigger than a regular full moon due to its proximity to earth. 
EarthSky notes that astronomers usually refer to supermoons as perigean full moons — a term that simply refers to the moon being near earth.
Have a look at some of the best shots of last night's brilliant supermoon.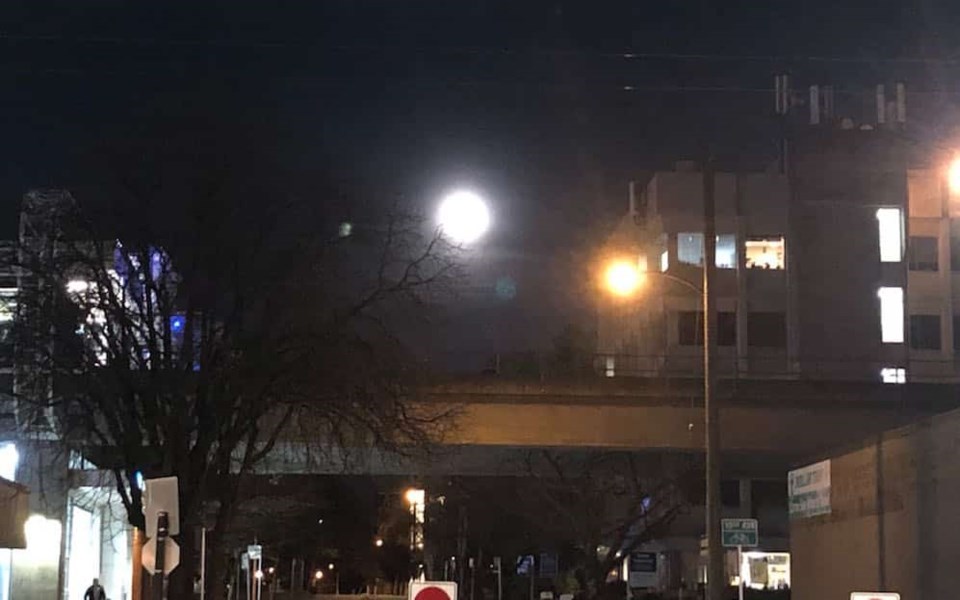 Some pretty shots of today's #SuperMoon from Global 1 this AM pic.twitter.com/KDaadcKNo5

— Kelly Medos (@KellyMedos) March 9, 2020
The #WormMoon this evening as it passes in front of some layered clouds. #StormHour #ThePhotoHour #SuperMoon pic.twitter.com/Xv4DhD2KMN

— Ed Barrien (@hikersimage) March 10, 2020
trust me its big and beautiful #SuperMoon pic.twitter.com/0y9g6e9USk

— Oh.. K! (@Northernsuns8) March 10, 2020
Goodnight, Crow Super Moon. #fullmoon #supermoon #nightsky #crowmoon pic.twitter.com/OJQ1dAY59q

— June Hunter (@JH_Images) March 10, 2020
At least we can see tonight's moon in #Vancouver. All be it behind a shroud of cloud. ##yvr #SuperMoon pic.twitter.com/819Lm02GwJ

— sjglass (@UrquhartMP) March 10, 2020
#SuperMoon pic.twitter.com/3NyoqU8dSB

— Destiny✨ (@shoobieboop) March 10, 2020
#SuperMoon #FullMoon #superfullmoon #Virgo #Coquitlam #Vancouver #BritishColumbia #Canada #PNW #awesome pic.twitter.com/bC2lknC59O

— PinkBella_AlohaTherapy (@alohapinkbella) March 10, 2020
#SuperMoon Coquitlam Canada. pic.twitter.com/BfRcZAym8D

— Ellie Harvie (@ellieharvie) March 10, 2020
Worm (ewwww) #SuperMoon #photography #fullmoon #WormMoon pic.twitter.com/xBIRR3VbKn

— Cybertech (@CybertechDan) March 10, 2020
Blue Sky Full Moon #Vancouver morning enjoy the day! pic.twitter.com/Sw87YMqCeX

— John Coupar (@JohnCCoupar) March 9, 2020
The sky tonight ✨ #NorthVancouver #FullMoon pic.twitter.com/HxCLvd6XRm

— Anna Boltenko (@annaboltenko) March 10, 2020
#SuperMoon #FullMoon #superfullmoon #Virgo #Coquitlam #Vancouver #BritishColumbia #Canada #PNW #awesome pic.twitter.com/bC2lknC59O

— PinkBella_AlohaTherapy (@alohapinkbella) March 10, 2020
Happy Full Moon#WormMoon #vancouver pic.twitter.com/W6rrPRKdJ7

— Robert Morrisey (@theirdear) March 10, 2020
Look at that beautiful #fullmoon tonight ♥️❤ pic.twitter.com/7b2GZNnul7

— Star Wonder (AJ/Angeline) (@LilStarWonder) March 10, 2020