In 1882, John James Audubon met Anna Masséna, also known as the Princess d'Essling and Duchess of Rivoli, in Paris.
He described her as ""a beautiful young woman, not more than twenty, extremely graceful and polite."
Five years earlier, young Anna had married Francois Victor Masséna who, along with his collection of grand titles, was an amateur ornithologist who accumulated 12,500 bird specimens.
One of them was an unidentified hummingbird.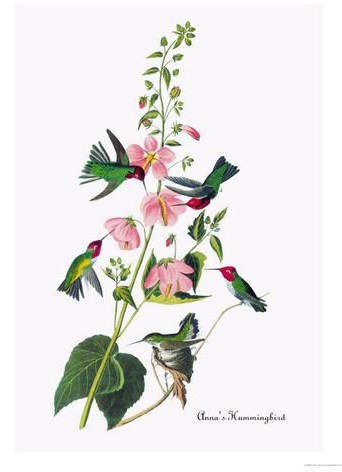 Audubon wasn't the only one smitten by Anna's beauty. She also caught the eye of René-Primevere Lesson, a surgeon and naturalist who in 1882 left France for a four-year journey that would take him to South America and up the Pacific coast. The hard work began when he returned home and had to catalogue all the specimens he'd gathered.
Among them was the same hummingbird that was in the prince's collection.
Lesson decided to name the bird in honour of Anna, who served as the Grand-Maitresse (Mistress of the Robes) to the Empress Eugénie, wife of Napoleon III.
Because hummingbirds are only native to the New World, it's unlikely she ever saw one of her namesake's in flight.
And now Anna's hummingbird has a title of its own. Residents of Vancouver recently chose it to be the city's official bird. Long may she reign.