History contains much more than what's printed in textbooks. Countless important stories go untold, usually for reasons associated with the old adage "history is written by the victors." In postcolonial Canada, this has meant a very narrow view of history, with innumerable First Nations and immigrant stories lost to time and prejudice.
But history, whether articulated or untold, lives on in the people whose lives have been impacted by it; sometimes it just needs a fearless few to pull that history into the light. Such is the case for the Grant family, the subject of the feature-length documentary All Our Father's Relations.
All Our Father's Relations – which was directed by Alejandro Yoshizawa and produced by Sarah Ling – shines a needed spotlight on the long and fascinating interconnected histories of Chinese and First Nations communities in British Columbia through the lens of the Grant family.
The family's story began in earnest in 1920, when Hong Tim Hing arrived in Vancouver from China after paying the Chinese Head Tax: the racist entry fee that was meant to discourage Chinese immigration. He worked and lived at Lin On Farm, a Chinese market farm located at Musqueam Indian Reserve 2, where he met Agnes Grant, who would become his wife. Together, they would have four children, but due to stipulations in the Indian Act, the family was divided between Chinatown and the Musqueam reserve – and because of well founded fears that he wouldn't be allowed to re-enter Canada, Hong Tim Hing died without ever going back to visit the relatives he'd left behind in China.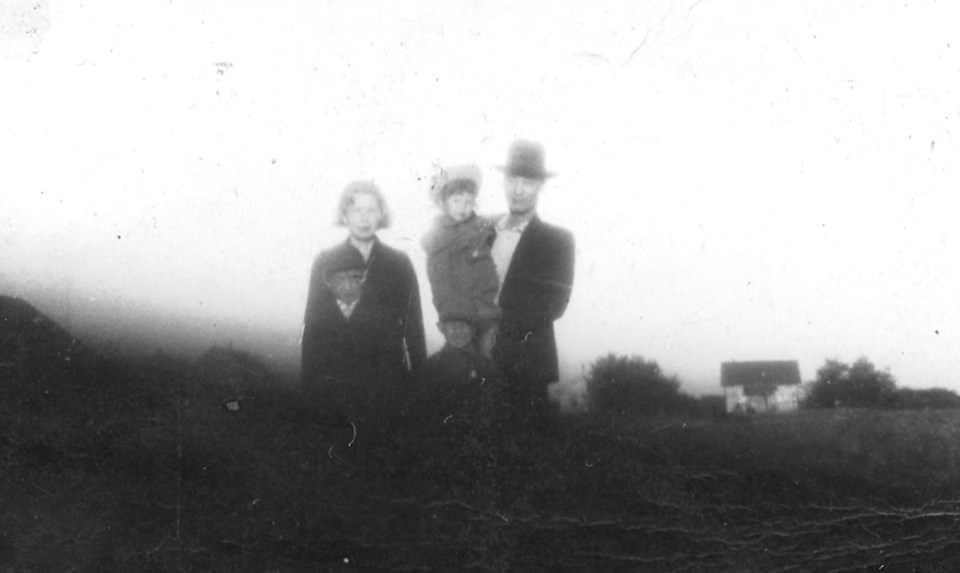 All Our Father's Relations – which had its premiere at the 2016 Vancouver Asian Film Festival – serves to explore "the complexities of being Indigenous and Chinese during a time when there were many policies that fractured both of their communities," says Ling during a recent phone interview.
The documentary follows the Grant siblings – Helen Callbreath, Gordon Grant, Larry Grant, and Howard E. Grant, who are now Musqueam elders – as they journey to China for the first time to visit their father's ancestral village, Sei Moon in Guangdong province.
Yoshizawa and Ling had been working on a different project with Larry Grant in 2013 when they learned that his family would be venturing forth on this trip. The filmmakers immediately recognized the potential to tell an impactful story. "I just knew it was the perfect opportunity to help them capture that moment and tell their story on a broader level," says Ling. The family agreed. "I don't think any of us knew the full scope of what the documentary could be, and we took that journey together," says Ling.
All Our Father's Relations cuts between scenes from the Grants' journey to Sei Moon – which took three days and culminates with an emotional family dinner at which they meet a brother of their father's they never knew existed – and the interconnected history of the Grants' parents, the mutually beneficial and respectful relationship between the Chinese and Musqueam communities, and the racist legislation that kept the Grant family apart. "Policies really influenced where they could live and physically separated their parents," says Ling. "To see the government be so intentional in creating these divisions of the family unit was quite revealing."
Much of All Our Father's Relations' historical narrative is told through animated sequences. The Grants were consulted during every stage of production – from storyboarding to post-production – which Ling notes is "central in working with families, and Indigenous communities in particular."
All Our Father's Relations speaks to issues at the forefront of public dialogue, according to Ling, including reconciliation and Canada 150-plus, which she thinks is "unique to Vancouver, because we acknowledge and celebrate the founding of Canada, but we actually address issues of colonialism and look at the much longer stewardship by Indigenous people of where we are.
"Vancouver is such an exciting place to live in because these dialogues are happening," she continues, "and so to create this film here I think is no accident."
All Our Father's Relations will screen on Aug. 10 at VIFF's Vancity Theatre. This particular screening will incorporate Chinese subtitles and feature a Q&A with the filmmakers and members of the Grant family.
"I really hope that this film can help people reflect on their own experience, whether they are a settler on Indigenous territories, or an Indigenous person who has relationships to other communities in Canada, to build deeper connections to where we are located, to learn more about the territories that we're on, and to ultimately build real and authentic connections to Indigenous peoples and foster those relationships," says Ling.
• Tickets and info here.