Can reconciliation between indigenous people and non-native Canadians be achieved through art?
It's a deep thought question that Tsleil-Waututh First Nation artist Jordan Gallie answered without any hesitation.
"I one hundred per cent believe that, for sure," said Gallie, whose large glass panel piece of art now has a permanent home on a wall in the council chambers at city hall. "A lot of people may disagree with words and not get along. But with art, people can come to an understanding."
Gallie joined artists Jody Broomfield of the Squamish First Nation and Chrystal Sparrow of the Musqueam Indian Band in the council chambers Monday to unveil his work. Broomfield and Sparrow did the same, after Coun. Andrea Reimer welcomed guests in a Coast Salish dialect before switching to English.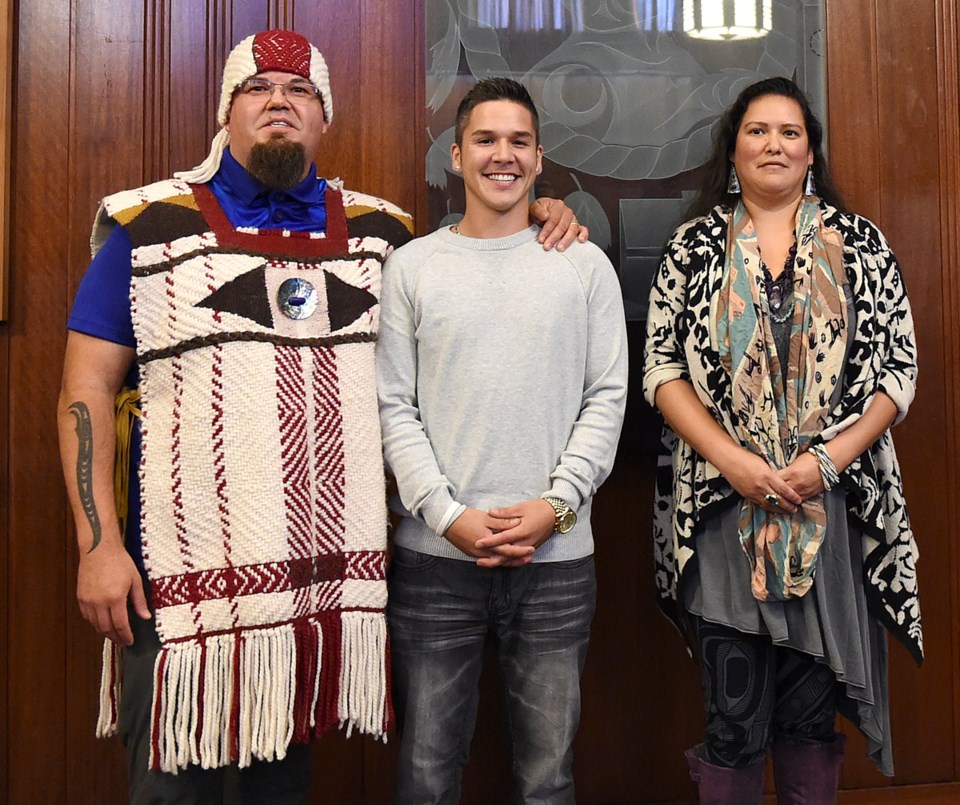 "In 2014, at the end of the [city's] year of reconciliation, we formally recognized that we're on the unceded traditional homelands of the Squamish, Musqueam and Tsleil-Waututh people, and yet that reality is not reflected here in the place that we make decisions," Reimer told the audience, which included members of the local nations, city staff and councillors and Police Chief Adam Palmer. "So it was important for us that we find a way to do that."
The artists won a city-led competition to make art that expressed their views on how reconciliation was tied to Vancouver. The contest was part of the city's ongoing efforts to reconcile with the three local nations and urban Aboriginal population.
Gallie fabricated and sandblasted a glass design that he attached to a seven foot by three foot cedar panel. The focal point is a wolf's head, encircled by a cedar rope, meant to represent the bond with the city. Above it, is an eagle etched within the mountains that represents Tsleil-Waututh ancestors. City hall is also depicted, with a wolf's paw resting on it. Falling maple leaves fill out the bottom of the piece as a reminder of Mother Nature.
Broomfield carved a piece on a cedar panel that shows a man and a woman in a canoe, paddling in the ocean. The image is meant to represent teamwork. The backdrop is of mountains and a large thunderbird, meant to pay homage to the Squamish people.
Sparrow also used a cedar panel to complete her piece, which is set off by a salmon spindle whorl and various colours of acrylic paint. She incorporated a canoe, water, past and contemporary weaving designs and mountains to complete what she calls Salish Sea Water.
The artists' pieces are the most significant First Nations' art to ever be installed at city hall, which has little in the way of indigenous art displayed on its campus. All three pieces hang next to each other on a wall behind a row of councillors' desks.
"It's a kickstart," said Broomfield, when asked the question about achieving reconciliation through art. "It gives people a clear understanding of our culture, who we are and where we come from."
Sparrow said art is "part of the reconciliation process" and that it adds to the needed dialogue and teachings about the first peoples of the land.
"Relationship building is very important to make sure the same mistakes aren't made again," said Sparrow, who is a cousin to Musqueam Chief Wayne Sparrow, who was unable to attend Monday's unveiling because his mother died on the weekend.
Squamish Chief Ian Campbell, who led the artists into the chambers with a song, said he was grateful to city council for commissioning the art. He said the gesture was inspiring and creates optimism in the relationship between the nations and government.
"Art is tremendous vehicle, or expression, of transformation, of storytelling, of depicting resilience and tenacity," he said, adding that he would challenge the federal government to have more representation of First Nations' history in Ottawa. "I walk through Parliament and I see no visible presence of our leadership, of the contributions that First Nations continue to make to the prosperity of this country."
Each of the artists was paid $19,050 their work. The city paid $5,390 to have a video done of the artists at work, $2,850 to install the art and $2,572 for the unveiling ceremony.
mhowell@vancourier.com