Chances are, if you're any kind of fan of Italian food, you'll have heard of Ask for Luigi. This year's winner for Best Italian and runner-up for Best East Side Restaurant has become the hotspot for items like anchovies and eggs, housemade pasta, and one of the most unique brunches in the city.
"When we opened four years ago, there were practically no restaurants doing fresh pasta and serving it for a main course," says chef/owner JC Poirier. "That's what set us apart at the time. Now, of course, there are other places that have opened."
The location was another "out of the box" idea, according to Poirier. "Railtown wasn't a place where people ventured often. When I opened, people thought I was crazy. But, the place is very special. To find a building on the corner is rare in Vancouver. It's small, but that makes it very comforting. It's bustling and busy and noisy in a good way. You feel like you're in somebody's home, like you're cosy right away, with unpretentious food."
The food might be unpretentious, but it's not lazy. The aforementioned anchovies and eggs have been on the menu since day one, and customers have refused to let it go. Having tried the rather heavenly combination of slow-cooked eggs with creamy yolks, topped with anchovies and salmon roe, I can attest to its seriously addictive power.
Authenticity isn't always the focus. "I'm French, so there's always that touch to it. It might not be apparent to the customer, but it is there. For example, I like to finish the pasta with a knob of butter for emulsification. If you say that to an Italian, they will think you're crazy."
Pastas are made in-house daily, including a very popular gluten-free version. Poirier gives credit to his chef de cuisine, Letitia Wan. "When Ask for Luigi opened, it was just Letitia and I in the kitchen. She's my right hand, very talented, and we have a similar outlook on food and cooking. We don't have many women chefs in the city and she is one of the bright lights."
With the opening of his newest restaurant, St. Lawrence, just around the corner from Ask for Luigi, it's all hands on deck. When asked about any other possible expansions/openings, Poirier laughs. "This was a big year, with St. Lawrence and another Joe Pizza opening at UBC. I'm moving people around and we're very busy. I think that's it for the next five years or so."
Ask For Luigi
305 Alexander St.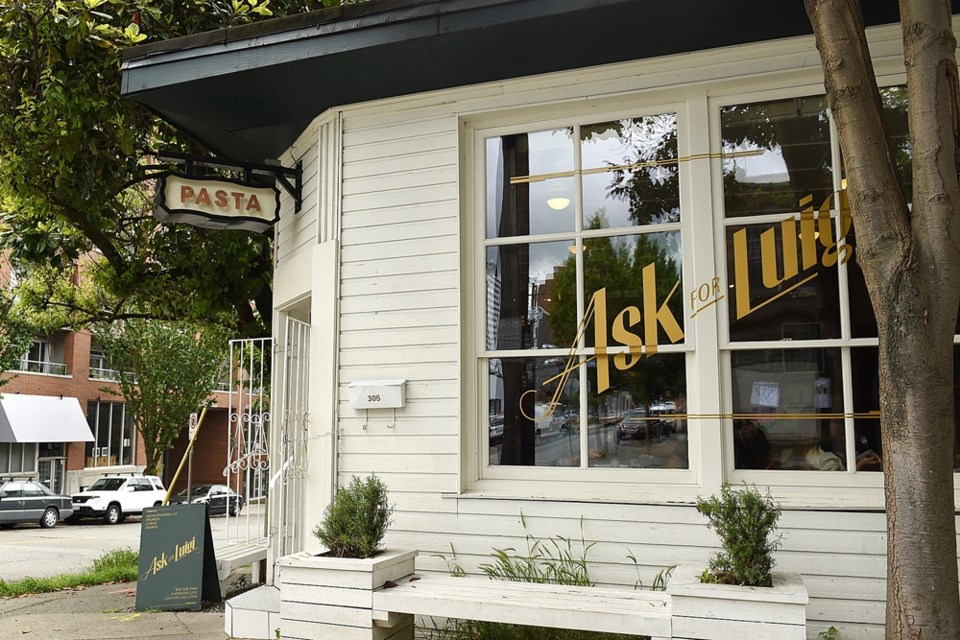 RECIPE: Ask For Luigi's Spaghetti Nero with octopus, tomato and grilled jalapeno
(serves 4 people)
Squid ink spaghetti:
290g semolina flour
160g OO flour
200g whole eggs
15g salt
8g squid ink
Put all ingredients in a mixer and mix with the paddle attachment for 2 minutes.
Switch to the hook attachment and mix for 10 minutes or knead by hand. Let the dough rest wrapped in plastic for a minimum of 1 hour before rolling it.
Octopus sauce:
240g of cooked octopus, sliced thinly
1 glove of garlic, chopped
¼ cup white wine
1-2 jalapeno, grilled and diced
2 cups of tomato sauce
75g butter
1 tablespoon of mint, chopped
1 tablespoon of parsley, chopped
In a hot pan, cook the chopped garlic with a little drizzle of olive oil. Deglaze the pan with the white wine, reduce by half. Add the diced jalapeno, octopus and tomato sauce. Bring to a simmer. Add the partially cooked pasta and finish the cooking in the sauce, then add the mint, parsley and butter. Season with salt if needed – sometimes the octopus can be salty on it's own so it might not need any seasoning.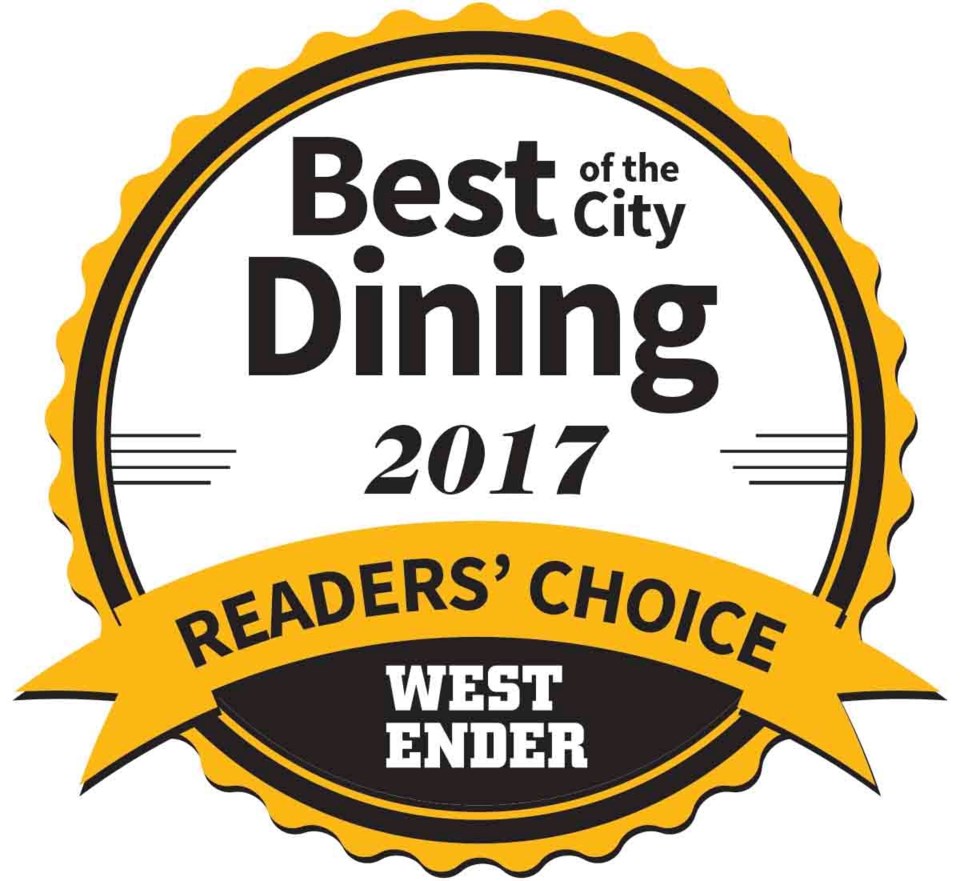 Gold – Best Italian
Silver – Best East Side Restaurant