In the world of The Romeo Section, CBC Television's critically acclaimed drama about Vancouver's homegrown espionage scene, lying is as commonplace as breathing. Characters lie to get what they want. They lie to get through the day. Watching these crafty men and women fabricate falsehoods is one of the reasons that, for many Canadians, the series is must-see TV.
The Romeo Section, which began its highly anticipated second season last week, comes to the Mother Corp direct from the brain of Chris Haddock, the celebrated Vancouver writer and showrunner whose long list of character-driven dramas includes Da Vinci's Inquest, Da Vinci's City Hall and Intelligence. It's the only CBC scripted series filming in Vancouver at this time.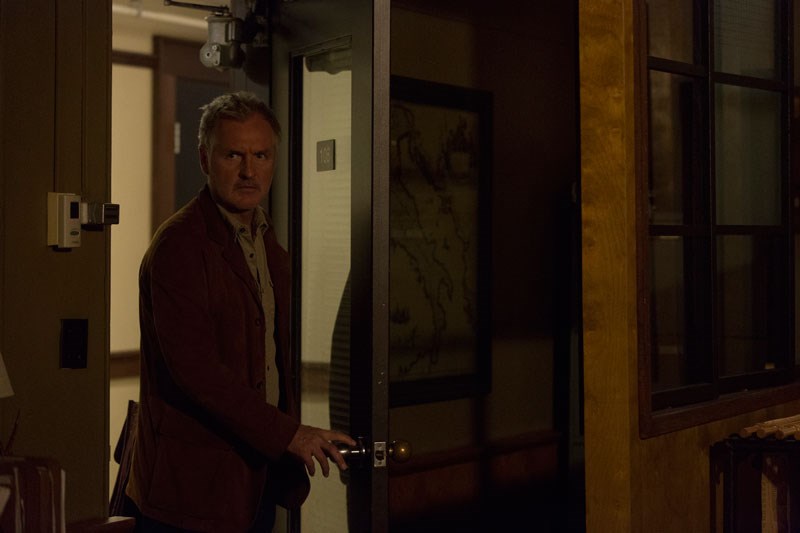 The Romeo Section stars Andrew Airlie (Fifty Shades of Grey) as Wolfgang McGee, a veteran intelligence agent with a knack for recruiting "Romeos and Juliets": men and women highly skilled at seducing information out of intelligence targets. The series' first season found Wolfgang embroiled in a web of intrigue that touched on the drug trade and Pacific Rim gangs.
But you don't need to binge-watch the first season in order to enjoy the second, says Airlie, during Reel People's visit to The Romeo Section's sprawling set – spread throughout the old Canada Post depot in the heart of downtown Vancouver – in August, as cast and crew filmed the fourth episode of the sophomore season. "It would be great if you went to [CBC's website] and watched season one, but if you don't, you can start watching in October and see what the series is all about."
Wolfgang faces a blast from the past this season in the form of Norman, a new character portrayed by local actor Brian Markinson (Arctic Air). Norman is a previous associate of Wolfgang's with a chip on his shoulder.
For Markinson, The Romeo Section represents a reunion with Haddock, who created one of the characters for which the actor best known: Police Chief Bill Jacobs, from both of the Da Vinci incarnations. "I like to do stuff that's hard – otherwise, why do it? – and Chris has brought it for me this year," says Markinson. "I spike a little bit more than the majority of characters in this world. I like playing tough, dark, volatile characters, but I didn't always inhabit [Haddock's] worlds in that way. I'm having so much fun."
In the crazy news year that is 2016, real life is routinely stranger than fiction, so it's little wonder the chaos of the global political and cultural climate creeps into The Romeo Section this season. Haddock says the show's characters will be "pulled into an atmosphere of paranoia that is attached to contemporary days. There's a lot more fear in the air. Anxiety churns, and I'm working in that direction and following our characters as they experience that, too."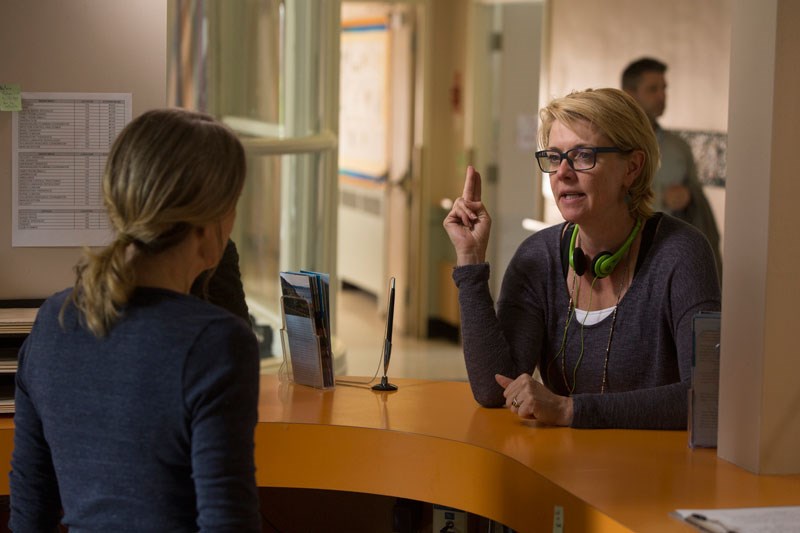 Reel People doesn't detect any fear in the air when it visits The Romeo Section set on a day when sci-fi icon Amanda Tapping (Stargate SG-1, Sanctuary) is in the director's chair. "There is a gentleness to this show and there's a grit, and they work in such incredible harmony, and I know it's entirely because of Chris Haddock," says Tapping over lunch in the makeshift food hall, a cavernous space where mailbags were once loaded into waiting Canada Post delivery trucks. "He creates these very gritty, real, deep storylines, and it's written so lyrically, and it's just amazing to me."
This new season also features a meta storytelling device: a film being made within the conceit of the TV show that becomes a compelling narrative all on its own. Set in 19th-century China, the film involves the cutthroat opium trade – a mirror of the present-day action's deep dive into the booming heroin business. This called for some ingenuity in order to (1) shoot it and (2) integrate it into the season's overarching narrative, says Tapping. "Chris very smartly started it out wide, outside, shooting over the catering truck out of the set, and now, I'm barely leaving the set."
Minutes after the interview, she's back behind the monitor, directing actors Darryl Quon and Fei Ren in a scene that finds Quon's character lounging in a sumptuous milk bath while Ren artfully maneuvers to influence an important business decision. The camera is tight on the action.
"I'm trying to keep it all so that we're telling a real story [with the film], and even if we bring the outside in, the outside comes into the story rather than jumping outside and seeing the story back there,"says Tapping, gesturing over the camera and trucks. "The film is becoming a much more integral part of the show."
The Romeo Section airs Wednesdays at 9pm on CBC. Watch the first season and stream new episodes at CBC.ca/RomeoSection.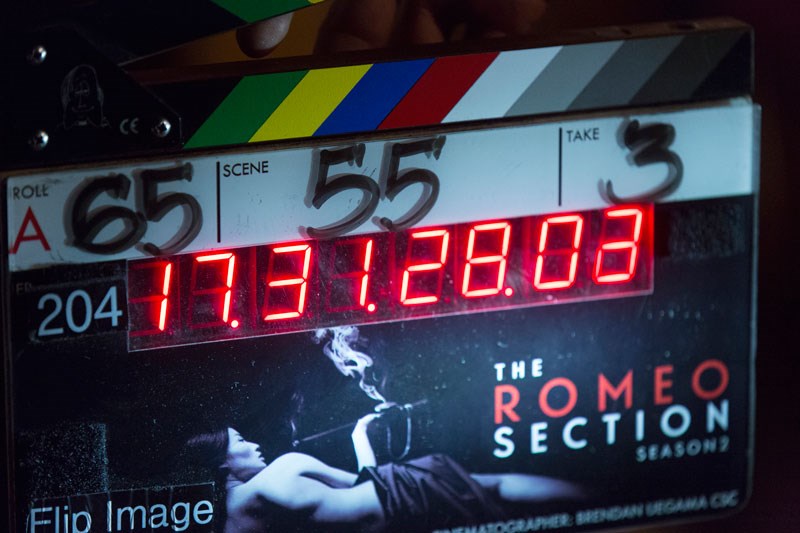 MORE FROM THE CAST OF THE ROMEO SECTION AND DIRECTOR AMANDA TAPPING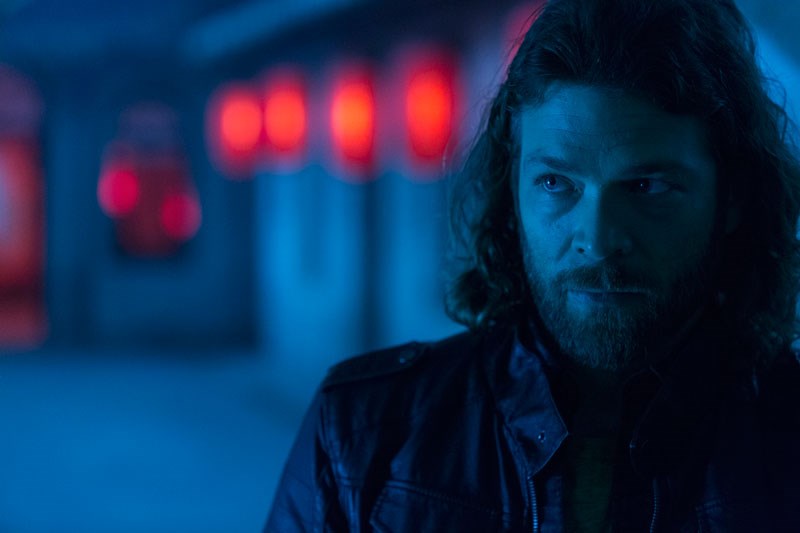 Juan Riedinger (Rufus) on working with Chris Haddock: "The biggest treat of this whole journey is getting to work with Chris. First of all, I trust him more than I've ever trusted anybody that I work with. The guy is a genius. Sometimes he'll make little last-minute changes to the story or to a line of dialogue, and at first, maybe it jars me because I've prepared it a different way, and then, after getting to see how it turns out, I go, 'Oh, now I see why he did that!' He's thinking five, six episodes ahead, and he's such a brilliant man. What worries me is I don't know how he knows all of this information, because he's digging deep into these dark and sinister worlds… [laughs] I don't even ask those questions. At the same time, he's so approachable and such a kind man, and we've really hit it off. I hope that the show continues just for the sake of getting to work with Chris."
Juan Riedinger on Rufus's journey in season two: "Rufus is starting to become a bit of a lone wolf in his aspirations. Because he and Wolfgang have started to part ways, he starts to take on the heroin scene in Vancouver on his own, and he starts to climb the ladder using his own resources. And he starts to get into some very dangerous situations, dealing with some very dangerous people, but having to use his own mind and instincts on how to manage these situations to the best of his ability."
Brian Markinson on his new character, Norman: "He's not been in the game for a long time and Wolfgang feels like he has something that would be appropriate for him, and this is where we meet him. And then this sort of partnership is rekindled, and we find ourselves at the beginning of a 10-episode journey."
Andrew Airlie on the role of entertainment in challenging times: "Entertainment is there for the same reason it's always been: It's a distraction. It's not the news; it's escapism. No matter how dramatic a show is, it's still escapism. Now, when you're watching a show like ours, are you really escaping the news? I think you still are, because our show is built on trying to layer on intrigue after intrigue after intrigue – not fear, but the intrigue of the story… much the way Homeland has done it in its more successful seasons. It's a layer of intrigue every episode. It's still escapism, so watching our show, you don't have to go and check the back door before you go to bed. We're not trying to frighten anyone. We're doing the job that everyone else is: trying to tell a good story as best you can."
Andrew Airlie on working with Brian Markinson: "Our characters were old colleagues when Wolfgang was actively in the service, and we worked together and crossed paths in probably Latin America back in the '90s. But he's fallen on some hard times and been a little ostracized from the service, although he's still active, but he's been semi-retired without [having been given] his official papers. And in season two, I am offered this intriguing story to pursue on behalf of a mysterious gentleman, which we don't know for sure where he fits in, in the grand scheme of either politics or intelligence. And in order for me to pursue that investigation, I go to Norman and say, 'Look, I want help on this. Tag along. Help me out here.'
"I'm playing with Brian, which is just a joy. I genuinely think he's, of my generation of actors, one of the best actors that Canada has ever produced – via the United States. I know he's American, but we're claiming him. He's fearless in a scene. He's always prepared. He wants to work every minute and so do I. I love reading and rehearsing. Everything about him is extraordinary."
Amanda Tapping on The Romeo Section's cast: "Chris Haddock has put together a really great cast, and they all understand that spirit of the ensemble. I'd worked with Andrew, very briefly, [but] never on this level. I had never worked with Brandi Alexander. I'd never worked with Eugene Lipinski. I'd never worked with Chris Britton. But I knew all of them. I'd worked with Juan Riedinger once – he played a soldier on Sanctuary – but to work with him on this level is something else. He's so charismatic. I don't think he even knows that when he stands in front of a camera, he smoulders. I hope he's not aware. He might be. Literally, he had a scene today, and he turned toward the camera, and he had this profile, and I was just, 'Wow, dude!' Brian Markinson is a treasure: He's wonderful, and he's working with Laci [J Mailey], and she is quite remarkable. I was watching them yesterday, and I thought there was something Sissy Spacek about her."
Amanda Tapping on how the challenges of directing have changed after helming 30 episodes of television: "When I started out, it was very much about having to prove that I could handle the job of directing an episode of television, and certainly I was very closeted for the first four episodes that I directed because it was on shows that I was involved in: the University of Stargate and Sanctuary. It wasn't until I went out into the big, bad world as a director, on my own, that I realized, 'Oh, wow.' I was nervous and I knew that I had to prove myself, and I think that is happening less and less. I'm like, 'You've got this, Tapping.' I still feel nervous – almost sick to my stomach – before the first day of shooting, and I start prep super-excited. And every single time, on day four of prep, I go, 'I can't do this. Oh, my god, what was I thinking?' Every single time.
"I also feel like I've gotten a better reputation now. A lot of this crew worked on Van Helsing. I knew a lot of the guys on the camera team from Olympus. There's a shorthand that's really nice. And I don't know what it is, but with the last couple of jobs, there has been such a sense of joy, and I really think that's massively important. I think that if you don't open up the creative process with a sense of joy – if you don't enter into something with that – then creativity festers, and you cannot possibly create in a vacuum… We are a community making a project. We are birthing a baby together, and we all need to lift it up from whatever corner we can. And so, if everyone feels that, and feels that same sense of purpose and that same sense of joy, then the days go by like that."