One of Rhona Rees' favourite things to do after screenings of her short film Shuttlecock is to engage in a call-and-response game with the audience.
"I grab the mic and say, 'When I say shuttle, you say cock,' and people love it," says the Vancouver-based actress, who stars in and produced the short film. "There's an inherent joy in having a theatre full of adults just screaming, 'Cock!' I think people feel safe doing it because they're doing it in a group. It's freeing."
Shuttlecock's humour begins with its title — which refers to the projectile that badminton players hit back and forth — and careens on from there. The film was written and directed by Melanie M. Jones (FSM) and created as part of 2018 Crazy8s, a filmmaking competition in which teams compete for the chance to shoot, edit and lock their films in eight days.
Rees stars as Winnie, a washed-up badminton player whose Olympic dreams are dashed when her rival smashes a shuttlecock into one of her eyes.
Winnie's shot at redemption — a charity tournament that will pit her against her rival — is being filmed by a documentary crew, making this mockumentary (dare we say cock-umentary?) one of the most audacious comedies screening at this weekend's Vancouver Just For Laughs Comedy Film Festival.
Shuttlecock isn't just funny. It's also empowering, according to Rees, because it wields a type of humour that's typically the domain of men.
"If you were to read the script and not know who wrote it, you might think that it was a man writing it because there are so many cock jokes, and I find joy in that it's four women who did this and it's a cock story," says Rees.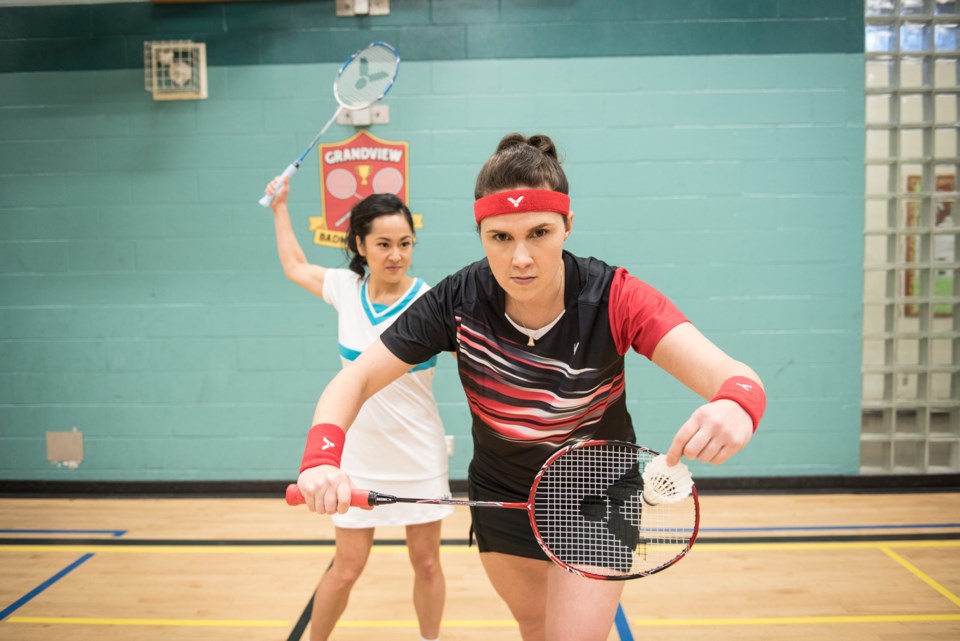 Even the type of character she plays — a sarcastic, smirking, problematic loser — isn't usually written for women.
"We're so used to seeing Seth Rogen in this type of role," says Rees, who describes Winnie as a female Kenny Powers. "We forgive these males for being overweight and rude and not having their lives together, because they're quirky and loveable, but we don't see as much of that representation with women. Although we don't necessarily want our girls to aspire to be like Winnie, it's refreshing to see that kind of diversity of female characters being portrayed on our screens."
Rees — who's been working in the entertainment industry for 24 years, both in front of the camera and behind the mic as a voice artist — learned a lot during her Shuttlecock experience, such as shooting under the gun, producing and badminton.
"We found out that badminton is really freaking popular in Vancouver, and people play badminton from 8 a.m. until 1 a.m., seven days a week," says Rees. "In pre-production, 100 per cent our biggest challenge was finding a court, because people are playing around the clock."
Rees also learned that not everyone knows that a shuttlecock has nothing to do with genitals.
"Unless you're someone who's had some experience playing badminton at some point in your life, then you might not known what the word shuttlecock means," she says. "People ask, 'What's the film about?' And I go, 'Um, it's called Shuttlecock, it's about badminton, isn't that clear?' I wonder what they think the film is about —some kind of transportation penis?"
Shuttlecock screens this weekend as part of the Vancouver Just For Laughs Comedy Film Festival, which runs Feb. 14 to 23 at Vancity Theatre. The fest opens with Laura Steinel's Family and closes with Never Be Done: The Richard Glen Lett Story, a documentary about the fall and rise of the controversial Vancouver stand-up comedian.
The fest also offers conversations with Seth Rogen, Evan Goldberg and Ken Jeong, industry panels for emerging comedy filmmakers, screenings of the feature-length films Bernadette, Banana Split, Pork Pie, Thunder Road, I Killed My Husband, Sorry For Your Loss and An Innocent Kiss, and two showcases of short films — one spotlighting films from abroad, and the other spotlighting films from the Pacific Northwest.
Shuttlecockscreens at the latter. So if you've ever wanted to yell "Cock!" at the top of your lungs in a crowded theatre, Sunday's your day.
Details at jflnorthwest.com.
sabrina@yvrscreenscene.com