When CTV approached Brent Butt and his partners about bringing Corner Gas back to the small screen, the Vancouver comedian was admittedly leery.
The sitcom — which ran for six seasons and followed the misadventures of gas station owner Brent (Butt), café owner Lacey (Gabrielle Miller), and zany friends and family in the fictional town of Dog River, Saskatchewan — was still universally beloved. It had even spawned a 2014 movie that played to sold-out crowds.
Why would Butt want to mess with that kind of legacy?
"I didn't really want to go back to the well and just do the same thing over again," says Butt, who created the show. "Are we tempting fate? Are we going to screw up the legacy of this? And I didn't want to do that. We all thought we needed to do something different or there would be no reason to do it again."
One week to go!! Warm yourself up with a Corner Gas marathon. Catch an original episode every Monday-Saturday at 7:30am only on @comedynetwork! #CornerGasAnimated pic.twitter.com/wlCFyO3eAT

— Corner Gas (@CornerGas) March 26, 2018
It's a beautiful day in May of last year. Butt is seated on a couch in an engineer's booth in Kozmic Sound, a busy recording studio near Cambie and Third.
He's taking a break from recording audio for a version of Corner Gas that is at once familiar and "something different": Corner Gas Animated, a 13-episode cartoon series that premieres on The Comedy Network on April 2.
The original Dog River gang is all there: Brent, Lacey, Oscar (Eric Peterson), Hank (Fred Ewanuick), Davis (Lorne Cardinal), Karen (Tara Spencer-Nairn), Wanda (Nancy Robertson), and Emma (Emma's original portrayer Janet Wright passed away in 2016; the role is now voiced by Corrine Koslo).
Butt and his co-writers laid the foundation for the animated series in the original show, when they'd come up with jokes that were "too big for some reason or other, but I thought, 'I don't want to not be able to do these jokes,' but I knew if we did them they would fracture the reality of the show," says Butt. "So we created this reality whereby we could pop out of our reality into peoples' imaginations."
In Corner Gas Animated, Butt and co. build on this convention.  
There's a battle between a unicorn and Sasquatch. There's a scene from Mad Max where Corner Gas is a standalone station in the middle of a post-apocalyptic desert landscape surrounded by barbed wire and 40 approaching dune buggies.
"In live action, we were always limited in what we could do, with time, money, space, physics, the laws of man, but now there's things we can do that's just bigger that still fits into this fantasy pop-out but we can push the envelope a little bit."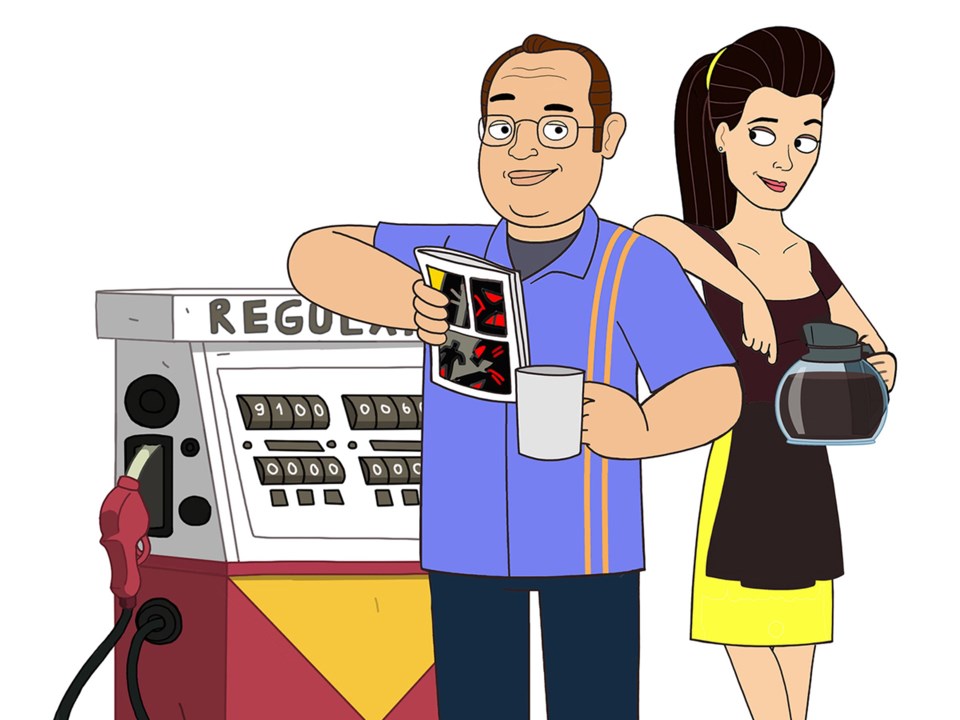 The move into animation was a natural one for Butt, who worked as a graphic artist and comic book illustrator before launching his stand-up career.
Butt was heavily involved in developing the look of Corner Gas Animated and its characters, working closely with Vancouver animators Josh Mepham and Greg Huculak to achieve a style that "could stand shoulder to shoulder with the best of the US primetime network animated shows, like The Simpsons and Bob's Burgers," says Butt. "It's contemporary, animated, with clean lines and bright colours, and it does have its own feel because our artists aren't their artists. We developed our own look."
The cast recorded the show together in studios in Vancouver and Toronto. "So much of what made this show work was the chemistry that the actors had with each other when they were doing a scene," says Butt. "It's why we get together to record the shows. Everybody could do it individually and separately, but we all felt we'd be missing that thing that made it work."
They were missing an essential ingredient, though: Janet Wright, whose passing in 2016 left the Corner Gas family heartbroken. "Long before we thought of anything else, it was devastating to us," recalls Butt. "And then after some time goes by and you accept what's happened, then the practical side kicks in and you say, 'Well, we're a long ways down this development road here on this project, what do I do?'"
Ultimately, it was Wright's husband, Bruce Davis, who encouraged Butt to include Emma in the animated series and suggested Wright's longtime friend Koslo for the role.
"If you were a fan of Corner Gas, I really think you'll enjoy this show," says Butt. "You're getting everything that you loved about the show, and it's got a new wrinkle to it, but it's absolutely Corner Gas. We didn't add a Great Gazoo space man or anything like that. There's no talking monkey."
Corner Gas Animated airs Mondays at 8pm on The Comedy Network beginning April 2. @CornerGas @BrentButt