In the span of less than a decade, Meredith Coloma went from failing a high school woodworking class to building custom-made instruments for musicians who've sold hundreds of millions of albums.

At just 26, Coloma is one of the youngest luthiers in Canada, if not the world.

The Vancouverite's seemingly rapid success is a unique talking point in the larger discussion around her trade of choice. In a profession dominated almost exclusively by men, Coloma is one of roughly a dozen full-time female luthiers in Canada.

By contrast, there are hundreds of male luthiers across the country.

"On a regular day I'm wearing heels, but when I'm in the shop I'm totally plain-faced in the most atrocious attire, covered in glue and sawdust," Coloma said. "I have to 'de-girlify' when I'm working. I don't think most girls like to do that. You don't look great and you can feel really gross."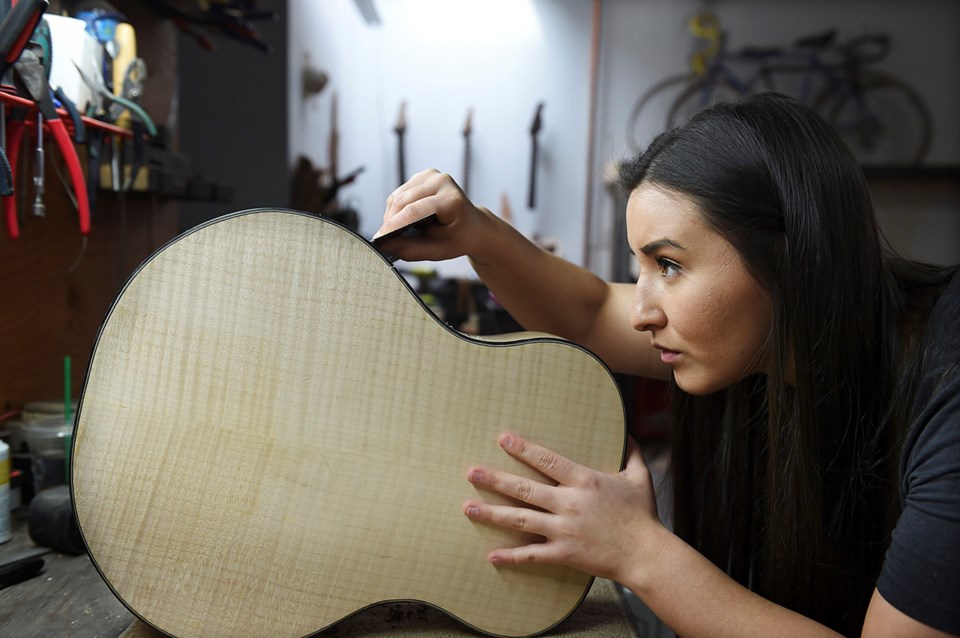 Coloma came into luthiery through the back door. A prodigious fiddle player in her teens, she first opted for acting and set out for New York City. When those aspirations dried up, she fell into an apprenticeship with renowned New York-based luthier Roger Sadowsky, who's built instruments for Keith Richards, Bruce Springsteen and former Metallica bassist Jason Newsted.
Coloma was just 18 at the time.

Those pivotal years of study helped solidify her current career path: she's now a full-time builder of guitars, mandolins, ukuleles and more. Her incorporation of highly detailed Art Deco motifs are sought out by the giants of rock 'n roll. But because many of those artists are subject to exclusive endorsement deals, Coloma can't publicize who she's sold her work to, nor can the artists disclose that info.

"It was a really intimidating career to enter at first," she said. "When I was in school operating tools, people would watch me very, very closely. If it was another young guy on a bandsaw, they wouldn't give a crap. For me, I would have six or seven people staring at me. That is really nerve-racking."
Hotbed of talent

For whatever reason, southern B.C. is a hotbed for female luthiers, such that roughly a quarter of all those working full time in the profession call Vancouver home. The rest tend to live in Toronto, Quebec or in the Maritimes.  

The Courier spoke to three local luthiers at varying points in their career. Shelley D. Park has been building instruments for 20 years and is considered the preeminent gypsy-jazz guitar builder on the West Coast. Hana Boye began her building ways in 2010, while Coloma's been at it professionally for about five years.

There are commonalities in each of their stories: they all grew up around someone who loved woodworking, their attentiveness is second to none, they build roughly 20 instruments per year and their individual works can fetch anywhere between $2,000 and $15,000 a pop.

Boye builds exclusively with her hands, eschewing the use of any machinery such as bandsaws, plainers or other heavy industrial tools. Coloma works in a similar fashion. There is a spiritual connection to the instrument and an almost Zen-like tranquility found in that approach.

"You need to learn the alphabet before you can recite poetry," Boye said. "I strongly value the skill over relying on a machine. It's really important to me that I know that I can do this work by hand before relying on a machine."
Park, however, is having none of that. While she respects and praises those who go it by hand, Park is all about practicality, minus any feelings of attachment.
"I'm not the least bit sentimental — that's just how I'm wired," she said. "I'm quite content that way. I like efficiency and using machines helps me with that."

Originally from Winnipeg, Park was 19 when she moved to Vancouver in 1991. She took a now-defunct luthiery course at Douglas College and worked in music shops and alongside more senior luthiers until 1998. She's been at it solo ever since, specializing in the Selmer Macafferri type of guitars exclusively. The resonance, dimensions and tone found in a Selmer differentiate it from other, more traditional acoustic guitars and it's used almost exclusively for playing gypsy jazz music.

Like her counterparts, her woods of choice include spruce, maple, cedar or Indian rosewood, among others. Park typically works on two guitars at a time and about 90 per cent of her clientele is from the U.S. Like those who typically build them, her buyers are predominantly men.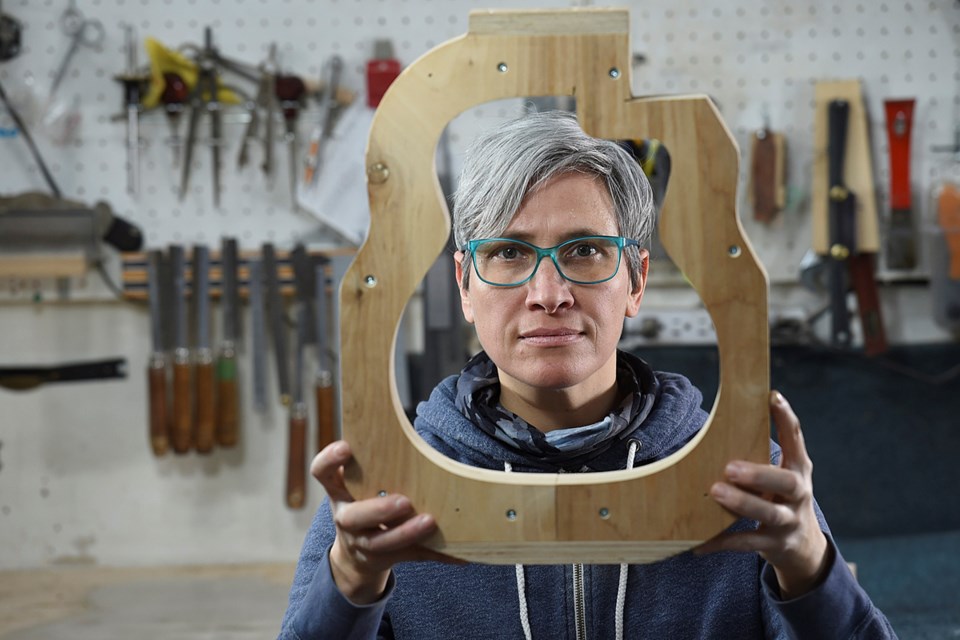 "Any kind of woodworking is not traditionally something that women are pointed towards as a career path," she said. "I don't think there's any reason women shouldn't be doing woodworking because they bring an interesting and different set of skills to the table quite often." 
The go-to guitar guy

While luthiery is the full-time bread and butter for Coloma and Park, Boye gets to guitars when her day-job permits. A lawyer by trade, Boye's two paths in life depend on details, details, details.

And those details are still very much a work in progress. That's where Boye's teacher, Geza Burghardt comes into the picture. A luthier with close to 60 years' experience, Burghardt is one of the go-to guitar guys on the world's stage. A Granville Island staple, the Hungarian ex-pat earned the title of master luthier after 15 years of training in Europe.

He has built instruments for, or taught would-be luthiers, from virtually every continent. He doesn't advertise, yet has a waitlist that's backlogged until next summer. His work commands upwards of $30,000 USD for one instrument.

He's taught dozens of men over 20 years, but less than 10 women. Outside of Boye, he's also taught Nicole Alosinac, a Vancouverite who has been in the instrument repair business for 14 years.

"All the women who have studied with me have been enthusiastic and their attention to detail is amazing," Burghardt said. "Once they learn the skills, they are totally equal to the men I've taught, if not better."