There's no shortage of vitality on the Vancouver roots music scene. From Petunia and the Vipers to Cornshed, from the Creaking Planks to Swank, there's a host of mainstream dropouts mining old-timey folk, country swing, ragtime, and gypsy jazz for inspiration.
But you don't necessarily expect that sort of music to turn up on a Not Yer Buddy compilation, coming from a bunch of young East Vancouver punks. It was NYB comp No. 4 that first brought Devil in the Wood Shack to this music journalist's attention, where they performed a manic jugband ditty called "Devil Does Do."
Roots music – or folk punk, or whatever you would like to call it – is by no means the only genre Devil in the Wood Shack does, mind you. "No Condition," on their upcoming split CD, Live at the Nest, sounds more like Bone Machine-era Tom Waits, with frontman Joshua Wood's bluesy growls complimented by a sultry co-vocal from Thalia Couture.
But their roots run deep enough that Westender really just has one question for them: How did you get into this sort of music?
Wood explains over an Americano, on the Drive. 
"I was listening to Bob Dylan – not Bob Dylan himself, but he had a radio show" - Theme Time Radio, which ran on Sirius/ XM from 2006 to 2009. "From a young time, I've been a big fan of Dylan. And he started touching on all these old-time, '20s and '30s bands, just music I'd never really heard before. And being told from someone you highly respect, it gets you to listen to it."
Around that time, Wood was studying jazz guitar in Hamilton, Ontario, which wasn't entirely for him, he explains.
"Being at school for music is very competitive. Everyone thinks they're the next great, and they've all got their noses in the air. I fucked off after a year."
Fellow Ontarian and Devil in the Wood Shack co-founder Wesley Coderre had collaborated with Wood on a project called Driftwood, netting some recognition in the St. Catharines/Niagara Falls area, "but it was kind of a dead scene at the time."
When the two found themselves in BC in 2011, it seemed natural to strike up the collaboration again. They came up with the band name over breakfast at Bon's Off Broadway.
"These are primarily my songs," Josh notes. "My last name's Wood, and our old band was called Driftwood," so the association with the word "wood" stayed in place.
The idea for the band name was Coderre's, however.
"He was reading a lot of folklore at the time, and it's kinda the image of a wood shack, out in the spooky woods, neighbour to some witch, with some ghoul under the bridge down the stream there... you can picture it, just red, glowing from the window."
The other band on the split CD, Still Spirits – an offshoot of Maple Ridge ska punkers the Bone Daddies – owe their name to the lore around distilling spirits, with their music hearkening back to the speakeasies and jook joints of the 1920s and '30s. 
Appropriately, Still Spirits cut their teeth busking at the Haney Hotel, on a flat area of pavement between the bar and a nearby gas station.
"We'd set up there on a Friday or Saturday night so we'd get all the drunks that were wandering from the Haney to the Chevron to pick up smokes or snacks," rhythm guitarist Jonny Bones explains. "We'd get a little crowd of 10 to 20 people hangin' out and dancing with us."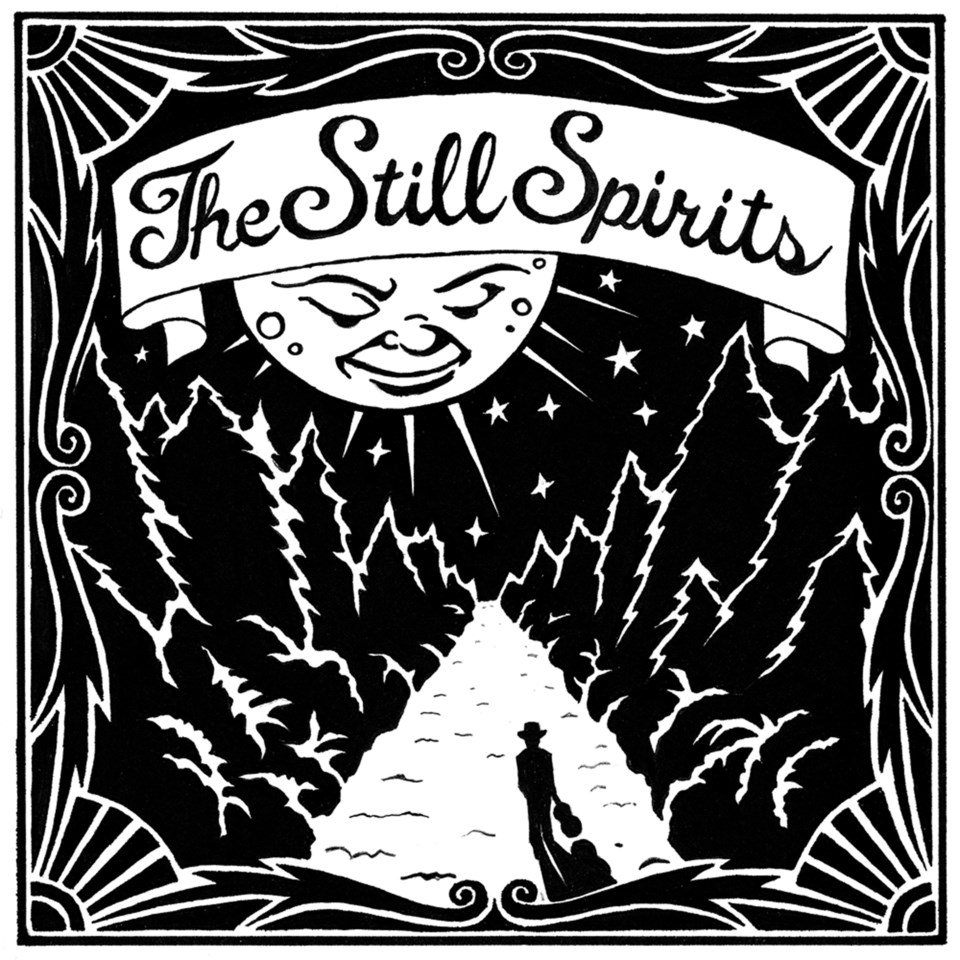 Their song "Cold Beer and Wine," on the split, owes to that environment, but the real key to their music is the banjotar that Bone Daddies guitarist Skiff had previously picked up when joining the Air Force Reserves.
"It's basically a guitar, attached to a banjo body," Bones says. "So you get the sound of the banjo, but you don't have to learn how to play one," hence it sometimes being known as a "cheater banjo."
"When he came back [from basic training], he showed us some of the songs he had. They were all really good, but they were a lot slower, a little bit more folky, so they didn't really work as Bone Daddies songs." 
Thus was born a side-project, with all members of the Bone Daddies plus friends Jesse Williams on mandolin and Jeremy Addinell on washboard and spoons.  
The band has a strict dress code, which will be in force when they perform with Devil in the Wood Shack at Pat's Pub this Friday.
"Even when we were busking, if you wanted a cut of the money we made, you had to show up in a collared shirt, with slacks on and polished shoes. If you didn't have that stuff, you could play, but you didn't get paid!"
• Devil in the Wood Shack and Still Spirits play March 11 at Pat's Pub, with special guests Staggers and Jaggs and Jeff Andrew.