"I'm tripping myself!" exclaims Tonye Aganaba, sitting in an Eastside café.
She isn't remarking about her abilities as a singer, songwriter and musician, although she would be completely justified if she were. Instead, Aganaba – whose stage name is simply Tonye (pronounced tawn-yay) – is impressed merely that she was able to walk the few blocks from her home to this interview. Only days earlier, it would have been physically impossible.
Last year, the 31-year-old was diagnosed with Multiple Sclerosis, a neurological condition whose myriad symptoms can include impaired vision and sensation, fatigue, compromised coordination, and much more. Since then, she has experienced a roller coaster of remission and relapse; her most recent (and strongest) relapse occurred in March, and its timing was especially cruel.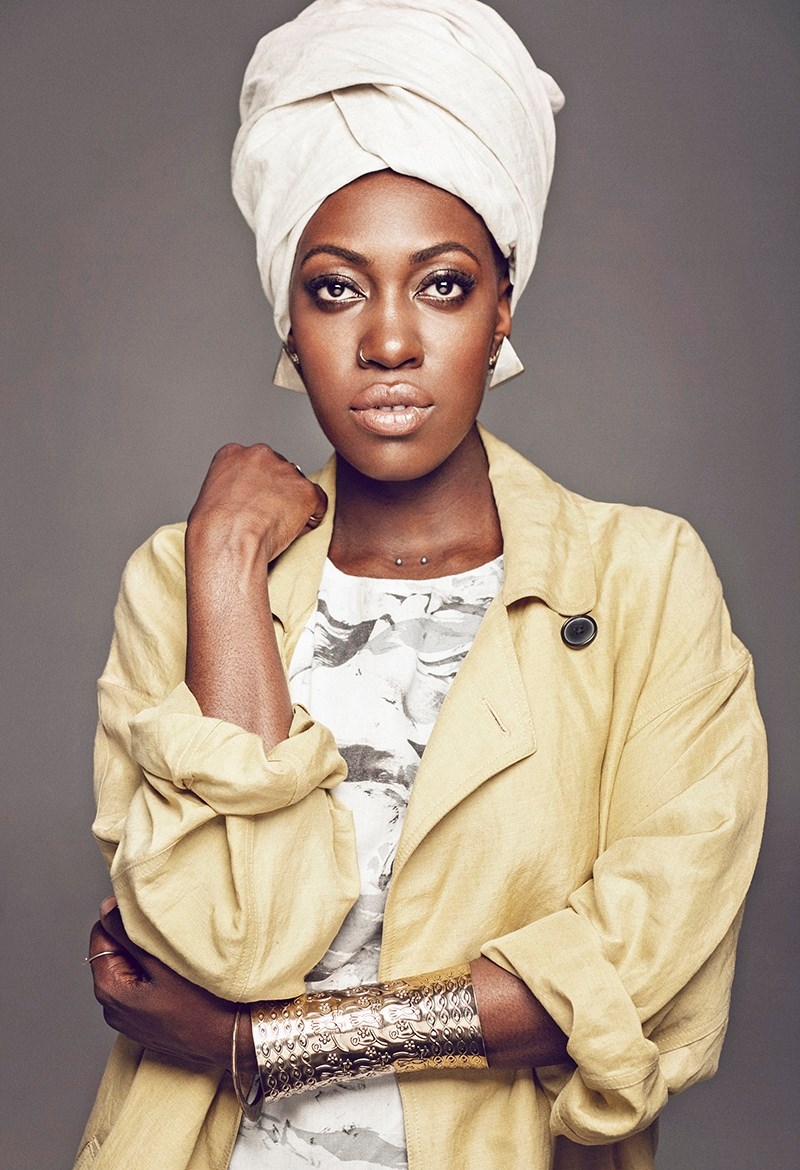 In fact, it seems a disservice to Tonye that MS should play such a prominent role in this story. All that should matter is that shortly before her latest relapse, she and her new label, 604 Records, released the single "Villain" – not Tonye's first studio venture by any means, but her bona fide wide-scale debut – and it isn't an exaggeration to say it ranks as one of the best R&B recordings ever to come out of Vancouver, spanning decades of soul and funk touchstones, from Chaka Khan and Jody Watley to Brand New Heavies, Jill Scott and others. "Villain" should be a nationwide hit and a star turn for its creator, yet at the time of this writing its YouTube clip has fewer than 1,000 views. This is, in part, because when she was in her hometown of Dawson Creek to take part in an upcoming CBC program, filming was halted after her brother found her collapsed and unconscious on the stairs of their parents' home. "I don't remember ANYTHING," she posted to Facebook the next day. "I have just woken up and am desperately trying to fill in the blanks."
When she meets Westender, Tonye has recovered the ability to venture out into her neighbourhood only in the past 48 hours. Yet, however compromised she is physically, ("I feel about 100 years old, but that's because of my health," she says. "My brain feels young!"), she looks like the proverbial million bucks, from zipper-covered leather trousers to a walking stick topped with a Don't-even-think-about-fucking-with-me billiard ball.
And she has no problem talking about her misfortune – not only because May is MS Awareness Month, but because she believes her resolve to carry on is a reflection of who she is as an artist and as a person altogether. She laughs loud and often, is gleefully, endearingly profane, and radiates charisma to a degree I've not observed in most of the A-list celebrities I've met. "It's one of those bullshit diseases. It's like, 'Yo, fuck you, MS,'" she says, matter-of-factly. "The brain is vast and unexplored, like space and the ocean. But I have faith that MS will be cured within my lifetime."
"Villain," she goes on to explain, is essentially the end result of her evolution as an artist since moving to Vancouver a decade ago. "It took me six or seven years to find my feet and start feeling like this was somewhere I could call home," she explains. Although she has long kept busy as a performer and collaborator, and in her bills-paying job as manager at Gastown's Guilt & Co. (from which she had to resign at the beginning of the year), she believes she didn't begin fulfilling her potential until she made a decision a few years ago. "I quit drinking. It was the smartest thing I ever did," she says. "I came to realize I would never reach my full capacity if I wasn't able to emote honestly – alcohol and drugs were a way for me to not do that. So now, going into my fourth year of sobriety, I can honestly say it was the wisest thing I ever did for myself. I'm pissed at myself that it took me so long."
Anyone investigating her history wouldn't know this from looking at the video evidence that survives online from her drinking days. A 2011 clip of her performing in the Gastown flagship of John Fluevog, for instance, suggests an artist in full command of her faculties and her craft. "I was a great actress," she counters. "I've never struggled to get onstage and do my thing. That's the one place where it doesn't matter what else is going on in my life. I channel something that's not me. Well, it's me, but it's my superhero time.
"I laugh. I laugh at what kind of fucking idiot I was. I write a lot about love, but now I look back at the music from before my sobriety – I'm just like, 'Damn, girlfriend. You were high if you think that was love.'"
Now emboldened and determined, Tonye hopes her current remission will sustain well enough to justify releasing an EP, also titled Villain ("Five songs of fury," she says of it) in June or July, to coincide with a set at the Canada Day festivities at Canada Place. (She also was recently booked to play the Montreal International Jazz Festival.)
"MS has forced me to live in the moment because I don't know about tomorrow," she says. "The possibilities are endless and I can't spend time thinking about them. I just have to live now. I'm not the best, but I feel good about myself and I want to honour myself by investing in my own dreams. Everybody should have their own dreams."  
• Tonya Aganaba's latest single, "Villain," is available now from iTunes.