Michelle Muldoon grew up watching westerns with her dad. She loved the grittiness, the realism and the shoot-outs that populated films such as The Good, the Bad and the Ugly and Two Mules for Sister Sara.
It wasn't until much later, when Muldoon was already working in the Vancouver film industry as a writer, director and AD, that she took a long moment to contemplate how women had been represented in the genre she loved.
And what Muldoon realized during that moment of pondering was bad, ugly and not very good at all.
"What we've seen with women in westerns is what we call the Madonna-whore complex, where you're either the hooker in the saloon or you're the long-suffering, dedicated wife at the farmhouse," says Muldoon. "If you're not those two, you're not in it. There have been dynamic female characters throughout in some way [...] but they've always been an offshoot of those roles."
But you won't find any of those character types in Last Stand to Nowhere, even though it features an all-female cast and is undeniably a western.
The locally shot short film — which Muldoon wrote and directed — takes the story of the Gunfight at the O.K. Corral and re-tells it with women characters. Chelah Horsdal (The Man in the High Castle) stars as Wylona Earp, Johannah Newmarch (When Calls the Heart) plays Doc Holliday and Luvia Petersen (Continuum) portrays Ida Clanton.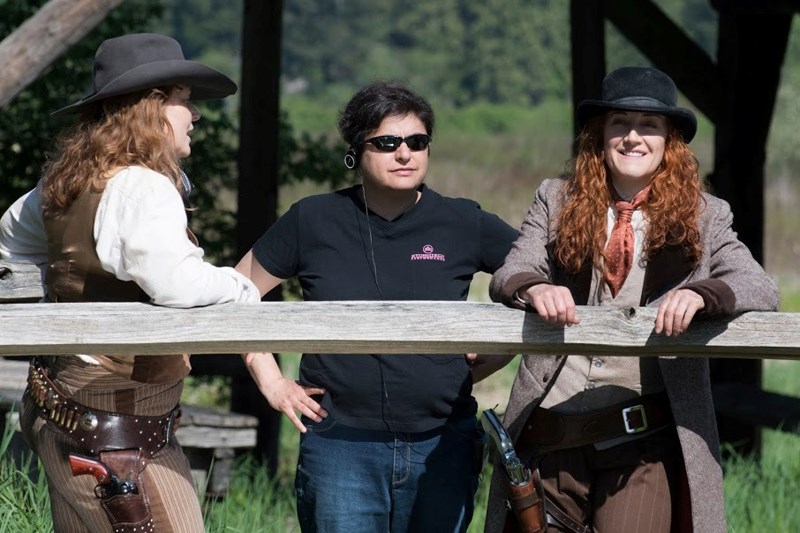 "It's not only the most retold story in westerns, it is the most well-known internationally in westerns, and it's almost become mythological," says Muldoon. "I knew that if I wanted to tell a western that any audience anywhere would have some grounding in, and therefore could question with me, it would be this story."
"People treat the Gunfight at the O.K. Corral as a historical fact, but the story that we run with was told by Wyatt Earp to screenwriter Stuart Lake in the later years of his life, so it's not really history because we only have that one person's recollection of his role," adds Muldoon. 
Last Stand to Nowherewas financed through crowdfunding and went to camera in 2018. Shooting (both filmic and of the gun-slinging variety) took place at the Jamestown Movie Set in Langley, where Hallmark's historical family drama When Calls the Heart also films.
"There was a point on set where I looked at a couple of people with me at the monitors and said, 'This just feels so normal to me, is it just me?' And everyone around me said, 'No, this feels normal,'" says Muldoon. "No one had a problem buying into women gunslingers because these actresses brought a universal quality to everything they did."
Muldoon's Last Stand journey hasn't all been smooth sailing. From the get-go, she's encountered pushback, primarily from "older gentlemen who grew up with the story."
"That's been the hardest part for me to realize that, as a Canadian, Americans don't see this as a mythological tale. They think this is their history that I've messed with, so I want to cut the people who have pushed back some slack on that."
Last month, Muldoon was the lone Canadian filmmaker invited to attend the venerable Almeria Western Film Festival in Spain. The festival takes place in Tabernas, in a replica Wild West town that was built for Sergio Leone's For a Few Dollars More.
Muldoon's experience in Spain taught her that, as a filmmaker dedicated to producing women-driven westerns, she's an outlier. She also learned that the appetite for films like Last Stand to Nowhere is very much alive.  
"The line I kept hearing was, 'You're very brave to have made this,' and the festival director thanked me for making this film and said he wants to see more women in westerns," says Muldoon. "We were shown by this renowned and trailblazing western film festival that we belong, and that's something we'll carry with us forever."
If Muldoon gets her way, Last Stand to Nowhere won't be her last western. "If I can make more westerns, I would make more westerns, because I think the growth for female filmmakers is not to keep making dramas," says Muldoon. "I think the growth for female filmmakers is to break into the genres that we have traditionally been shut out of. We've been doing it somewhat in horror and science fiction, and I think it's time we turned to westerns."
Last Stand to Nowherealso stars Maja Aro, Jenn MacLean-Angus, Sadie Silcock and Julie Lynn Mortensen.
Find out about future local screenings at facebook.com/laststandtonowhere.
sabrina@yvrscreenscene.com
Note: This story has been updated since first published.