The images are, at best, disturbing.
Ordinary-looking people calmly staring out from behind a clouded sheet of plastic. A man in a cap and glasses, on his knees, pressing his hand against the plastic as smoke surrounds him. A young woman lying on her back, eyes open, lifeless. Impassive people in hazmat suits looking in, holding gas pumps.
It looks like a dystopian experiment or war atrocity. It's actually a chilling metaphor of what we're doing to ourselves on this planet.
That's according to Coltura, a Seattle-based, non-profit environmental arts group whose mission is to wean North America off gasoline by 2040. Its latest work, The Gas Trap, is a striking performance piece involving actors inside a 7.5-metre high clear vinyl bubble that's hooked up to a car. During the show, the car's exhaust fumes appear to fill the bubble, leading to the harrowing scenes described.
It's a performance that's designed to shock, says Coltura executive director Matthew Metz.
"These people are experiencing what all of us are experiencing as far as the slow filling of our atmosphere with gases, with exhaust," Metz says. "… The idea is to bring it down to the level of a living room."
Metz believes that the time for slow, incremental reactions to environmental issues is over, and decisive action on climate change and pollution is now a moral imperative. For Coltura, ending our dependence on gasoline – and moving to electric vehicles and/or transit – is a quick fix to getting a sizable chunk of CO2 out of the atmosphere and reducing exhaust fumes' toxic effects.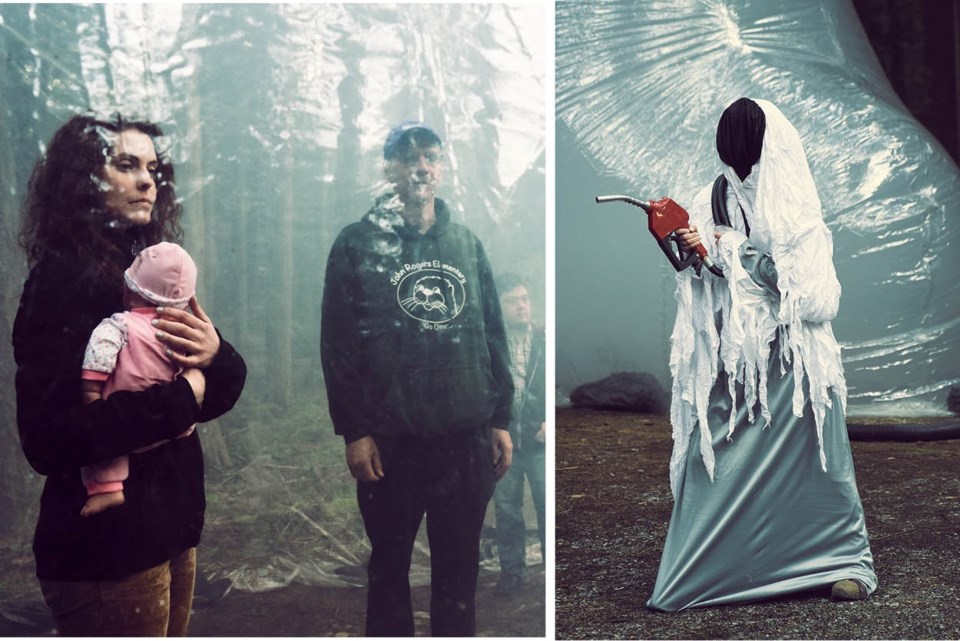 Metz laughs when it's suggested to him that performances like The Gas Trap, which has already been performed in Portland and Seattle, are preaching to the choir of the environmentally aware, West Coast middle class.
"My response to that is the choir is involved in an orgy of pollution right now. A lot of preaching to the choir is required right now," he says.
The statistics from B.C. back him up. ICBC figures for 2015, the most recent available, show that out of B.C.'s 3.1 million registered vehicles, only 3,200 are for electric vehicles – a minuscule 0.1 per cent. Adding in hybrid vehicles, which blend electric power with a gasoline engine, raises this figure to only 1.2 per cent.
It's not good enough, Metz says, because he believes the technology is there for electric vehicles to flourish, with ranges now comparable to gasoline vehicles and growing charging infrastructure.
"There are enormous opportunities on the West Coast to make a big carbon difference and teach the world how to live without gasoline. We should be the leaders in getting charging and everything set up," Metz says.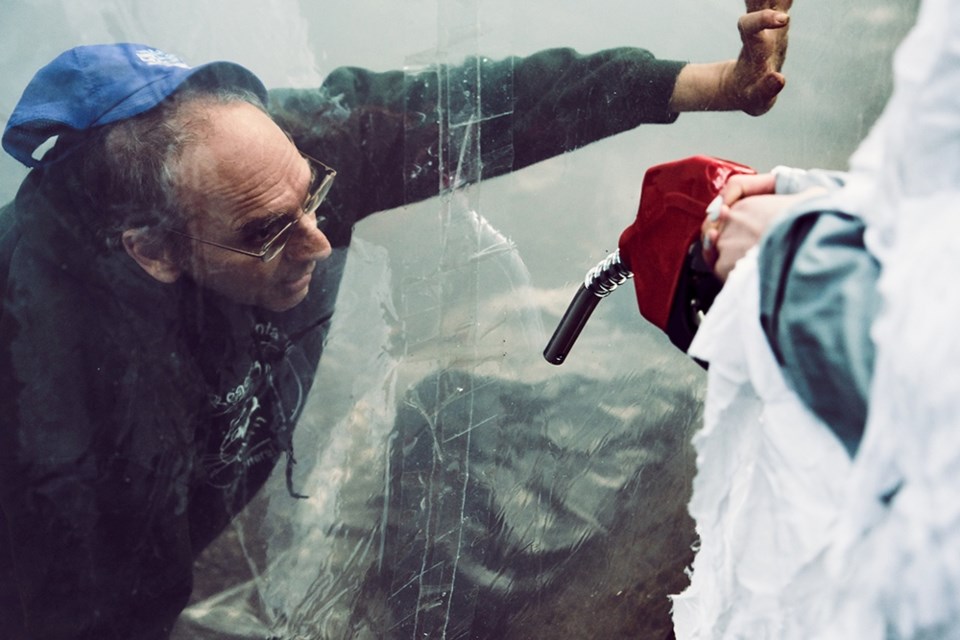 B.C. in particular, with its wealth of clean hydroelectric power, could enormously reduce its carbon footprint by moving away from gasoline.
"It's basically a political question, a question of will. And that's what we're working on," he says, describing Coltura's purpose as "citizen education using big bold works of art."
"We're really trying to change the moral perspective with regard to carbon emissions, with regard to fuel."
From smoking to gay rights, Metz describes how other social movements gained traction following a "tremendous shift in attitudes."
Coltura's past works have targeted gasoline as well, including a mock hazmat cleanup outside a Seattle gas station. But The Gas Trap has drawn the biggest reaction and plaudits for its stark imagery and dramatic props.
The question remains: What are they really pumping into that giant vinyl bubble? Metz won't tell, saying that it's all part of the "mystery" that will be revealed during the free, 25-minute show.
"The mystery being, how sick are these people that are putting actors in a bubble connected to a car's exhaust?" he says with a wry laugh.
 
• The Gas Trap runs Sept. 10 at 2 p.m. and 3 p.m. at the Roundhouse (181 Roundhouse Mews). Free. Info at http://roundhouse.ca/events/the-gas-trap/.