It wasn't that long ago that virtual reality existed solely in the works of cyberpunk writers and futurists – a madcap concept from a sci-fi future.
Welcome to the future. That sci-fi future is happening right now. And, in the rapidly expanding VR sphere, Vancouver is emerging as a global tastemaker.
Virtual reality in 2018 is almost exactly as cyberpunk writers imagined it would be: an immersion in a different world facilitated by headsets like the Oculus Rift and Samsung Gear.
(Virtual reality is not to be confused with its kissing cousin, augmented reality or AR, which adds elements to actual reality via a screen or glasses – Pokémon Go being its most widely known example).
VR tech began in earnest in the mid-1990s and kicked into high gear in the 2010s with the introduction of consumer headsets. It's been widely embraced by the gaming community (although it's increasingly used by documentary and narrative storytellers, too), and according to Statista, it's a $12.1 billion USD industry with an estimated 171 million users around the globe.
In Vancouver, VR's growth is evident in the multiple VR arcades that are popping up around the city (like Evolve Virtual Reality on West Broadway, where visitors can play more than 40 VR games like Beat Saber and Elven Assassin and explore the real world via Google Earth VR), in events like the Vancouver Virtual Reality Film Festival (the second edition of which took place in May), in films like Tidal Traces and Inside Insite produced at the National Film Board of Canada's Vancouver studio, and in the establishment of the VRAR.Academy, which offers a 3-month program in VR and AR development.
VRAR.Academy grads don't have to leave the city in order to wield their skills: in three short years, the local VR industry has ballooned from six studios to nearly 200 players, says Nancy Basi, executive director of Vancouver's Film and Media Centre at the Vancouver Economic Commission. "We are in an enviable global position and widely recognized as a global Top Five hub for VR/AR, with more and more sources describing us as #2 in the world," says Basi. "However, the continuation of this success requires three ingredients: talent, capital, and cross-sector collaboration."
Ollie Rankin is an example of the first who is striving to shore up the second and third: a visual effects veteran (his credits include The Lord of the Rings films) and director who is currently in post-production on Downloaded, an interactive, immersive, and narrative driven VR film that Basi is executive producing.
Rankin was initially drawn to VR because of its potential to mimic lucid dreaming and foster empathy, as well as "the ability to see, do, and experience everything without the expense or danger," he says.
In Downloaded, the viewer works with a live-action character (Riverdale's Tiera Skovbye) to escape from inside a computer following an experiment gone wrong.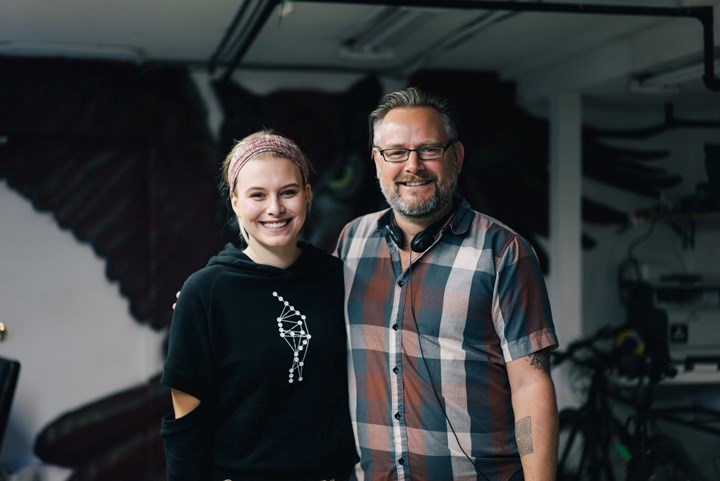 Rankin describes Downloaded as "a hybrid of a film and immersive theatre and an escape room and a game. It was important to me to be able to appeal to and entertain people on the full spectrum of engagement, from entirely passive observers through to hardcore gamers."
Although the VR sphere has expanded in recent years, it still has a way to go before its footing is secure, says Rankin. "There are hundreds of companies that are dabbling in VR, but, with a few exceptions, they're all struggling in one way or another," he notes. "AR is going to have the advantage there of being more directly applicable as a business tool, and as more and more industries pick it up, it will pave the way for AR as an entertainment platform, and then VR will come into its own."
"It's not going to be a quick transition," he adds. "We have at least another decade of technological advancement before it's really as simple to get that full experience that you can have at a VR arcade in your home."
But there is a hunger for content like Downloaded, a demo of which he intends to have ready for the Virtual Reality/Augmented Reality Global Summit that will take place at the PARQ Hotel next month, and for other VR experiences that – surprisingly – bring people together in the real world.
"A lot of people say that VR is an isolating, anti-social experience because you put on a headset and headphones and you cut off the world around you, but like immersive theatre experiences, always the highlight of going to one of those things is talking about it with your friends afterwards," says Rankin. "No one person has experienced the entire thing themselves, but as a collective, you may have experienced almost everything, and you can piece it together as a group. That's one of the things that I want Downloaded to do as well: to encourage people to collectively piece together the whole story."