I'm inclined to title this column "The unlikely success of The Body Remembers When the World Broke Open," but I keep tripping over the word "unlikely." It assigns a value judgment about Vancouver independent film that I'm uncomfortable to concede (i.e. that it should be at all surprising when a locally shot indie is both a commercial and critical success).
And yet the fact remains that the trajectory of The Body Remembers When the World Broke Open has been remarkable — and, yes, maybe even a little unlikely for an independent feature film shot over five days in East Vancouver in early 2018.
The Body Remembers When the World Broke Open was written and directed by Kathleen Hepburn (Never Steady, Never Still) and Elle-Máijá Tailfeathers (cəsnaʔəm, the city before the city). Their collaboration follows two Indigenous women who are strangers to each other — Rosie, portrayed by Violet Nelson, and Áila, portrayed by Tailfeathers — and the 100 minutes they spend together one rainy day in East Vancouver after one of the two women experiences partner violence.
Their story is told in one take — beautifully shot on grainy 16mm by cinematographer Norm Li — and it is somehow both intimate and infinite, a meditation on womanhood and motherhood and class and colonialism and how we can support each other across the vastness of individual traumas. It's based on an actual experience that Tailfeathers had with a stranger a few years ago who was, like Nelson's Rosie, bloodied and barefoot and heavily pregnant.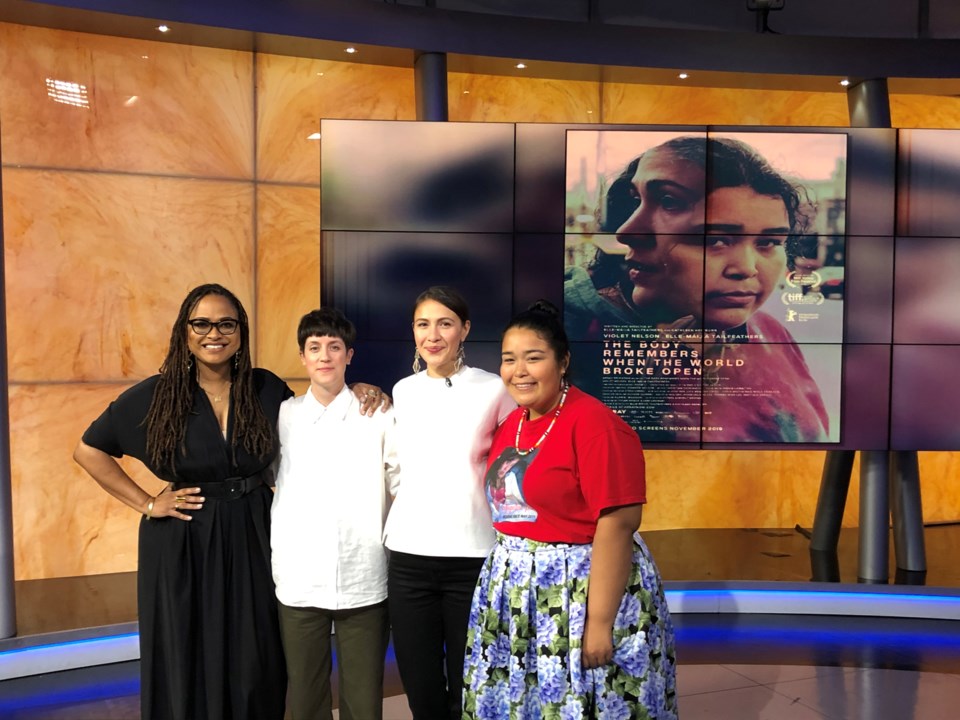 The film had its world premiere in February at the Berlin International Film Festival, won an honorable mention for Best Canadian Feature Film at the venerable Toronto International Film Festival, and was acquired by ARRAY, the distribution company helmed by Golden Globes-nominated director Ava DuVernay (Selma, 13th). 
This relationship with ARRAY led to a series of experiences that rarely befall Vancouver indie films and filmmakers.
The film enjoyed a limited run of theatrical screenings across the United States before being added to American Netflix (it's also available on Netflix in the UK, Australia and New Zealand, and will hit CBC in the new year). It received glowing reviews in publications such as the Los Angeles Times, Variety, Vogue and the New York Times. The filmmakers visited the ARRAY Creative Campus in L.A. and gave dozens of media interviews, including some on live television, accompanied by DuVernay herself.
On American Thanksgiving, the film was the reason the hash tag #TheBodyRemembers went viral in the States. DuVernay invited Americans to use the hash tag to acknowledge the Indigenous nations whose land they occupy, and they did, trending #TheBodyRemembers higher than the Macy's Thanksgiving Day Parade.
When an independent film starring Indigenous women and distributed by black women trends higher than the Macy's Parade on #Thanksgiving, it's a good day! Props to all those honoring Native tribal lands with #TheBodyRemembers and watching on @Netflix via @ARRAYNow! pic.twitter.com/hoRF0ctQ6Z

— Ava DuVernay (@ava) November 28, 2019
"It means so much to know that this film about two Indigenous women in East Vancouver resonates with audiences all over the world, and also that a company like ARRAY sees value in this story," says Tailfeathers. She notes that DuVernay originally founded ARRAY because "there wasn't a strong enough belief in the stories that black women were telling, and she knew that there was an audience for her work and she decided to build her own way, and build new paths for distribution."
The fact that the Vancouver filmmakers — who sought to tell their screen story in a new and different way, prioritizing mutual respect, mentorship and healing — aligned with a company like ARRAY is appropriate and heartening, says Tailfeathers.
"It's such a surreal experience just knowing that there are different ways of doing things, and I think that reflects our own process in making this film," says Tailfeathers. "Nothing about this film has been conventional."
Success like what The Body Remembers When The World Broke Open has experienced this year is unlikely when you play be the old rules — but when you reinvent the system? Market the film in different way? Make community building a priority? Commit yourself to uplifting and amplifying marginalized voices? Success is more than likely; it's a byproduct of the journey.
And it's the kind of journey that imprints itself on a filmmaker, according to Hepburn.
"I don't think it's ever going to be the same for me again," she says. "I know we can't repeat this exact experience on another project, but as a person and as a filmmaker, I've realized how rewarding it is to build collaborating and community engagement and mentorship into storytelling and distribution. I think the experience of this film will make me consider what that looks like every step of the way from here on out."
On Boxing Day, The Body Remembers When the World Broke Open screens at VIFF Vancity Theatre as part of Canada's Top Ten. The travelling film festival is curated by TIFF and showcases the most remarkable Canadian films of the year. Tickets at VIFF.org.
sabrina@yvrscreenscene.com