Before Marmaduke, before Rise of the Planet of the Apes, before Ryan Reynolds enchanted Vancouver with his Deadpool tights and nimble Twitter game, there was Air Bud.
Filmed in Vancouver on a modest $3-million budget, the film grossed $27.9 million when all was said and done. More importantly, the bewilderingly successful movie about a boy and his basketball-playing pooch spawned a litter of athletic animal flicks and an equally successful production company.
While Air Bud and its sequel, Air Bud 2: Golden Retriever (about a boy and his football-playing dog), enjoyed theatrical releases, the subsequent family-friendly movie mutts churned out like a Disney-sponsored puppy mill over the past 20 years have been strictly straight-to-video fare. Titles include MVP: Most Valuable Primate (about a boy and his hockey-playing chimpanzee), MVP 2: Most Vertical Primate (about a boy and his skateboarding chimpanzee), Air Bud 3: World Pup (about a boy and his soccer-playing dog), Air Bud 4: Seventh Inning Fetch (about a boy and his baseball-playing dog), Air Buddies (the puppies of Air Bud), Snow Buddies (puppies in the snow) and Space Buddies (puppies in space), to name but a few.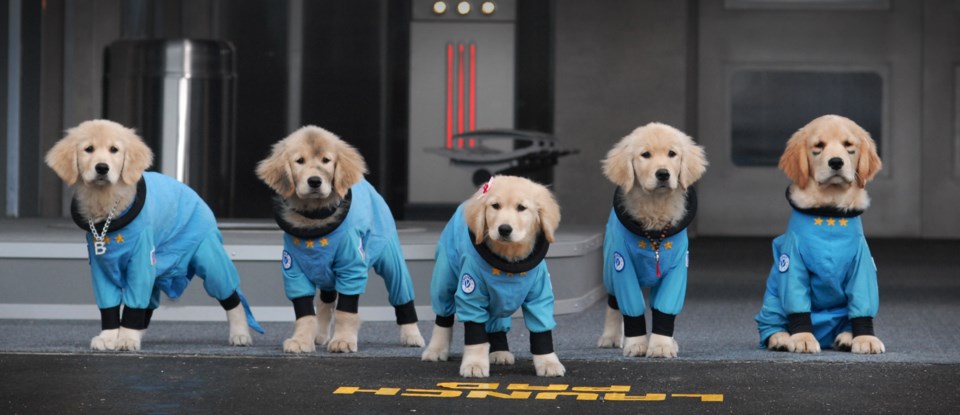 But no matter their pedigree, the simple fact is Air Bud and its offspring is where a lot of Vancouverites got their first taste of the movie business. Talk to anyone in Hollywood North, either in front of or behind the camera, and chances are they've cut their teeth in an Air Bud movie or two, or at the very least know someone who has.
One such person is Ellen Kennedy. A veteran of Vancouver TheatreSports, Kennedy has acted in nearly half dozen of the franchise's films, outright ignoring the adage of never work with animals or children. She talked with the Courier about the dog days of Air Bud. 
How many Air Bud films have you been in?
I was in Air Bud 4, Air Bud 5, then Air Buddies, Space Buddies… There may be another in there that I can't remember. I also worked with the director on other animal movies. I was in Most Valuable Primate one, two or three. I can't remember which one.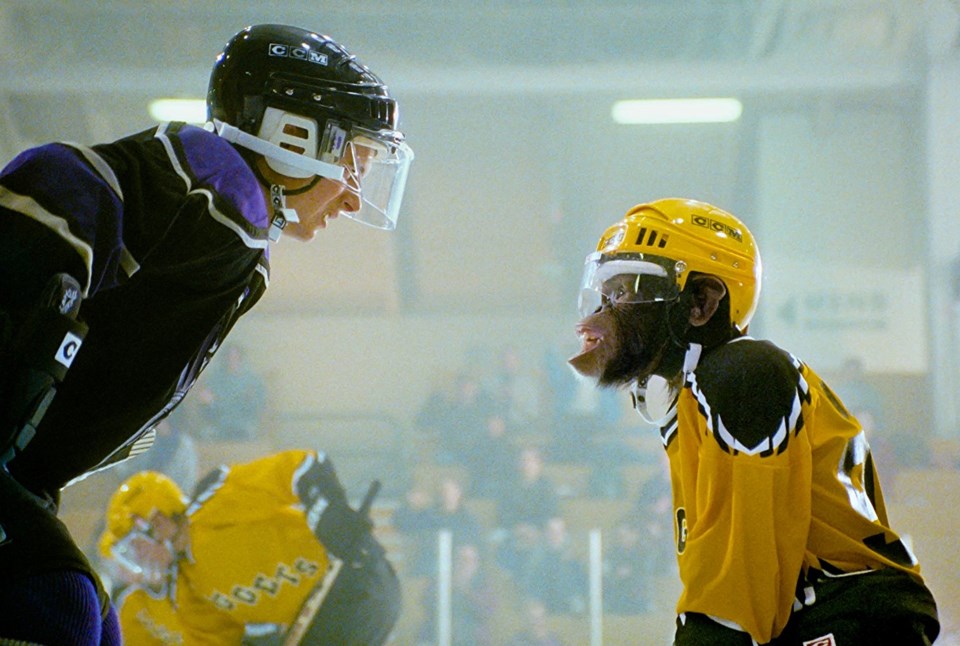 Did you play different roles?
In Air Bud 4 and 5 it was a couple quirky mom roles. And then later on in Air Buddies I was a patron in a movie theatre who has a puppy come out of her popcorn. The biggest role I had was in Space Buddies where I was the science teacher who got trampled by a bunch of puppies. I actually had to have a stunt double. They didn't want me to get trampled by the puppies, but I could have done it.
What was it like working on these films?
They're always really fun. Robert Vince, who was the director and co-creator on these things, is just a really laid back California dude and he's just really easy to work with and makes the set a pleasant place to be. Just a really fun atmosphere.
Did you know anything about the Air Bud franchise beforehand?
It was really early in my career when the first Air Bud came out. I actually think I might have done some extra work on it… But I really didn't know much about it. I don't have kids so I hadn't been watching the movies or anything.
It seems like everyone in Vancouver knows somebody who's been in an Air Bud movie.
I think a lot of people who do improv at TheatreSports have worked on these films because Robert came to a show one time, and that's how I got into the first one. He was like, "These are the kind of people I need." Even though he wrote the script with his partner, he really didn't want people to have to stick to the script if they had a better idea or line.
Have you ever been recognized on the street for your Air Bud roles, like "Hey, you're the woman with the popcorn and the puppies"?   
No.
What kind of interaction did you have with the dogs?
The dogs are really kept separate with the trainers. You're not even really supposed to touch them or pet them. Especially the puppies! It was almost irresistible. But they keep them very safe with the trainers and only when they have to do the scenes, which is why they had the stunt doubles. You don't get to really interact with them that much.
Why do you think the Air Bud franchise is still going strong after more than 20 years?
First of all — dogs. Which people love and can't resist… The first Air Buds, all of them had particular sporting skills, but when they get to the puppies it's all about being cute… Basically every script is identical in a slightly different way. You've always got bad guys who are trying to steal the puppies for some reason. And it's the old good wins over evil. It's a very simple, direct concept for kids to grasp on to. It's really a formula that puts the puppies into danger, or the dog into danger, then somebody comes to the rescue and it all works out in the end.
Air Bud trivia
Producer Robert Vince discovered the future star of Air Bud (Buddy) performing basketball tricks with his trainer on Late Night with David Letterman.
Air Bud was directed by Charles Martin Smith, who is known for his acting roles in American Graffiti, The Buddy Holly Story and Never Cry Wolf. He most recently directed the upcoming film A Dog's Way Home, which is not associated with the Air Bud franchise.
During the filming of Air Bud, the production ran out of money so Vince and his brother set up a meeting with Bob and Harvey Weinstein whose company Miramax had been acquired by Disney. A deal was struck and Air Bud was completed.
The original Buddy died in 1998 from a rare form of cancer.
The most recent release from Air Bud Entertainment is Pup Star: Better2Gether. The movie follows a Yorkie named Tiny who, after winning the canine competition show Pup Star and becoming an international pup sensation, has her world turned upside down when an evil rival switches her out in competition with a street pup named Scrappy.
mkissinger@vancourier.com