John Lennon's iconic, psychedelic 1965 Rolls-Royce Phantom V is on display in the main lobby of the Royal B.C. Museum in Victoria through mid-March.
The Beatle ordered the car through R.S. Mead Ltd. in Maidenhead in December 1964, without having a driver's licence. He got his L before the vehicle arrived in June 1965. The custom-made car, with all the bells and whistles of the day, was probably purchased through NEMS Enterprises, the joint management company that their manager Brian Epstein and The Beatles formed to run their business affairs. The same year, NEMS also purchased a Bentley S3 for Epstein and a Beatles "company car," a 1965 Rolls-Royce Silver Cloud III LWB Limousine known as CEL89.
"On Feb. 22, 1964, the Beatles and Epstein returned to the U.K. after appearing on the Ed Sullivan Show. Arriving at Heathrow airport at 7 a.m., they were met by an estimated 10,000 fans. Derek Taylor and Lonnie Trimblehad brought the Bentley to pick up Epstein. The Beatles were interviewed by Pathe News:
Q: "Have you got time to actually spend this money?"
Beatles: (in unison) "What money??"
Q: "Doesn't he (Brian Epstein) give any to you?"
George: "No, no. Have you seen that car of his?" (laughter)
Philip Norman in his biography of the band, Shout!: The Beatles in Their Generation, interviewed Les Anthony, a six-foot-four Welshman who Lennon hired as a chauffeur/bodyguard. Anthony may have picked up the Valentine Black car on June 3, 1965. He told Norman, "John's Rolls was all black – even the wheels. The only bit of chrome on it was the radiator. He told me he'd wanted that to be black as well, but the Rolls people wouldn't do it."
Jordan Runtagh in a Rolling Stone Magazine feature on the car in 2017 lists some of the car's amenities when Lennon first took possession. They included a "6.23-litre V8 engine, black leather upholstery, cocktail cabinet with fine wood trim, writing table, reading lamps, a seven-piece his-and-hers black-hide luggage set, and a Perdio portable television. Slightly more novel was the refrigeration system contained in the trunk of the car, perfect for chilling champagne or, more often, cola for Scotch and Cokes. The most unusual feature was the one-way passenger windows made of darkened Triplex Deeplight glass."
In December 1965, Lennon further modified his Rolls by converting the backseat into a double bed, installing a Philips Auto-Mignon AG2101 record player with a suspension system that prevented the needle from jumping when the car was in motion. He also added a Philips reel- to-reel tape deck, a Sterno Radio Telephone with the number WEYBRIDGE 46676 and upgraded the TV to a Sony TV 9-306 UB.
Lennon took the Rolls to Almería in Andalusia, southern Spain, while he was acting in Richard Lester's film, How I Won the War. He rented a villa, Santa Isabel, and used the Rolls on the set where he hung out between takes. The villa's surroundings reminded him of Strawberry Field, a Salvation Army garden near his childhood home in Woolton, Liverpool, and he began working on the song "Strawberry Fields Forever" in the back seat of the Rolls while waiting between takes.
"Dick Lester offered me the part in this movie, which gave me time to think without going home. We were in Almería, and it took me six weeks to write the song ("Strawberry Fields Forever"). I was writing it all the time I was making the film. And as anybody knows about film work, there's a lot of hanging around." - John Lennon, 1980, from All We Are Saying by David Sheff
An article in drive2.com/b/536208457318007880, from a Russian auto enthusiast, features several shots of the Rolls including a couple with Lennon in Almería.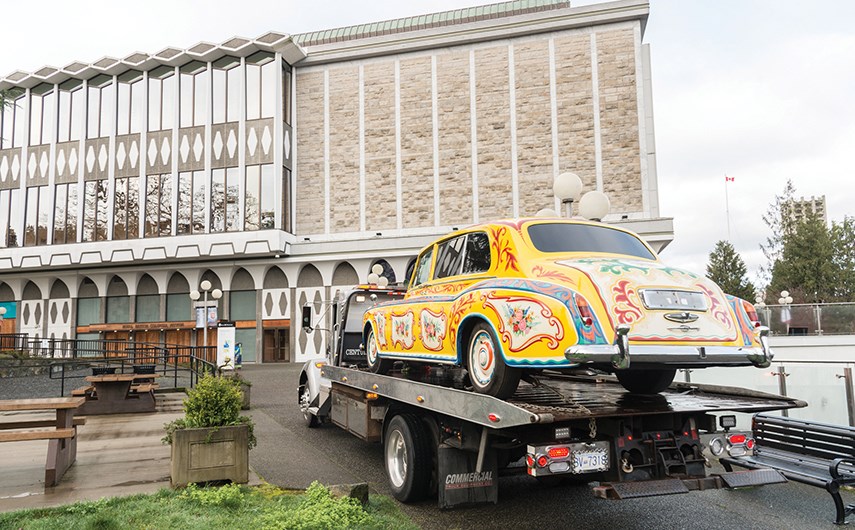 The Rolls was given its psychedelic paint job in the spring of 1967 after Lennon returned to the U.K. He got the car back days before the launch of the Sgt. Pepper's Lonely Hearts Club Band album and "its official maiden voyage took place on May 28, leading a fleet of friends to Epstein's new country home for a combined album release party and housewarming. Lennon somehow managed to cram in the back with eight others: his wife Cynthia, George Harrison and his wife Pattie, Koger and fellow Fools Simon Posthuma and Josje Leeger, as well as Derek Taylor – the Beatles' former (and future) press officer who had just flown in from Los Angeles for the event – and his wife Joan," says Rundagh in his Rolling Stone piece.
The car eventually made its way to America with John and Yoko and was donated it to the Cooper-Hewitt Museum at the Smithsonian Institute in 1977. The museum put the car up for auction in 1985 and it sold for $2,299,000 to businessman Jimmy Pattison. Lennon's car was loaned for display to the Expo '86 World's Fair in Vancouver and then donated to the Royal British Columbia Museum in 1993 (royalbcmuseum.bc.ca).
The Beatles recorded "Strawberry Fields Forever" in November and December of 1966. "Strawberry Fields Forever was one of The Beatles' most complicated recordings. With George Martin they spent some time working on the arrangement, going through various re-makes and spending an unprecedented 55 hours of studio time completing the song," says the Beatles Bible. "It was recorded over eight dates in the final weeks of 1966."
"Strawberry Fields Forever" was released as a double-A side, 7-inch single with "Penny Lane" on Feb. 13, 1967. The Beatles shot promotional films for both songs in the weeks before the release. "Work began on January 30, 1967 in Knole Park in Sevenoaks, Kent. The films were both produced by Tony Bramwell for Subafilms, and were shot on colour 35mm film by a crew from London-based Don Long Productions," says the Beatles Bible. "The Swedish director was Peter Goldmann, who had been recommended by Klaus Voormann. Goldmann had arrived in England in early January and looked for suitable locations in London and elsewhere. The first location he decided upon was Knole Park, owned by the National Trust."