Holman Wang has mastered the delicate art of time management.
The East Vancouver resident is a full-time lawyer, part-time musician, husband, father of two kids under 10, former middle school teacher and a rink rat — when time permits, of course.
Despite a schedule that's turned up to 11, the 47-year-old routinely takes to his backyard shed and hammers away at art on an almost microscopic level that requires years to complete even one piece. Wang is one the world's foremost needle felt practitioners and children's authors whose work has been seen by tens of millions across the globe.
His two latest works, Great Job, Mom! and Great Job, Dad!, see the light of day on March 26 and depict the many hats parents wear: a general getting the kids organized, a journalist uncovering facts or an architect designing blueprints for a pillow fort.
"Being a dad keeps one eye on what it's like to view the world as a child," Wang told the Courier. "Part of me will always be a kid because making stuff is just fun. So when you make stuff, you keep a youthful enthusiasm about your work."
Wang got into needle felting in 2010 in a manner not uncommon for many mid-career artists: he loved art as a kid, got a "real job" after high school and re-entered the craft once his career and family life stabilized. Wang admits, in a rather ho-hum fashion, that he picked up the necessary skills by watching a couple YouTube videos.
"People are generally surprised — they often react by saying something like, 'Oh you're an overachiever,'" Wang said.
Since dipping his toes back into the arts, Wang's output has bordered on prodigious: his upcoming books follow a 12-part series called Cozy Classics, which were based on classic novels such as Moby Dick, Pride and Prejudice and War and Peace, and three others chronicling the original Star Wars trilogy.
Books number 16 and 17, however, deviate slightly from Wang's previous works. For starters, all the others were collaborative efforts with his twin brother Jack (there's no drama here, his brother lives in New York and wants to concentrate on literary work). A formatting change is also in the offing, as the previous books all followed the same style — 12 pages, one word on each page. The mom and dad books have more text and as Wang puts it, he's now "an author rather than a word selector."
The thread tying all the books together is the insane intricacy required throughout the creative process. Needle felting entails shaping loose wool by stabbing it repeatedly with specialized barbed needles. Figures retain their shape with the help of small wires and each figure takes 20 to 40 hours to complete. Once that's done, sets are built as needed and scenes are photographed to scale.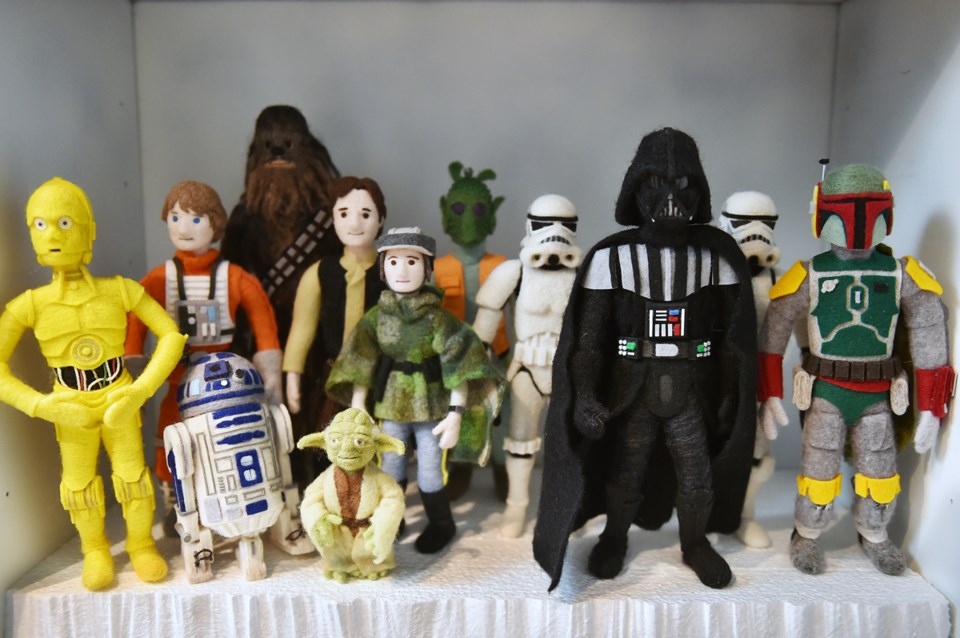 In the off chance Wang screws up, all bets, or at least appointments, are off. While creating one of his Star Wars books, Wang figured Han Solo's head was too big and it was off to the guillotine for poor Han.
Twenty hours of work were scrapped, including seven alone on Solo's doomed dome.
To put Wang's process into perspective, the two books coming out this month were started three years ago.
"If the book career ended, I wouldn't be needle felting in my spare time because I've needle felted enough for a lifetime," Wang said.
That Wang's nine-year pursuit of needle felting feels like an eternity speaks to the necessity for minding his time. He works in the field of regulatory law and has two kids aged seven and nine. Outside of needle felting, there's only so much else Wang can get to.
"This artistic pursuit is so important to me that I've cut out a lot of things in my life, like television. I go out less," Wang said. "My every day is absolutely full from morning when I wake up until when I go to bed. I've cut out all non-essential activities."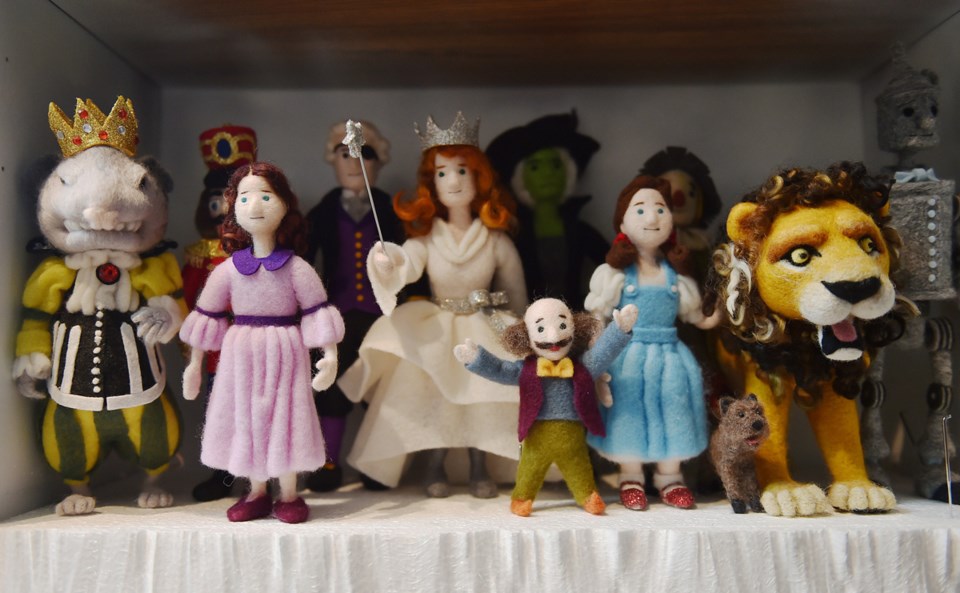 Like the kid who missed prom to hit the gym and put in extra reps, Wang's persistence has paved the way for some pretty sweet perks. His books have taken him to Europe, the United Arab Emirates and across North America. In 2015, a piece Wang created alongside his brother was on the Google landing page, exposing his work to tens of millions of people in a 24-hour span.
"For me at this point, it's not about the needle felting, it's really about sharing stories with the world and wanting to engage with audiences," he said.
Wang's books will be released March 26 and a free book launch is slated for April 2 at Kidsbooks on West Broadway. Event details are online at eventbrite.ca.
@JohnKurucz