Zandara Kennedy is one of only a handful of female stunt coordinators in the film and television industry.
This isn't particularly shocking to anyone who's been paying attention to the statistics coming out of Hollywood in recent years: women remain underrepresented in nearly every aspect of production.
What might be considered shocking is what Kennedy — a veteran Vancouver-based stunt performer and driver who leads the stunt team on the CW's locally shot supernatural mystery series Nancy Drew — has to say about the current status of women in stunts, where male performers still outnumber women four to one.
"It's a great time to be a woman in film, and especially a woman in stunts," says Kennedy, whose lengthy list of stunt credits includes X-Men: Dark Phoenix, Deadpool 2, xXx: The Return of Xander Cage, Lucifer, Van Helsing and The Flash.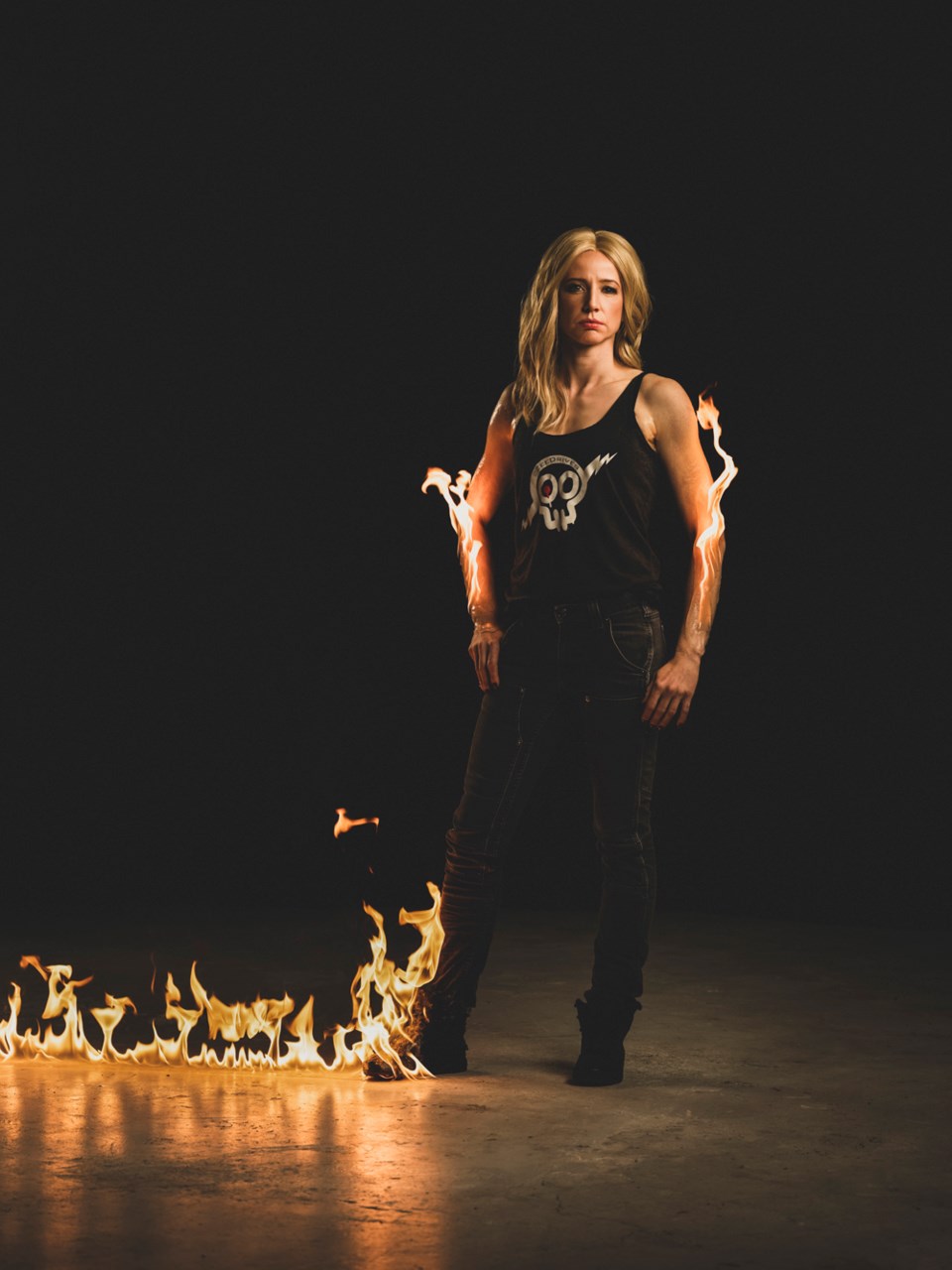 Women are not only welcome at the decision-making table, but they're being sought out to lead stunt departments because of their unique perspective, according to Kennedy.  
"I find, at this point in my career, and in this year that we're in, people are seeking me out specifically because of the experiences that I have as a woman," she says. "When I'm working with female cast, I can offer them insight that a male stunt coordinator will never be able to because they've never been in a woman's body trying to do the things that we're asking them to do."
While creating cool visuals through stunts is important, it's not the most important part of Kennedy's job as a stunt coordinator.
"Safety outweighs coolness," says Kennedy. "If we can't do the thing that's really cool safely in the time that we have and the elements that we need, that becomes what we sacrifice — the coolness, not the safety."
Kennedy contends Vancouver has some of the safest sets in the world. "I've worked across Canada and in other places in the world, and our film community in general, and our stunt community in particular, is really on board with making things safer," says Kennedy.
It's not that accidents don't happen in Vancouver. One of the most shocking film industry accidents in recent years — the death of motorcycle racer Joi "S.J." Harris — occurred in 2018, on the downtown Vancouver set of Deadpool 2.
But Kennedy says Vancouver productions are making safety a "number one priority." The local stunt community is small and tight; stunt coordinators share safety checklists and updated protocols amongst themselves. On Nancy Drew, every supervisor attends a safety-training course. There are daily safety talks in every department, and the first shot of each day is called the Jonesy, named for camerawoman Sarah Jones who was killed by a train on the Georgia set of Midnight Rider in 2014.
"When I met with producers about this show, that was the one thing they really hammered home with me — 'There's always time for safety,'" says Kennedy.
Rest assured, cool-looking stunts are still important, and Kennedy works hard to create cool-looking stunts for Nancy Drew. The series premiered in October 2019 and stars another Kennedy — Kennedy McMann — as the titular teen sleuth.
McMann's Nancy drives a vintage Sunbeam Alpine Series III. "[Which] isn't fun to drive," says the stunt star. "So we spent a lot of time at the beginning of the show working with Kennedy so that she would be comfortable driving it. I love that car. I'm always trying to convince them to let me do something extra fun with it, but we do only have one."
Nancy Drew is a dream gig for a woman who spent much of her childhood climbing trees and jumping on trampolines. She had years of gymnastics under her belt — as well as her driver's licence and motorcycle licence — before she learned she could pour these skills and passions into a stunt career. 
"My honest opinion is that the skills, while important, are almost secondary," Kennedy says. "I think you need to be a really observant person. You really need to understand the process and how you can help with it. People have this idea that stunt people are reckless, but what we do needs to be repeatable, and a lot of our job, especially as a stunt double, is trying to make sure that what you're doing is safe for the actor you're doubling. The value in the production is getting the most time on camera with the face of their star doing the action."
Nancy Drew airs Wednesdays at 9 p.m. on the CW.
sabrina@yvrscreenscene.com