Most people wouldn't grin while describing what it feels like to hurtle through the air and smash through a window. But Maja Aro isn't most people.

When the fashion student turned stunt performer talks about the time she landed face-first in a pile of glass on the set of The Tomorrow People, she does so with so much enthusiasm that the people sitting nearby in Milano Coffee shift uncomfortably in their seats.

"Usually we dodge the danger, but occasionally it happens, and I just landed face first in a big pile of glass," says the Vancouver-based stuntwoman, pointing to a faded scar running the length of her left cheek.

"In that moment, I was lying on the ground and knowing that my face was cut and bleeding, and I said, 'Come take the continuity photos, I'm good,'" she says. "I know the risk. I know what I'm doing, and I love my job."

There isn't much that scares Aro (who, until she married fellow stunt performer Jeff Ong, was credited as Maja Stace-Smith; the pair chose their new last name as an homage to Mount Kilimanjaro, where Ong proposed), and maybe that's what's made her one of the busiest stunt performers in the city.

As Ginnifer Goodwin's stunt double on Once Upon a Time, she's scaled walls, dodged fairytale monsters, and played opposite some of the best actors in the business.

Her work was particularly critical in the final episodes of the third season, when Goodwin was eight months pregnant. "I actually had to learn all of her dialogue for all those episodes because I was doing her dialogue with the actors and then they'd ADR her in," she says.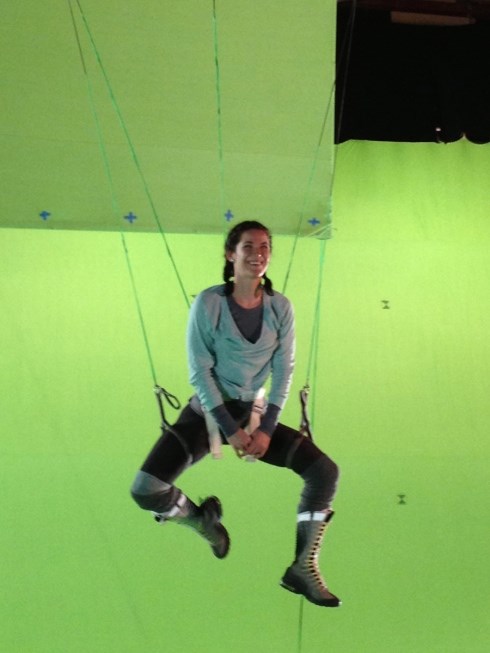 Aro doing wire tests on the set of Once Upon a Time. Supplied photo

Aro had just graduated from fashion school ("I'm probably the girliest stunt girl because, when I'm not on set, I love dressing up") and was waitressing when she befriended a group of stunt guys who frequented the restaurant where she worked.

"They said, 'Whoa, you do a lot of sports, you should try to be a stunt girl,'" recalls Aro, who'd raced in the downhill skiing competition circuit as a teen. "I had no idea it was a job, but I said, 'Well, I'll try.'"

That was nine years ago, and she's been working steadily ever since: As a stunt double, stunt fighter, and stunt actor on big budget and independent film and TV productions like The Twilight Saga: New Moon, Jennifer's Body, The A-Team, Supernatural, Smallville, and The Killing.

For Aro, stunt fighting is its own distinctive martial art: You need to create the illusion of force without doing any damage.

"You have to be super aware of the length of your arm and enclosed spaces and if you're extending an arm with a weapon, how long your reach is because you want to look like you're hitting someone but not actually make contact," she says.

And let's not forget the mental fitness. "Sometimes we're not doing something that's really hard. Sometimes we're doing something that's really shitty. Standing outside in your bra and underwear in minus ten. I've done stunts like that," she says. "Those ones, they're not physically hard per se, but they're mentally hard."

And the stunts don't stop when she leaves work for the day. When Aro and her husband were designing their home, they decided they didn't want to venture far to bounce on a trampoline or throw each through the air – so they built a stunt facility in their living room, complete with rigging and a sprung floor.

Aro's skilled, driven, and talented – and the global stunt community is taking notice. Earlier this summer, Aro was one of two Canadians nominated for a Taurus World Stunt Award; it was a stunt in Hansel & Gretel: Witch Hunters (where she tested stunts and doubled for Gemma Arterton) that earned her a nomination.
"There's nothing like this job," says Aro. "I feel like I'm always on an adventure. It's kind of like every little girl's dream, in a weird way, because I get to play dress up every day, I get to try on different wigs and different hair because I'm pretending to be different people, and it's very stimulating, and very rewarding."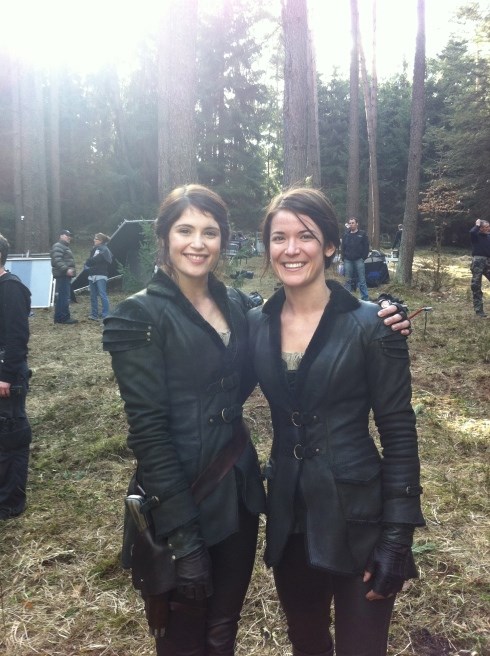 Gemma Arterton and Maja Aro on the set of Hansel and Gretel: Witch Hunters.