Depending on whom — or what — you believe, hockey fans may have divine intervention to thank for the Canucks' entry into the NHL close to five decades ago.
Though the hockey gods have yet to reward the city's long-suffering fanbase with a Stanley Cup, the club's backstory does include a hope and a prayer.
Optimism loomed large over Vancouver when the Pacific Coliseum first opened its doors in 1968. The rink's construction was meant as a signal to NHL powers that be that Vancouver was ready for prime-time hockey.
But just to be sure, a chaplain by the name of George Turpin blessed the barn at its opening event — an  Ice Capades show on Jan. 8, 1968 — to add another voice to the lobbying movement.
That dream materialized on Oct. 9, 1970, albeit in anticlimactic fashion: a 3-1 loss to the Los Angeles Kings. Two lost points aside, Vancouver finally had an NHL franchise and its first, top-tier facility for sporting and concert events.
"The feeling at the time was that this was one of the first signals that Vancouver was growing up and becoming a big city," PNE spokeperson Laura Ballance told the Courier.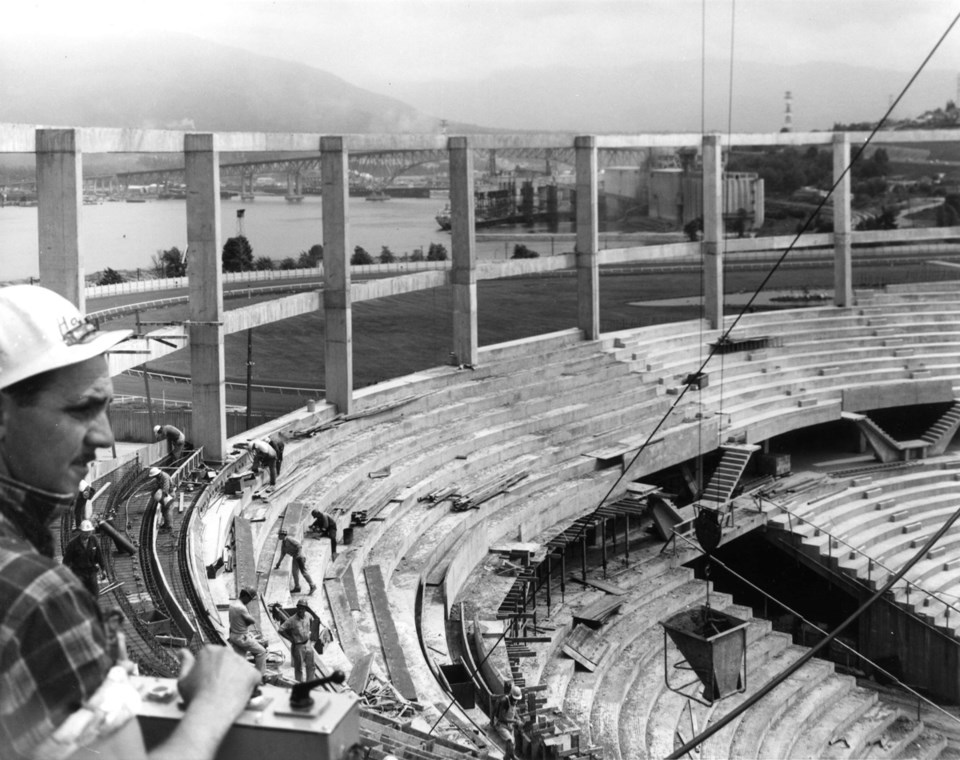 To commemorate the Rink on Renfrew's 50th birthday, the Courier spoke to a pair of principle players who were there from Day 1. Celebrated radio, TV and music personality Terry David Mulligan interviewed the likes of Janis Joplin, Jimi Hendrix, the Doors and AC/DC before their gigs at the Coliseum. Orland Kurtenbach, meanwhile, was the first captain in Canucks history. 
Captain Canuck
At 81, the original Captain Canuck's memories of the inaugural game are admittedly murky. He remembers Barry Wilkins scoring the first goal in franchise history. But Kurtenbach doesn't recall the club's first fisticuff, despite his attachment to that piece of history.
Kurtenbach's donnybrook with Dale Hoganson was indeed a Vancouver first.
"I have no recollection of that," he laughed. "But when I got to Vancouver, the years I had there were like my best years in the minors and in junior where things just clicked."
Coming off back fusion surgery and having bounced around several clubs in the last '60s, Kurtenbach was 34 upon arriving in Vancouver. Despite that, he put up career-best numbers in 1970-71 and again the next season playing alongside Wayne Maki and Murray Hall.
"Why that is, I don't know," he said. "It was a new day for many, many individuals in the hockey world and a lot of them just grabbed it and went with it."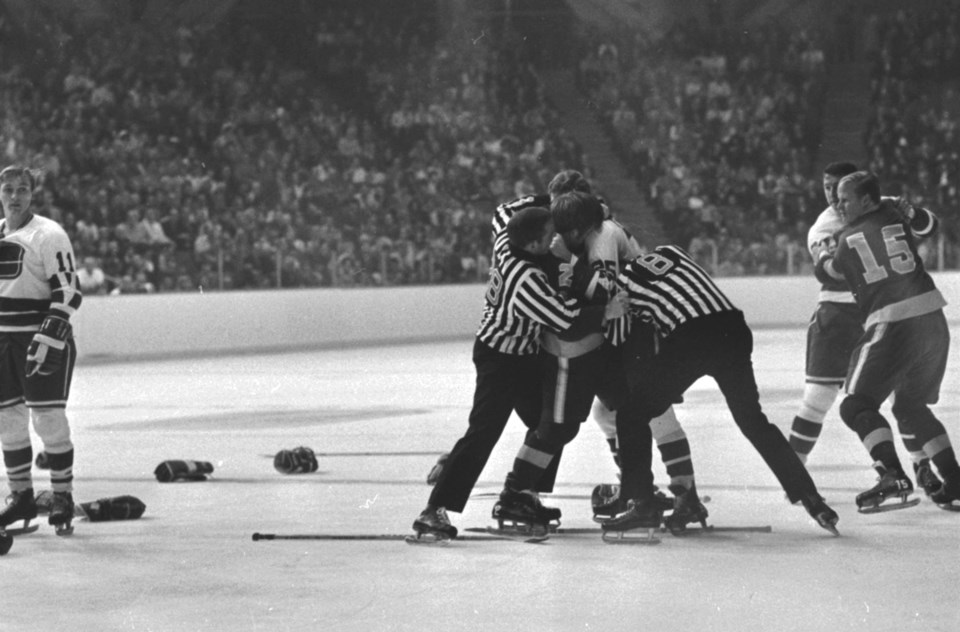 Kurtenbach played with or against some of the most iconic names in NHL history. Some of them laced up the blades on Coliseum ice, others were gone from the league before Vancouver's arrival. Original Six goalies Terry Sawchuk, Johnny Bower, Glenn Hall and Gump Worsley are at the top of Kurtenbach's tender list. Gordie Howe was the best overall talent, Bobby Hull was the most exciting and Bobby Orr was the most skilled.
"With Bobby Orr, he changed his game around all the time. How does a defenceman win the scoring race so many times? He was unbelievable. Bobby Orr was a natural talent," Kurtenbach recalled. 
Kurtenbach retired from the NHL in 1974. He still follows the club religiously and participates in alumni activities when time permits, given his recent move to Vernon.
There's a riot going on
While Kurtenbach's dustup was a historic first, it's far from the most notable set of knuckles chucked at the Coliseum. That distinction goes to the greatest of all time, Muhammad Ali, who won a 12-round decision over Canadian George Chuvalo on May 1, 1972.
Almost one month later to the day — and in keeping with Vancouver's penchant for riots — more blood was shed, though this time outside of the Coliseum. About 2,000 would-be concert goers turned Renfrew Street into a warzone on June 3, 1972, many of them miffed over being sold fake tickets to a Rolling Stones gig that night. Twenty-two people were arrested by police, while 31 VPD officers were injured.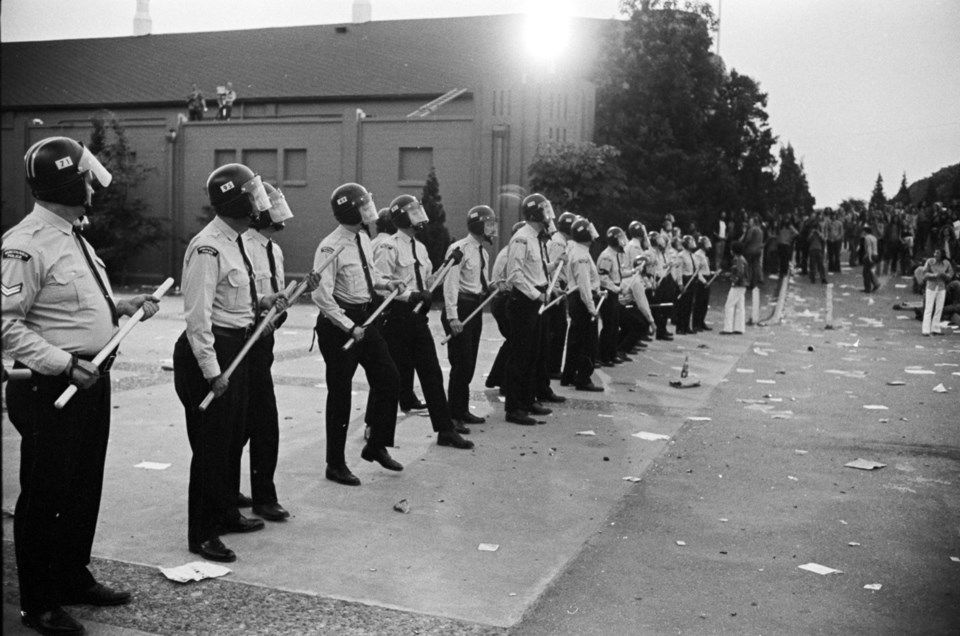 Mulligan memories
Five years before that, Terry David Mulligan found himself back in Vancouver after close to a decade in Alberta and Saskatchewan. He was on the cusp of becoming the West Coast's go-to music journalist, with a 40-year career spanning CFUN radio, CBC and Muchmusic. And what a job it was: Led Zeppelin, the Doors, the Who, Janis Joplin, Bob Marley, AC/DC, Frank Zappa and James Brown, all at the Coliseum.   
It was 1967, the Summer of Love was in full swing, and Mulligan happened to be walking by the Russian Community Centre in Kits. The doors were open, and he heard Joplin's band rehearsing inside. They became pals to the point that he interviewed her six times before her death three years later.
"She was one of those artists who was fantastic on stage, but if you put a microphone in front of her and asked questions, she had problems with that," Mulligan said. "She was skittish, very self-conscious and nervous, so she drank Jack Daniels to calm her nerves. But she insisted that I drink with her."
Along came Hendrix one year later in September 1968. It's one of Mulligan's few surviving interviews from that time period.
"He was fantastic," Mulligan recalled. "Here was this guy who lit his guitar on fire. He was just a wild, wild guitarist. But he was kind, thoughtful, generous and polite. It threw me for a loop. I was so used to braggadocious people, full of themselves. Not Hendrix. He was cool."
1970 was a particularly big year for Mulligan. He went shoe shopping with Jim Morrison along Davie Street prior to the Doors gig at the Coliseum in June. He was also tasked with being one of the evening's emcees alongside fellow CFUN alumni John Tanner. After what was thought to be the evening's final curtain call, the pair asked the crowd if they wanted more.
Big mistake.
"At that point, the Doors are in their limo and leaving the building. The stage manager grabs us and says, 'You f***ers owe me $10,000! That's what it's going to cost to have this band go back up on stage!' We were in deep s*** for a long time because of that one," Mulligan said. "They were threatening to make the radio station pay."
Mulligan also emceed the launch of Greenpeace in October 1970. The gig featured Joni Mitchell, James Taylor and Chilliwack. Mulligan is certain he's the first person to ever utter the word "Greenpeace" into a microphone, though he'd forgotten specifics around the show until a documentary was released decades later.
"I see [a photo of] myself on stage, bending over and adjusting Joni Mitchell's microphone," he recalled. "What the f*** am I doing on stage adjusting Joni's microphone? What kind of gig was this?"
The loudest show he ever attended also happened at the Coliseum.
The culprit?
Bob Marley, strangely enough.
"They were the first and only artists that actually made the support beams in the Coliseum vibrate," Mulligan said of the November 1979 show. "It was the sheer volume and the bass. I was leaning against the column and you could feel the music actually hit the concrete."
New rink in town
The Coliseum's uncontested run as the only go-to, 15,000-plus joint in town ended in 1995. The Canucks left to General Motors Place (now Rogers Arena) that year, and the Coliseum's anchor tenant, the Vancouver Giants, followed suit in 2016, setting up shop in Langley. 
Dozens of gigs still take place there annually, along with trade shows, cultural festivities and other events that aren't yet ready for prime time at Rogers.  
Despite that shift, it would seem nostalgia hasn't left the building.
"We get people knocking on the door on a biweekly basis to this day," Ballance said. "Some want to poke their head in and have a look, others just want to sit quietly by themselves and reminisce."