On the cover of Rae Spoon's new album Armour, is an armadillo. The geometric image of a tiny mammal protected by its leathery armour shell is the artistic interpretation of a rather comical tale Spoon tells like the opening of a joke.
"You know the one about the man in Texas who tried to shoot an armadillo" they start, "the bullet just bounced right off its shell."
For the transgender Canadian artist, who grew up in a strict Pentacostal family with a schizophrenic father in rural Alberta, the metaphor resonates. Rae Spoon has dodged a few bullets of their own in just over three decades, with eight albums, two books and a documentary film to prove it.
On Armour – released Feb. 19 on Coax Records – Spoon takes on yet another role, that of producer. Collaborating with Lorrie Matheson and Alexandre Decoupigny, Spoon calls this collection of songs, "A tribute to the intimate space where both hope and despair have space to share the same voice."
"I wanted to move into producing others, so I had to start with myself," Spoon says on the line from Victoria where they've recently relocated from Montreal. "I like to try new things, and don't always expect I'm going to be good at them, but I think you get good at things by doing them. And anything that is an extension of music makes a lot of sense to learn."
On Armour, Spoon relies on analogue synths instead of the computer-based electronic sounds that have defined their work over much of the past decade.
"If I switch instruments, I find I write differently," says Spoon.
Armour's sound seamlessly aligns with their signature vocals, where fragility and strength coexist, embodying the duality that is Rae Spoon.
"I like genres, and I don't think any of them would be incorrect," Spoon says thoughtfully. "You can still hear in my voice I think, that I was a country singer. Musically, I identify as a songwriter, that's the thing I've tried to carry across genres."
Spoon's body of work is a roaming, explorative journey through traditional country and folk to indie and electronic-pop with pit stops in books (First Spring Grass Fire, Gender Failure) and film (My Prairie Home). But what has always remained quintessentially Spoon, is their unique ability to write so simply and concisely, painting nuanced depictions of broader, more complicated themes.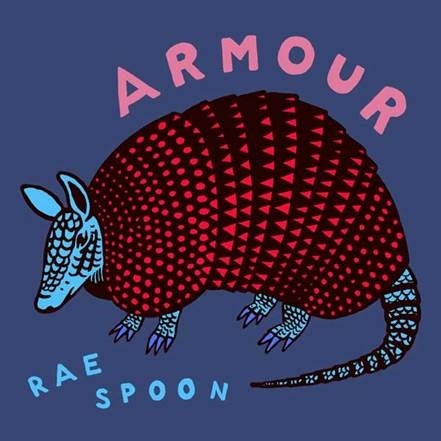 On the new record, Spoon writes of the troubling lack of rights and freedoms for transgender Canadians in the Charter in "Written Across The Sky" and bravely calls out appropriating gender and culture identity in "Stolen Song".
"[Am I] trans? Yes, as far as the umbrella definition as someone who doesn't identify as the sex they were assigned at birth," says Spoon. "I do get asked a lot about being trans, and using the pronoun 'they' and I do talk a lot about it.
"You can't really separate Rae the artist from Rae the person."
Spoon has built a career on self-discovery, remaining transparent enough to relate to an audience of many on a similar journey. Finding community, or a "chosen family," as they refer to it, is important for Spoon, having grown up in a place without resources for queer youth.
"When you're a public figure, on any level, you do have to make choices about what you say, how you say it," Spoon says, reflecting on their status as a role model in LGBTQ circles. "But, because of my privilege I should be pushing for change, in regard to any kind of oppression."
A shy child, Spoon maintains writing songs and playing them at their church youth group enabled them to come out of their shell. Spoon soon discovered secular music while learning to play guitar; first pop, then later the burgeoning grunge sound.
"Being forced to sing was a nice parting gift the church gave me," Spoon says with a laugh. "Learning the punk strum, and then to untrain the country chords and the twang I put on my voice. I joke that that was my big transitional point."
Life is a little less complicated for Spoon these days. Recently married while on the chaotic promotional leg for My Prairie Home, Spoon has settled down in sleepy Victoria after years in Montreal and Germany. After spending so much time in big cities across the world while on tour, Spoon enjoys coming home to wake early and spend the day writing and recording, with quiet evenings around the house with their partner.
"I wanted this album to read like I ended up in a better place," says Spoon. "In the end, I realized I had to write more upbeat, happier songs so people wouldn't worry about me."
• Rae Spoon plays two SOLD OUT shows March 13 at Skinny Fat Jack's.