As of Monday, Feb. 24 the show has been cancelled. Note from Vancouver International Mountain Film Festival:
Unfortunately due to circumstances out of our control, we have had to cancel this event. If you have already purchased a ticket, please see email correspondence from tickets@vimff.org for your options.

Surviving The Outback with Sarah Marquis, Centennial Theatre, Feb. 27, 7:30 p.m.  For more information and to reserve tickets visit vimff.org/surviving-the-outback-with-sarah-marquis.
She wasn't prepared to spend three months walking 500 miles of bad road, no-road and badlands in Western Australia – but then, no one really is.
"You're never ready," adventurer Sarah Marquis laughs. "You think you're ready."
Speaking to the North Shore News from a remote area of Switzerland, Marquis reflects on her journey and the importance of taking the path less travelled even if that path brings you within snapping distance of saltwater crocodiles.
A tourism advertisement for Australia's Kimberley region highlights mango beer, white beaches and five-star lodgings. Those interested in seeing the wildlife beyond the frangipani trees can take a cruise or helicopter ride, notes Tourism Australia.
Marquis could've cruised. She could've flown. However, after crossing Turkey on horseback and exploring Canada in a canoe, she's found she likes to travel the same way people purchase carpet: by foot.
"It is the right speed of the human," she explains.
Any other means of conveyance from roller skates to a Rolls Royce leaves people adrift, Marquis explains. When you move too fast you become unmoored from your surroundings – the landscape blurs and the environment turns into something you pass through, not something you live in.
But walking has a "purity to it," she says.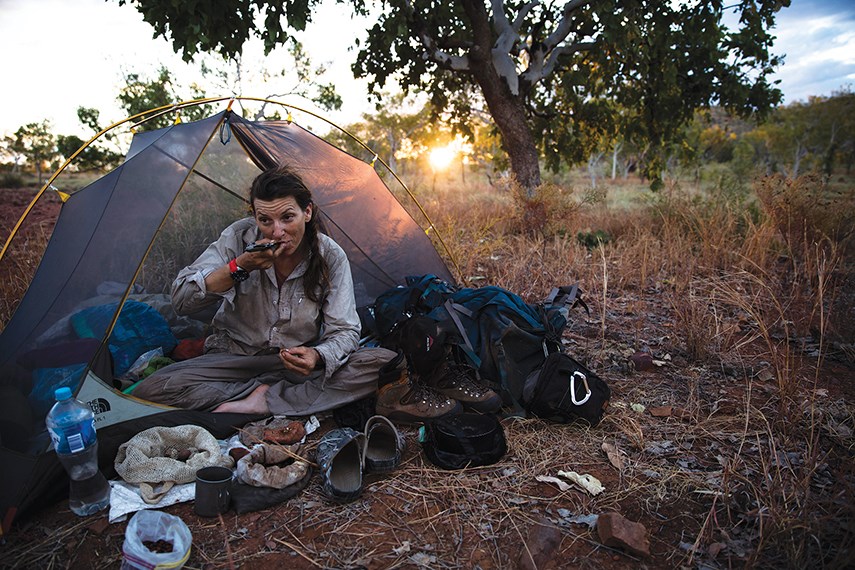 It's moving but not rushing. You're occupied but not overwhelmed.
"It's nearly the answer to the biggest philosophical question," she says. That question is: Why are we here?
"I walked around the planet once to realize that," she adds.
Discussing her plans to talk the walk on Feb. 27 at Centennial Theatre, Marquis says she wants to "give back this energy that I receive from nature."
Step by step, she lost about 12 kilograms on her Australia trip. That loss was the wages of living off the land and gathering food amid drought and bushfires. Marquis suspects she may be the only white person to make that limit-testing pilgrimage.
First, she was hungry. Then thirst came on strong enough to make her forgot how much she wanted to eat.
And all the time she kept walking. And step by step, something marvelous happened.
"I'm supposed to be weak but I'm not," she recalls thinking.
It's at those points of walking the zigzag line where she approaches something she suspects might be enlightenment.
"There is a lot of magic in our body and our mind," she says.
But that distinct, personal magic is only possible through nature.
"Without this planet we are nothing," she says.
About a decade ago, she wrote an article predicting people would one day pay to go into nature. Now, she notes, forest bathing promises to become a small industry.
It's a reminder of the restorative powers of the outdoors, she says.
"This is the new medicine," she notes.
She's given about 500 talks about various adventures she's taken around the globe. When she wraps up a speech she's also left wondering if she's inspired someone to try to connect with nature and to preserve it.
"That's why I'm talking and writing books," she says.
VIMFF is slated to donate $2 from every ticket sold to Marquis' talk to the World Wildlife Fund's nature recovery fund for Australian Wildlife.
When Marquis started her career as a professional adventurer, people speculated that she might be a "bit crazy," she says.
There had been other explorers but at the time, they weren't returning phone calls.
"They're all dead," she says.
But she's hopeful that young people with an urge to chase faraway horizons can use her as an inspiration to understand and appreciate the natural world.
"They can talk to me," she emphasizes. "I'm alive."