There are some things they just don't teach you in acting school.
For starters, there's no class in how to conduct yourself in the stretch of time between being dressed by the wardrobe department and shooting your scene.
No one tells you to be extra-careful when you're taking a sip of coffee from craft services. No one describes for you in graphic detail what the ramifications could be if you spill even a single drop of coffee on your wardrobe.
This is the kind of lesson you can only learn on a live set – and for Vancouver actress Luisa D'Oliveira, this is a lesson she learned in the first hour of her first speaking role.
The gig was a TV movie about hurricane hunters. D'Oliveira was playing a babysitter whose charge runs away right before the titular hurricane hits. It was her big break, and she was pumped and prepared. She was dressed by wardrobe, helped herself to a coffee, took a sip of said coffee, and –
Well, disaster struck, and it wasn't a hurricane.
"It wasn't until I had spilt it that I went, 'Oh my gosh, I have wardrobe on, that means I have to take care of it, and what if this is the only shirt? What if I just ruined my only piece of wardrobe?' And that thought had never occurred to me before," says D'Oliveira. "It's the silliest little thing, but it's a huge deal when you've never done it before, and things like that actually do halt production."
Luckily for D'Oliveira, the wardrobe department had a Tide-To-Go pen at the ready, and the actress learned a valuable lesson about what it means to be a working actress on a busy set.
In the years that have passed since the coffee incident, D'Oliveira has guested, recurred, and co-starred on a number of hot shows, including The Good Wife, Cracked, Rookie Blue, Supernatural, and Motive.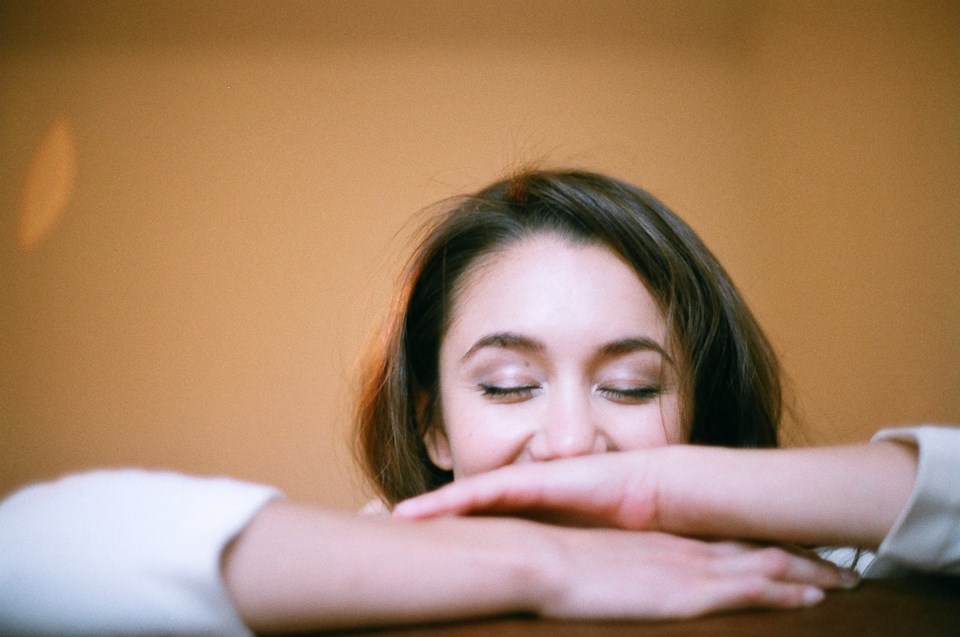 As Emori on The CW's The 100, D'Oliveira has become favourite of fans, as well as a disability advocate. In a recent episode of the hit show (which aired its third season finale last week), Emori – whose hand is disfigured; D'Oliveira wears a prosthesis for the role – makes a bold proclamation that struck a chord with fans.
"Jaha [portrayed by Isaiah Washington] tells me that I can correct my defects in the City of Light, and I tell him, 'I would, if I had any,'" she says. "That's a very clear statement that I don't see my hand as a defect. It's who I am."
Emori's statement spawned the hashtag #disabilitiesarenotdefects, and D'Oliveira received numerous messages from individuals for whom Emori's statement was meaningful.
"There have been so many incredible tweets from fans reaching out saying how Emori has helped them feel okay," says D'Oliveira. She gives full kudos to The 100's scribes for writing the lines in the first place. "That has been one of the most significant things that I feel like my work has achieved."
D'Oliveira honed her drama skills in elementary and high school, but she needed to convince her practical parents, and herself, that acting was a viable career path.
She studied science for one year at Capilano University, and then switched over to arts for her second year. Neither course of study engaged her. Eventually, she circled back to acting. She auditioned for Cap's acting program, was accepted, and has been engaged in the industry ever since.
Career highlights include The Good Wife, where she played a young lawyer going up against Julianna Margulies' character, and a co-starring role as a detective on CBC's Cracked.
For those kinds of characters, D'Oliveira draws upon her time in the science sphere to inform her inner world.
"It's the same for all procedurals: there's the interpersonal interactions, but there's also this undercurrent of analysis and thinking about what it is that you're trying to do when it comes to the case, or the murder, or the robbery, or the surgery," says D'Oliveira. "It's a different kind of work that needs to go into it, and I enjoy it."
D'Oliveira is nominated for a 2016 Leo Award for Best Guest Performance by a Female in a Dramatic Series for her nine-episode arc on Motive. She learned a lot from watching series lead Kristin Lehman in action.
"Whoever number one on the call sheet is, they set the tone for how the show runs, and she is so smart, comfortable, precise with her work, professional, and warm," says D'Oliveira. "She showed me where I can go and what I want to be like."
 
• The 2016 Leo Awards will be handed out on May 28, June 4, and June 5. Reel People will live-tweet the three ceremonies. Follow @sabrinarmf for the tweets, and visit Westender.com for next-day results.

MORE FROM LUISA D'OLIVEIRA
On what she enjoys most about Emori, the character she plays on The 100: "Emori has the deepest level of playfulness that I've done in any character so far, and I think it's born out of what she's endured. I don't think I've played a character that has endured as much as Emori. The character I played on Motive is comparable, but it's a very different scenario. It's a totally different world and different time. It's really fun because, to me, how much Emori has suffered and how much she's had to prioritize her own survival has created this incredible sense of humour in her. She has a sharp wit and this attitude that, when she feels comfortable, it's just so playful. That's been really, really fun."
On frequent The 100 scene partner, Vancouver actor Richard Harmon: "He's very easy to work with. He's very respectful. He's very good. I think we've created this great chemistry between Emori and Murphy that's been there since day one. It just was easy. I don't know how it happened, but it just was. I think we're both very respectful and we're very professional, and also genuine."
On getting into her Emori wardrobe and makeup on The 100: "With my character, it takes me almost ten minutes to get into wardrobe, because there are so many layers. Especially once I have my mutated hand on, it's very difficult to then take anything off, because once the hand goes on, it has to stay on for a bit. I can't just whip it off and on."
On her introduction to The 100 fandom: "Shortly before my second season episode aired, Richard Harmon mentioned me in a tweet, and it got a bazillion likes and favourites and comments, and it was in that moment that I went, 'Whoa, wait a minute, this is something else.' He mentioned shipping in his tweet, and I went, 'Oh, he spelled it wrong.' I didn't even know what shipping was. That was my introduction to shipping, as well as to many other abbreviations on Twitter. My work on The 100 for most of when I was getting familiar with the show was with Richard and Isaiah [Washington]. I heard from them that the fan base was fantastic and incredible, but just to be aware of what you're putting out there, because it does matter, and people do hear it, so don't just say whatever. Be aware, and respectful. The majority of my education just came from seeing all of their tweets and how they interacted with fans and how the fans responded to them and the genuineness and the level of passion."
On her earliest performances at the family dinner table: "I would always entertain my family at dinner, and I was always the one who was loud and talking and telling stories. Most of the time, I would just run over whatever movie I had just seen as word for word as I possibly could, to the point where I would still be on salad, which we always ate first, and everyone would be up and doing the dishes. My dad had to get mad at me a couple of times, because I wouldn't eat my food, and I wouldn't stop talking."
On mentors: "I secretly acquire mentors. They don't know that they're my mentors, or that I look up to them. Working with Julianna Margulies on The Good Wife, we didn't have much personal interaction both when we were filming and off set, but just sitting and watching her work was such an educating experience on how to be number one, and how to do the incredible long hours. Same thing with Kristin [Lehman on Motive]. They're my secret mentors. They don't know it. I learned a lot from watching them. I think mentorship, whether you acquire it from developing a relationship with someone, or whether you just observe, is very important, because there's a lot to learn. It's harder to acquire without seeing how it's done."