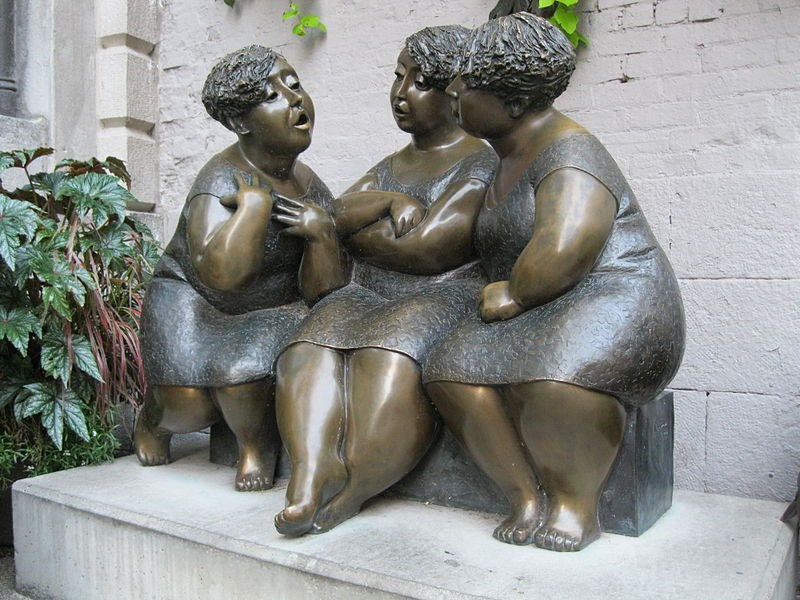 A friend of many years and I were on our way to dinner in old Montreal.  We had both spent much of our careers in leadership positions in The Presbyterian Church in Canada and were looking forward to exploring the possibilities that were emerging for participating ever more faithfully in God's mission of blessing the world.  We ran across one of the installations of Les Chuchoteuses ('the gossipers') on Rue Saint Paul.  The bronze was crafted by Rose-Aimee Belanger.  Though there were only two of us that evening, it prefigured a delightful evening of provocative conversation. 
The idea of 'gossiping' has gotten a bad rap in recent years.  The word is used mostly to indicate petty, negative talk that demeans and dismisses the subjects of the conversation.  There's a lot of that around the church these days.  But the word has older roots with a more positive meaning.  It referred to conversations that created social bonding around positive common interests. 
I think we should pay more attention to recovering that older meaning of 'gossip.'  Here are three things to remember in developing habits the fine art of good gossip.
First, recognize that conversation as an art form.
"A work of art, " wrote poet Jane Hirshfield, in Ten Windows: How Great Poems Transform the World (2015), "is a ripening collaboration of artist, receiver, and the world."  And, as the title of the book proclaims, that collaboration transforms the world.  This kind of art ripens through conversations about things that matter most among people with the potential to change things in their circles of influence by showing up differently.  Those people include you.  You can show up curious rather than contentious, calm rather than cranky, and compassionate rather than callous.  Choosing the collaborative option is within your capability.  Some of us think we need the loving encouragement of a higher power.  In my case, that is the God who created the cosmos, formed a people to bless it, and never tires of calling that people back from their rebellion to a reconciled relationship in which they do justice, love kindness, and walk humbly with their Creator.  This is a process of "ripening collaboration" through conversations.  That is the art of awakening authenticity.     
Second, practice to hone your authentic voice. 
While I am convinced that such authenticity is a gift from God, to be used in gratitude to bless God's world, I also believe deeply that we need to hone the gift that is our authentic voice with practice.  Like the street musician in New York said to the tourist, when asked how to get to Carnegie Hall, "Practice, practice, and more practice."  Yet I wonder how often we pay careful attention to the way we converse – our tone, our choice of words, our posture when speaking, our focus when listening, our silence to hear, our purpose in engaging, etc.  These are only some of things that determine the benefit of a conversation in building alliances for the common good.  And they are things we should practice with intention and intensity.    
Third, contribute that authenticity to the common good.
Your voice creates a vibe, literally.  When you speak, air vibrates as it carries the sounds to others.  That vibe generates a value.  It makes a physical impact on others that triggers a whole-person response.  Every word has the power to hurt or heal, to cause trauma or communicate tenderness, to shut down options or open possibilities.  You can choose to be a carefully-honed positive presence that blesses your circles of influence with good gossip.  You won't get it perfect.  Your authenticity will always be awkward.  But the beauty of being human is that you are literally one breath away from making it better. 
So, what are you going to do with that next breath and the good gossip that it can carry?
*The photo is from Wikimedia Commons and by Jean Gagnon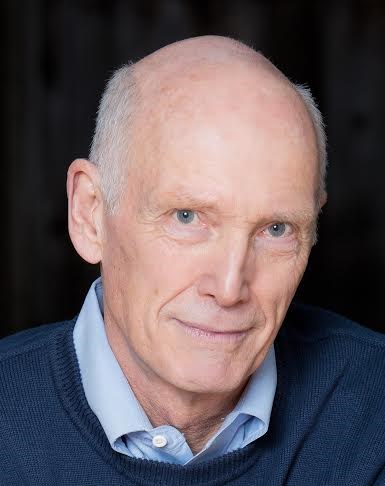 Brian Fraser is a Christian pastor with Brentwood Presbyterian Church in Burnaby, BC, and a keen jazz fan, using that art form to imagine innovative ways of collaborating for the common good.
You can read more articles from our Interfaith blog, The Spiritual View, HERE