Part of the fun of the Vancouver Mural Festival is wandering the streets and trying to interpret the meaning behind the brightly coloured artworks.
The clouds didn't for a second dull the vibe on Saturday as thousands of people crowded Mount Pleasant to be inspired by the new works, get creative, and enjoy a little music.  
This year 40 artists worked on close to 30 walls with the help of 60 volunteers,  so there was a lot to see.
While we got lost in the colourful back alleys we had the chance to speak to some of the artists about what their masterpieces meant to them.
Here's what we found out:
ARTISTS: Ciara Havishya and Zox Svetorovich
Mural: Chasms
On Saturday, tattooists Ciara Havishya and Zox Svetorovich were working to complete their mural Chasms on Seventh Avenue. Bringing the walls near the outside of the Elysium café to life.
Havishya, who owns Sticks and Stones tattoo parlour, said this was their first time creating a mural.
"We just wanted to see if we could take our skills as tattooists to a different scale and a different medium," she said.
"It's been a really rewarding experience."
The 24-year-old said, for her, the piece was about separation and grief.
"The birds are carrying twigs and flowers to build nests for better days," she explained.
"The chrysanthemums are symbols of prosperity and unfolding and evolution and wisdom. I think it is all about the wisdom of moving on."
She said people would no doubt view the mural in their own way.
"I think other people will see something that's really beautiful," Havishya said.
"The darkness is there but there's also a lot of light.
"So that's what I'm hoping they'll see. 
"The dark grey walls are like our (Vancouver's) dark grey winters and then I hope the bursts of summer sunset freshness will bring some joy to people's days."
Havishya said the mural would probably take nine days to complete.
ARTISITS: Phantoms in the Front Yard
Mural: Strange Bedfellows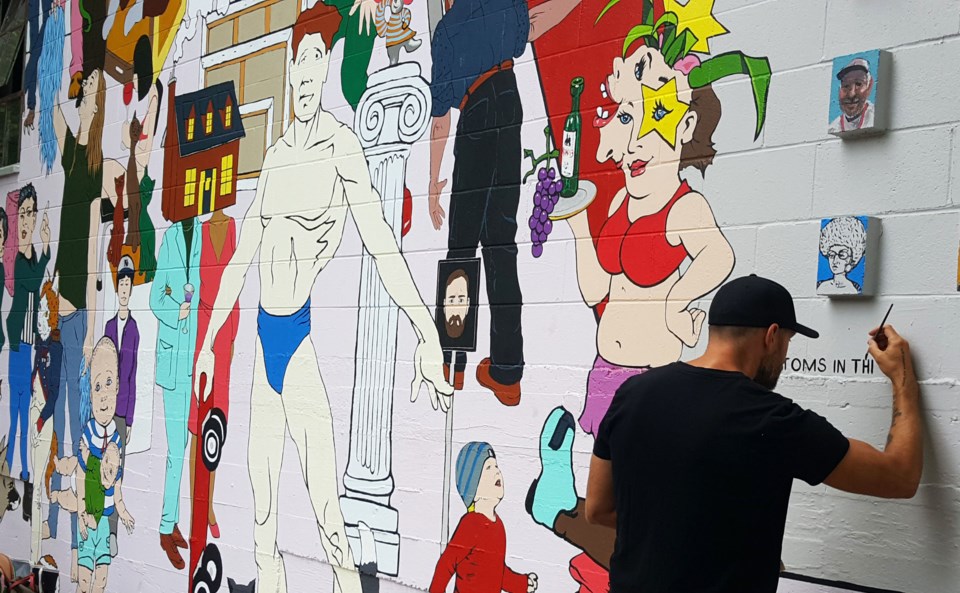 One of the first eye-catching murals you'll see at Seventh Avenue and Ontario Street is Strange Bedfellows.
The piece has been likened to a 'Where's Waldo' picture, and you'll understand why when you see it.
Pennylane Shen, curator of the festival and of the mural, said the seven artists behind the piece - Jay Senetchko, Michael Abraham, Jeremiah Birnbaum, James Knight  Paul Morstad, Bruce Pashak, Jonathan Sutton and Andrea Hooge – have been working together for nine years.
She said each artist had a different style but they were all focussed on figurative art – people and portraits.
"The mural is an imagined exhibition of a Phantoms in the Front Yard art show," Shen explained on Saturday.
The mural features both well-known Vancouver artists and imagined characters.
"We hope that people recognise some of the figures and that it's engaging and fun."
Shen said the building the mural was painted on would also play host to the group's 10th year exhibition in 2019.
Artist Senetchko said the mural was "primarily visually fun and interesting."
"There's constantly new things to discover and you're trying to figure out what it's about," he said.
"It is also a representation satirically of some of the amazing, lovely and wonderful but also terrible and lonesome things that are engaged in the art world."
He said his main attraction to doing murals was that it was one of the most obvious ways of being socially engaged with art.
"I'm dedicated to trying to inject art back into the social fabric of things," he said.
"This is a very easy way of doing it because you have constant social interaction with the public."
The artwork took about 600 people hours to finish.
 "A lot of paint, a lot of time but a lot of fun too," Senetchko said.
ARTIST: Linsey Levendall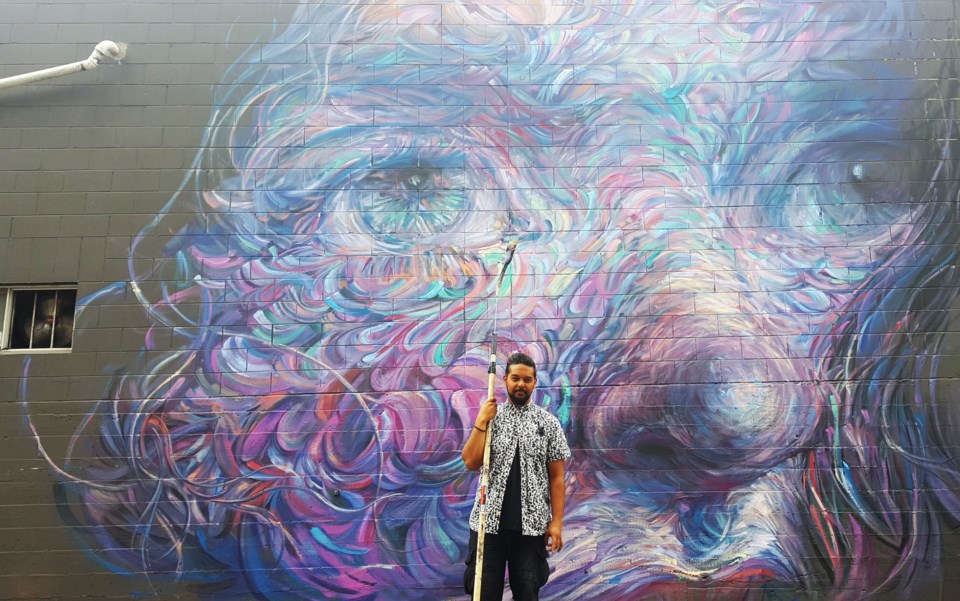 In an alleyway off Seventh Avenue, you'll find South African born artist, illustrator and conceptual designer Linsey Levendall's incredible piece.
Levendall flew in from Capetown to be a part of the event, but has also spent seven years living in Saskatchewan, where he spent most of his time mastering different art techniques.
"It's my first time doing a mural," the artist who boasts 65k Instagram followers said.
"I usually paint in oils."
He said he wanted to create a piece that made people stop and process things a little bit more.
"I think people get caught up a lot in the humdrum of everyday life," Levendall said on Saturday while putting the finishing touches on his work.
"The city swallows you up.
"No body has the time to just drink in their surroundings so I wanted to do something that was a little bit more feeling based instead of just decorative.
"Something that makes people stop and think a little bit more."
Levendall said his artwork was based on a pastel drawing he created about two months ago.
"I really enjoyed that piece of work that I was exploring at that time," he said.
"Everyone has their own interpretation of what it is."
Levendall described the festival as an incredible experience and a great learning opportunity.
"This festival itself is very cool, in the sense that they've given a platform to emerging artists," he said.
"It's been nice to see so many artists doing it for the first time.
"It says a lot about Vancouver, that they're willing to take a chance on artists and let them express themselves."
He had no doubt the event would grow bigger and better in years to come.
"People feed off the energy," he said.
"Everyone has been exuding positivity. That's what colour does. That's what art is supposed to be doing.
"It's about inspiring us a little bit more and appreciating our environment a little bit more."
ARTIST: Alexia Tryfon
Mural: Argos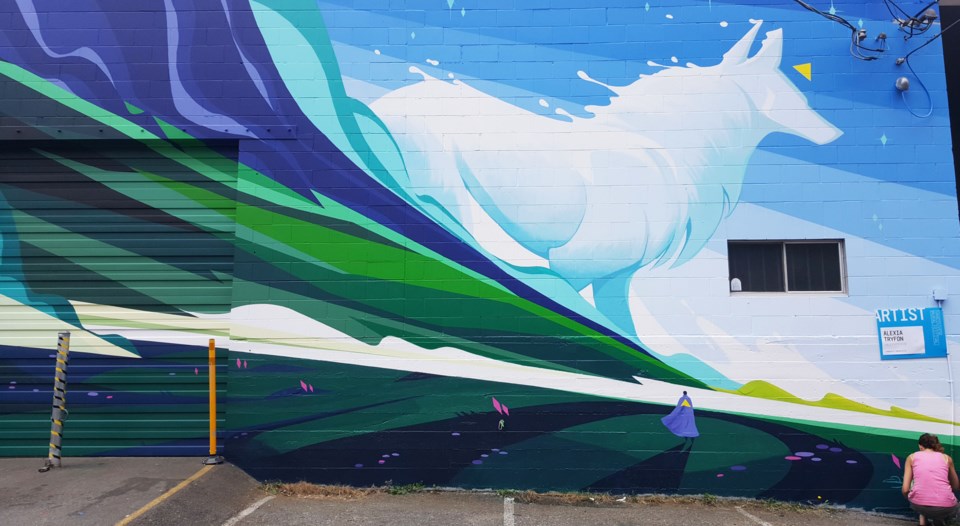 At first glance you might see a wolf running free in the wilderness, but this mural is actually inspired by Greek mythology.
Artist Alexia Tryfon, who was born and raised in Cyprus, said the piece - in an alleyway off Seventh Avenue - was based on the story The Odyssey by Homer.
"For me it's more about bringing Greek history into Vancouver and on to its walls," she said.
If you're curious… The story goes like this:
"Odysseus leaves from his home and leaves his wife Penelope for 10 years to fight in the Trojan War," Tryfon explained.
"He named his crew the Argonauts after his dog Argos – the fastest, strongest, most cunning, loyal dog.
"Upon his return to his home he finds his castle has been taken over by reckless suitors and they try to take his wife, Penelope.
"He tries to enter the castle by disguising himself as a beggar.
"When he enters the only one who knows it's him is his son.
"As he goes in he sees his dog Argos and he is broken and destroyed. He is on his last legs and he's dying.
"Odysseus passes by and Argos sees him.
"In his last moments Argos picks himself up and wags his tail to greet his master – saying you're finally home.
"But Odysseus can't touch him, because that'll give away his disguise and he'll be killed. So he has to ignore him and walk by. As Argos falls and dies, Odysseus sheds a tear for him."
Tryfon said her mural was Odysseus on his next adventure.
"Argos is now part of the oceans and the skies and they protect each other. Together they are stronger.
"It can read different ways to many different people but that was my interpretation of it."
She said she hoped people were inspired by the day.
"It's like walking in a giant art gallery," Tryfon said smiling.
"Instead of walking the street, people are starting to walk the alleyways.
"It's opening up different parts of the city."
The piece took about a week and a half.
For more information about all the festival events, visit vanmuralfest.ca.