There's only one rule when it comes to The Bed Cinema, and that's "no sleeping."
Vancouverites will have the chance to experience the world's largest outdoor bed cinema when it comes to town for the first time this summer. The cozy outdoor event is set to take place in Kitsilano for one weekend in August, with dates yet to be revealed.
Yes. It is exactly what you're thinking. You get to lie down in a bed and watch a movie under the stars.  It's possibly the most perfect date night of all time.
It's dubbed 'the world's most comfortable cinema' and, from what we know so far, it's easy to see why.
The cinema offers 150 plus double beds, complete with pillows, blankets and LED-lit bedside tables, so you can sprawl out, snuggle up and enjoy the show in ultimate  comfort.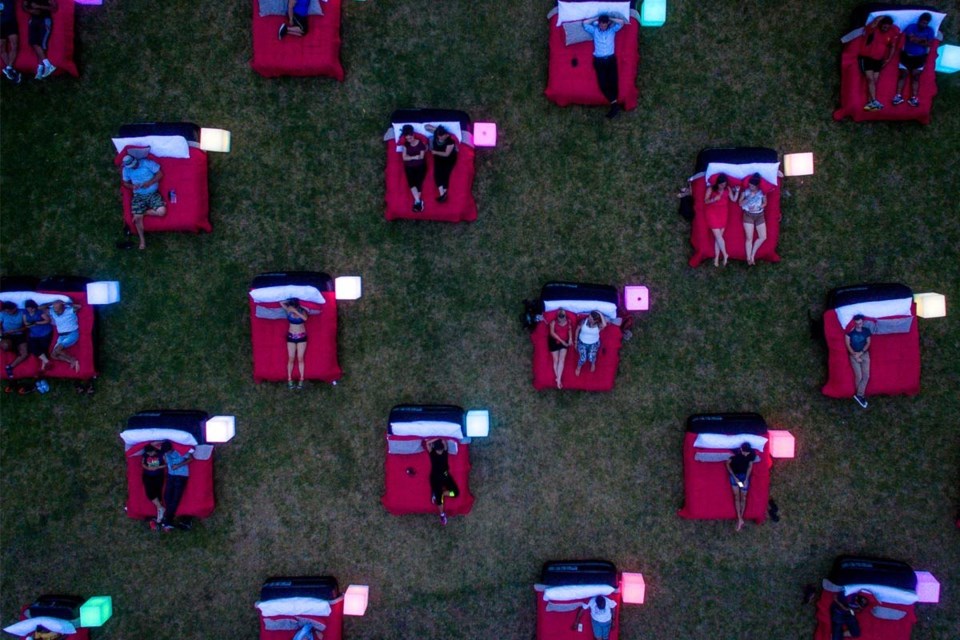 The outdoor cinema is set to screen a number of blockbusters (but the movies haven't been announced yet.)  
James Harrison, spokesman for The Bed Cinema, told the Courier people would have the chance to enjoy the outdoor cinema for one weekend, with five screenings available.
When asked about the idea for the event he simply said: "We all love watching movies in bed and it seemed like the perfect outdoor cinema."

"Customers will be able to book a bed and watch a movie for $35 a person or $65 per couple," he explained.
The beds are said to be pretty roomy, and can each fit up to three people. If for some reason lying in the bed isn't for you, guests can also book a lawn spot for $10 and bring their own picnic blankets.
For those who get the movie munchies, have no fear, there will food and drinks available for purchase.
If you snooze, you lose. So make sure you sign up at The Bed Cinema to get all the upcoming event details.