If there's one conclusion to draw from UBCP/ACTRA's diversity roundtable videos, it's that no two culturally diverse actors have the same experience navigating the 'biz.
Another conclusion is that, if any real change is to occur — if TV shows and movies are going to prominently and accurately feature diverse actors and stories — these experiences need to be heard, and mulled over, by people in positions of power.
UBCP/ACTRA — that's the Union of British Columbia Performers, a branch of the Alliance of Canadian Cinema, Television and Radio Artists — is the screen performers' union. Its membership includes actors, stunt artists and voice and background performers working the local screen scene.
In the aftermath of social media discussions about onscreen diversity that birthed hash tags such as #OscarsSoWhite and #StarringJohnCho, UBCP/ACTRA's Diversity and Inclusion Committee took a page from organizations south of the border and hosted a series of diversity roundtable discussions.
The first roundtable — filmed in late 2016 — featured African-Canadian actors and was released to the web a year later (it was hosted by yours truly and is available on YouTube.
The new roundtables feature Vancouver-based Middle Eastern and North African (MENA) and East Asian actors. They were filmed in June 2018 and released in mid-November on YouTube.
The aim of the roundtables is to elevate and amplify underrepresented voices in the Vancouver film and TV industry, says Patrick Sabongui, an Egyptian Canadian actor (Homeland, The Flash) and producer, who chairs the Diversity and Inclusion Committee with actress Angela Moore.
"As diverse actors, we used to sit around on set and have these conversations amongst ourselves," says Sabongui. "Now these conversations are starting to emanate out into the larger consciousness. Now they're including ears and voices that used to not be included."
Moore agrees, adding that the roundtable discussions were posted online so that anyone in a position to affect change — from studio execs to casting agents to audiences — could benefit from the lived experiences of the participating actors.  
"This isn't to further the actors' profiles," says Moore. "What we tried to do is have a fulsome discussion about some of the challenges that they've faced over the course of their careers."
The diversity roundtables are diverse entities unto themselves. The panelists — Anousha Alamian, Carmel Amit, Michael Benyaer, Medina Hahn, Mozhdah Jamalzadah, Sabongui and Marcus Youssef on the MENA panel, and Benita Ha, Hiro Kanagawa, Thai-Hoa Le, Mayumi Yoshida, Valerie Sing Turner and Raugi Yu on the East Asian panel — represent a range of cultural backgrounds, professional experiences and opinions.
In the videos, that diversity leads to emotional moments where the panelists directly challenge each other. At one point, MENA panelists reflect on how their careers were impacted by 9/11 (one panelist was horrified by the abundance of auditions for terrorist roles that began to come his way, another welcomed the work). In another discussion, a couple of the East Asian panelists disagree as to whether Asians are adequately represented in the film and television sphere.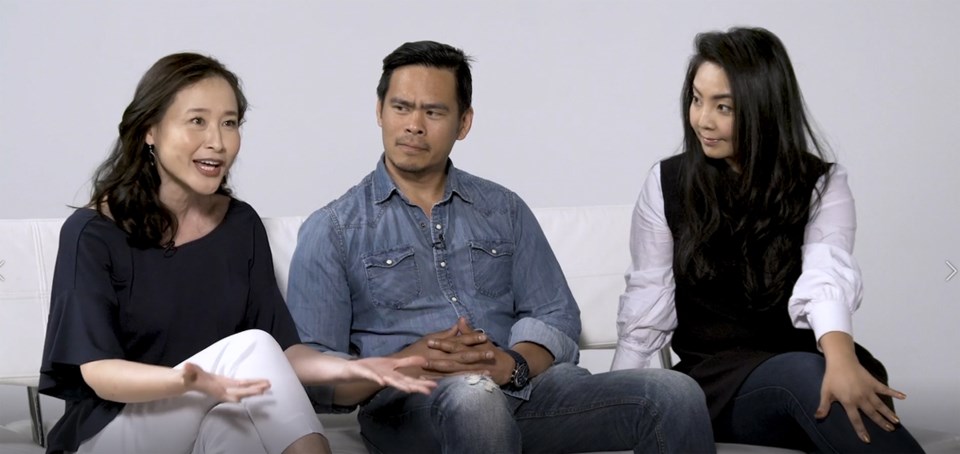 The panelists also differ when it comes to authenticity, and whether or not they feel a personal responsibility to changing how their cultures are portrayed in screen media.
"It's not a 'them versus us' thing," says Moore. "It's about educating and challenging and inspiring each other. I think people need to learn how to listen. They did that here."
Not every actor who was invited to participate in the roundtables welcomed the opportunity to do so.
"Several actors and stunt performers would hear me out, and then, after silence and some questions, would say, 'I don't think I'm comfortable talking about this,'" says Sabongui.
Some of the performers who declined to participate told Sabongui they were worried about being pigeonholed as part of a single cultural group, thus limiting their employment opportunities.
Others worried that participating in a conversation about diversity would invite discrimination, because "taking a stand for inclusion somehow aligns you with a political group and a political perspective," says Sabongui. "I think people are hyper-sensitive to becoming part of that debate."
Regardless, the conversation will continue. UBCP/ACTRA is planning roundtables covering the experiences of LGBTQ, First Nations, disabled and South Asian actors.
"This is an unfinished project," says Sabongui. "This is the beginning of something. There are so many other communities that need to be heard."
The 2018 UBCP/ACTRA Awards, which honour acting, voice and stunt achievements by UBCP/ACTRA members, will be handed out Dec. 8. The awards aren't broadcast, but follow @sabrinarmf for red carpet photos and results.