Anyone who follows the Canadian film and television scene is familiar with Ali Liebert. She earned multiple awards and a global fan base for her work as queer icon Betty McRae on the TV series Bomb Girls, and her filmography includes some of the most beloved indie darlings, television series and blockbuster films of the last decade: The Devout, Wonder, BH90210, DC's Legends of Tomorrow, Ten Days in the Valley and When Calls The Heart.
In recent years, Liebert has been expanding into producing (movie of the week for Hallmark Channel called Cooking With Love) and directing (a movie of the week for Reel One called Amish Abduction).
But if you think you know Liebert after enjoying all of her previous work, I'm here to tell you that you don't. Not really. Liebert herself is only just figuring out what she can do. And over the last couple of months, she's found her storytelling voice and, on Feb. 22, audiences will finally get a chance to hear what she has to say.
Liebert is one of six Vancouver filmmakers with a short film screening at the 2020 Crazy8s Gala. More than 200 filmmaking teams competed for the opportunity to produce their films in eight days (three days for shooting and five days for editing). Liebert's film is The Quieting, and even though she does not act in it, she says it's the most personal she's ever been in her work.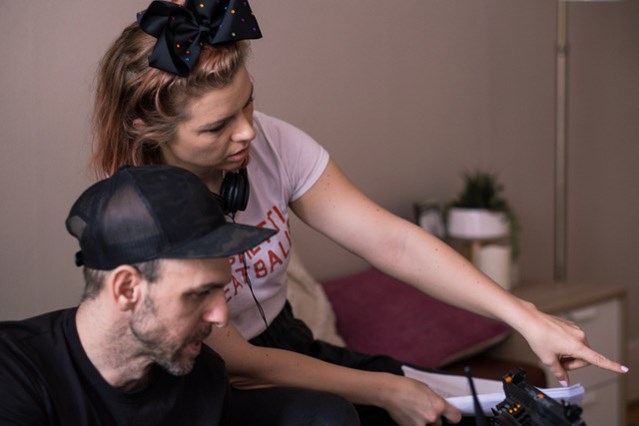 "This is the first thing I've ever written, and I also directed it," says Liebert. "There are so many personal ties. My mom passed away, and her passing is a through-line in the story. We even include photos of us together. It's going to be meaningful for people who know me, but I'm hoping that it has a broader reach for people who don't know me, and that they can relate."
The Quieting draws inspiration from Liebert's own experience coming out as queer in her 30s. This emotional gut-punch of a film stars two heavyweights of the Canadian screen scene: Sara Canning (Remedy and The Vampire Diaries) and Julia Sarah Stone (Weirdos and Honey Bee). Canning plays Maggie, a 30-something who is one night away from her first date ever with a woman. Stone appears as a figure from Maggie's past who doesn't want her to make the leap.
"When I went on my first date with a woman, I was a total maniac," recalls Liebert. "You have 33 years of quote-unquote being straight behind you — and, if I'm honest, there were many signs before I was 33 that I pushed down — and I had always wanted to tell the story of that feeling, and the anxiety and insecurity that comes with making the plunge in your 30s. Crazy8s gave me the opportunity to finally tell this story."
While The Quieting is undeniably and unequivocally a queer story, Liebert adds that it's not just a queer story.
"It's the night before any type of turning point. It doesn't have to be coming out, but how, for me, the fear that doesn't want you to change can get so loud, and I'm hoping that it gives people strength."
The Quieting was filmed over three days in early February. Filming took place primarily in Liebert's home. More than 50 people came out to bring The Quieting from page to screen. "The majority of the crew are people I've worked with over the last 20 years who responded to the script and who wanted to support me," says Liebert. "I've been weeping about that a lot."
Liebert has other projects — including a feature film — in development, and those of us who follow her work should expect to see glimpses of The Quieting in future projects, namely in the form of the confidence and the honesty that the film managed to unleash.
"The Quieting has allowed me to trust my voice as a storyteller," says Liebert. "I have never worked so hard in my life. I've never pushed myself as an artist like this. This is a life-changing experience for me. This has inspired me to continue as a writer-director, and to tell more queer stories. Even though I've directed before, this is me developing my style and my point of view as a director."
The 2020 Crazy8s Gala Screening takes place Feb. 22 at the Centre. Tickets at crazy8s.film.
sabrina@yvrscreenscene.com