Canadian genocide.
Those two words — controversial to some, inarguable to others — were used repeatedly in a government report released earlier this year by the National Inquiry into Missing and Murdered Indigenous Women and Girls. The report described the violence, trauma and systemic neglect faced by Indigenous women and girls over the decades. It made more than 200 recommendations, and noted that while the number of Indigenous women and girls who've gone missing is estimated to exceed 4,000, there's no way to actually know the true number, and it's probably far higher.
Disturbing as it is, the report only paints one kind of portrait — the kind that's comprised of facts and footnotes. It doesn't immerse us in the Indigenous women and girls in Canada. It doesn't communicate the toll that living in the midst of a simmering colonial genocide can have on your soul.
Government reports can't go there. Art, on the other hand, can go where government reports are unable to tread.
Spirit Glitch goes there. The recently released short film from Vancouver-based filmmaker and actress Mary Galloway expresses the impact of colonial genocide on Indigenous women and girls by taking us into the interior life of a woman (The Flash's Jessica Parker Kennedy) who is struggling to hold her spirit together in the midst of relationship and colonial violence, homophobia, intolerance and psychic and psychological stress.
"Missing and murdered Indigenous women and girls are constantly on my mind," says Galloway, who is from the Cowichan Tribes on Vancouver Island. "If it's not apparent [in my work], it's underlying. It's in our bodies."
Spirit Glitch is one of 30 films that received funding earlier this year from Storyhive as part of its first-ever Indigenous Storyteller Edition. Each awarded project received $20,000 in production funding, as well as support, mentorship and training.
View Spirit Glitch on YouTube below:  
Galloway's previous films have similarly dealt with the inner lives of Indigenous women and girls. She wrote and starred in 2016's Ariel Unraveling, about a girl who grew up banished to a basement with a single fairytale film to watch — and she made her directorial debut with 2017's Unintentional Mother, about the bond between an Indigenous nanny and a white child who are both abused.
"I want to tell stories that are aimed at women, and women who are going through struggles and hard times, and show them that they're not alone, that they're not the only people going through this tough world that holds them down and puts them in a box and labels them," says Galloway, who won the On Set Headsets Newcomer Award from Women in Film and Television Vancouver in 2016 and co-wrote the season three finale of CBC's Burden of Truth, which will air this winter.
Galloway's abiding mandate is to write stories that have female leads. "They're doing something other than finding a perfect husband and falling in love and living happily ever after. I can't tell any other story because that's the only thing that speaks to me. Maybe one day I'll write that story but for now, that's all I'm interested in."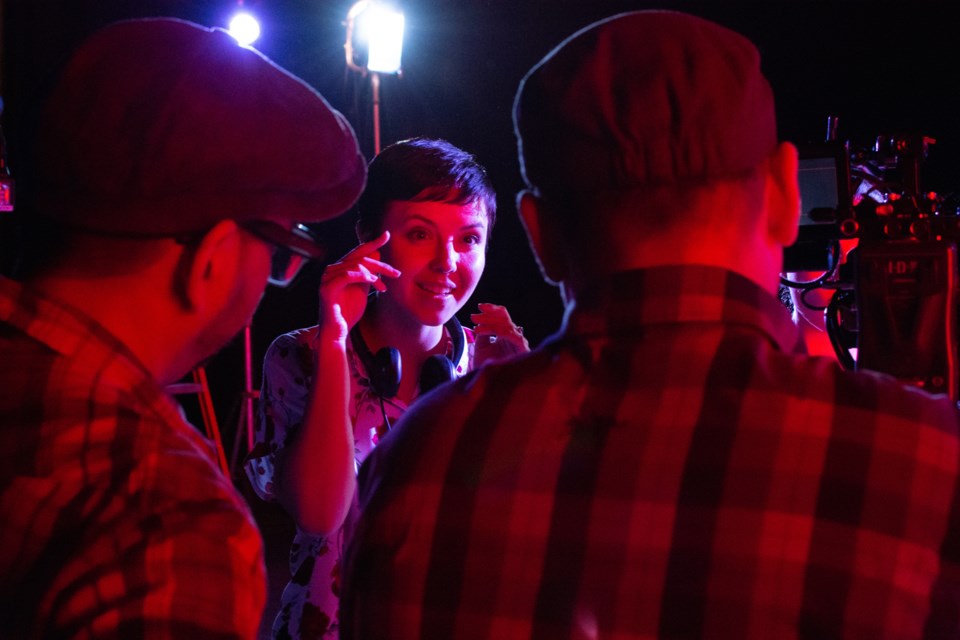 Spirit Glitch represents Galloway's first time directing a film while remaining firmly behind the camera. "I think I've really found my voice as a director," says Galloway. "When people say, 'Oh, you act, write, direct, what's your main goal?' I say, 'I want to write, direct and act. I want to do all three.' In a perfect world, I want to be able to alternate between all three throughout the year, because each one fulfills me in a different way."
Spirit Glitch is currently available for streaming on the Storyhive YouTube channel as well as on Telus Optik VOD. It will have its film festival premiere at imagineNATIVE in Toronto on Oct.25.
Galloway hopes that the film will speak to both Indigenous and settler audiences.
"I created it in a way where I felt that whatever people need to get out of it, hopefully they'll find it," she says. "For me, I always like to watch a show where I walk away feeling heard or seen, so for this, I hope that there are people who watch it who feel heard and seen. I think the struggles that Alice is battling are universal."
Peruse the full list of Storyhive projects at storyhive.com.