Actors playing doctors on television is ubiquitous network fare.
But actors playing actors playing doctors on television at once is revolutionary and comedy gold.
Such is the conceit of Hospital Show, a locally shot digital series that hits the web Oct. 24.
The series features real-life episodic television veterans Sara Canning (Remedy), Adrian Holmes (19-2), Jordan Connor (Riverdale) and Enid-Raye Adams (You Me Her) as the high-strung but immensely likeable stars of a highly rated medical drama called Critical Condition.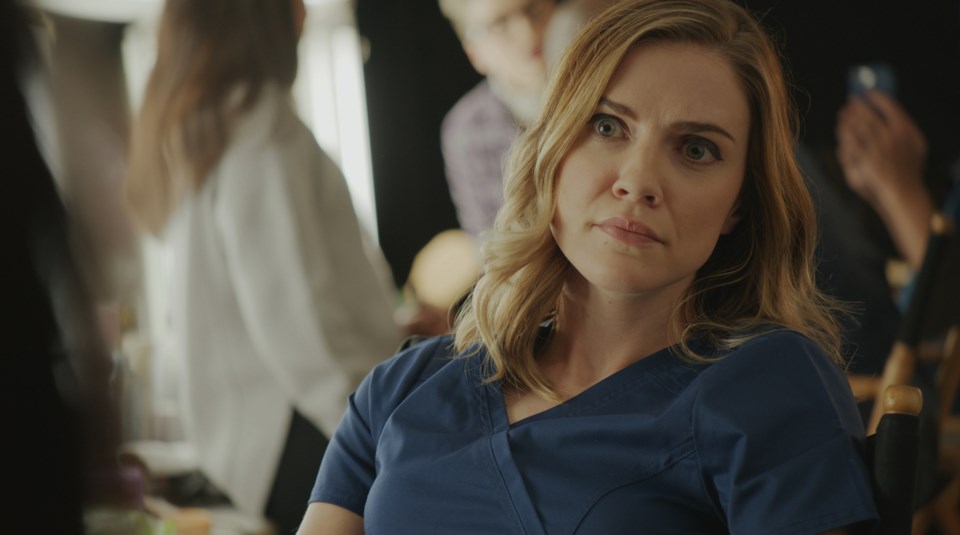 Hospital Show is the creation of Adam Greydon Reid, a child star (You Can't Do That on Television) turned adult actor and commercial director who appears in the show as Will, an insecure, near-genius alcoholic who plays the same on television.
"I've been an actor all my life and it's the world I know and love. I've always wanted to portray that world in the way that it is, which is a workplace," says Reid.
Acting, he says, is "a job, and I've always thought that having a workplace comedy set in the world of a show would be great because it would humanize the whole process."
Reid chose to set his workplace comedy in a medical drama because of what he describes as the inherent irony of the situation.
"There are all sorts of reasons why actors go into acting and I think a lot of times it's because there's some healing that needs to take place," says Reid. "I thought the idea of wounded, broken, deluded, narcissistic, addicted people who have problems but are pretending to be healers is rich with comedy."
Canning shines as Charlie, a med school dropout turned medical drama star whose existential crisis puts the future of Critical Condition in jeopardy. Canadian Screen Award winner Holmes plays Critical Condition's top-billed actor, Rich, who, as the series opens, is worried about the state of his genitals. Connor — who has garnered a globe-spanning fanbase playing Sweet Pea on Riverdale — is perfectly cast as the social media obsessed millennial, Vince.
Hospital Show demonstrates something that Reid has long believed about Vancouver's dramatic actors: namely that, given the chance to do comedy, local actors bring the funny.
"I've already heard executives watch this and say, 'I had no idea that these actors could do comedy like this,' and I'm like, 'They're good actors, so they can do anything,'" says Reid.
"These actors are mostly used to doing heavy dramas and serious science fiction, because that's what Vancouver does mostly. But when we had the rehearsals, I told them, 'Don't worry about being funny; play your characters as earnestly and seriously as you can.' The scenarios are ridiculous and absurd, but as actors playing actors, they're serious about them. Their job is to be truthful to the material, and in doing so, they're absolutely hilarious."
Hospital Show was designed as a serialized hybrid web series/mini-series/one hour comedy. It will first hit the web via 10, five-to-seven-minute weekly episodes, beginning with two episodes on Oct. 24.
Reid and Co. shot Hospital Show over seven days in early 2019 at the Bridge Studios and at Riverview Hospital.
The series was funded in part by the Independent Production Fund, the Bell Fund and Telus.
"The fact that the money exists, and the fact that you can go out and pitch an idea and put something together that's your own vision is a miracle and a gift," says Reid. "You get a lot of nos in this business, and at a certain point you have to decide to do something on your own and see what happens and funds like these allow for that."
For Reid, Hospital Show represents a watershed moment that brought him back to his roots.
"I went to film school 25 years ago and the minute I got out of film school, I went to work for other people," says Reid. "I realized through Hospital Show that I'd stopped telling my own stories the minute I graduated from film school. For me, this was an opportunity to go, 'What do I want to do? What's my voice? How do I express it again?' I rediscovered my own voice."
Hospital Show also features Lynda Boyd (Republic of Doyle) as a cutthroat showrunner, Motive star and episodic television director Kristin Lehman as a wizened makeup artist, and Valerie Tian as Vince's social media foil.
Watch the trailer below:
sabrina@yvrscreenscene.com