Climate change documentaries can sometimes feel like horror movies, pulling no punches as they expose how the man-made crisis is inescapable, catastrophic, and murderous.
But not so with Metamorphosis, that rare environmental film that doesn't want to leave its audiences hopeless or paralyzed with fear as the end credits roll.
Instead, the feature-length documentary actively seeks to inspire its viewers, while still being brutally honest about how bad things are (and how bad they're likely to get.)
"One of the things we really set out to do with the film was to add to the conversation, and while we do spend time in places that have been hit by climate crisis, we wanted to move through that and see how we can come out the other side," says former Vancouverite Nova Ami, who co-directed Metamorphosis with partner in work and life Velcrow Ripper.
"We're not saying it's all good, but that the crisis is an opportunity for transformation."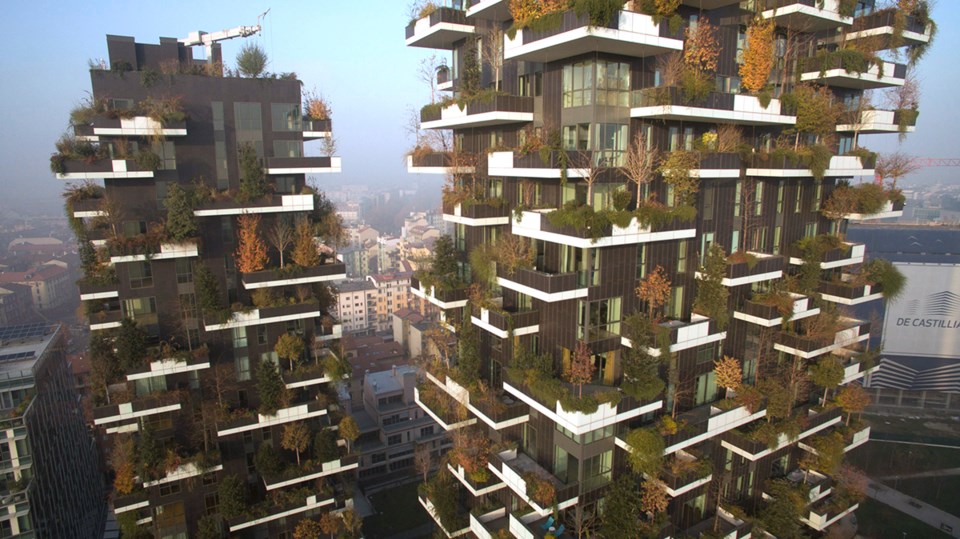 In the visually stunning documentary — which was produced by the National Film Board of Canada and hits VIFF's Vancity Theatre next week for four screenings — the filmmakers carve a path from the present to the future, first laying bare the ways in which capitalism and the mass extraction of resources have destroyed ecosystems and species and ways of life, and then, extraordinarily, highlighting the opportunities for life-sustaining transformation.  
Ami traces the birth of Metamorphosis to the aftermath of Typhoon Haiyan, the powerful tropical cyclone that slammed into the Philippines in November 2013 and claimed more than 6,000 lives.
Ripper and Ami are both veteran documentary filmmakers whose joint and individual projects have explored topics central to our times, including the conflict in the Middle East (Peacing it Together), the Occupy Wall Street movement (Occupy Love), and the forestry industry (1995's Genie Award-winning Bones of the Forest).
For Ami — whose roots extend to the Philippines — and Ripper, the destruction wrought by Typhoon Haiyan led to intense talks "about how an event of that magnitude could change a person, and how humanity is being changed by this crisis that we've created," recalls Ami.
Those discussions led to further talks about change, specifically "about how we change, how we resist change, about resilience, and, finally, metamorphosis."
Metamorphosis (Trailer 90s) from NFB/marketing on Vimeo.
This is how the image of a caterpillar entering a chrysalis and emerging a butterfly became central to Metamorphosis, and how the filmmakers developed the film's structure: from transformation, to crisis, to catharsis, to transforming that crisis, and finally, to symbiosis, the last of which Ripper describes as "the solutions part of the film, where we explore the possibilities for the future."
Metamorphosis takes viewers to Milan, where architects design "vertical forests": urban towers covered with trees and bushes that reduce CO2, produce oxygen, and give new life to the city. It heads to Arizona, where swimming pools are repurposed into self-sustaining gardens, lush with plants and fish that generate food for people. It shines a spotlight on Los Angeles, where a non-profit installs solar panels for families who would not otherwise be able to access cleaner energy.
In total, the filmmakers visited more than 13 far-flung locations over nine months, with the goal of "creating a tone that wasn't preachy or sentimental, and something that would be an invitation for people and not shut them down, because I think that's a challenge now," says Ripper.
As Ami and Ripper began to pull the thread on these global themes of change and metamorphosis, they also found themselves confronting those very themes in their personal lives.
"Around the same time that we conceived of the film, we also conceived of our child," chuckles Ripper. The couple named their son Phoenix — "that name itself is a sign of hope," notes Ripper. Starting at four months old, Phoenix travelled with his parents and grandmother to urban and rural locations in flux all around the world: from Venice to Munich, New Mexico to Vermont, Guanajuato to the Canary Islands.
"I think that anyone who decides to bring a new child into the world at this time wants to find hope, because that within itself is a statement of hope, to bring new life," adds Ripper. "The film doesn't pull any punches. It does show exactly how bad it could get. It could lead to extinction. But we were strong believers in hope, that hope is a choice, and that we need to inspire hope."
Metamorphosis screens June 26 to 28 at VIFF Vancity Theatre. Tickets here.
Award-winning journalist Sabrina Furminger writes regularly about Vancouver's film and television industry for the Vancouver Courier. She is also editor-in-chief of YVRScreenScene.com.