Here in Vancouver it's pretty easy to live that plant-based life, thanks to restaurants that either specializes in vegan eats or the many that offer vegan-friendly dishes. 
Now a few of Vancouver's popular veg-centric eateries have signed on to take part in the city's inaugural Vegan Week. It's an initiative out of Portland, Oregon that aims to get more people out and trying vegan food available across the city.
Taking place Feb. 24 through March 1, Vancouver's Vegan Week so far features four local restaurants — though more may sign on as the launch date approaches. You'll find Vegan Week offerings at Vancouver's Nuba, Beetbox, Tacofino and Bandidas Taqueria.
Here's what each Vancouver spot is featuring during Vegan Week:
Nuba: Hurrak Osbao
Lebanese style pasta with pomegranate-tomato sauce, lentils, fresh cilantro and mint, toasted walnuts and crispy onions. Gluten Free.
Address: Four Vancouver locations (Gastown, Mount Pleasant, Yaletown and  Kitsilano) 
Tacofino: Vegan Lentil Burrito
Vegan lentil chorizo, cabbage and kale slaw, vegan chipotle mayo, beans, onion-cucumber relish and pickled pumpkin.
Address: Six Vancouver locations (Hastings Commissary, Gastown's Taco Bar, Downtown's Oasis, Yaletown, Mount Pleasant's Ocho and Kitsilano) and food trucks
Beetbox: Seitan Fried 'Chick-un' Sandwich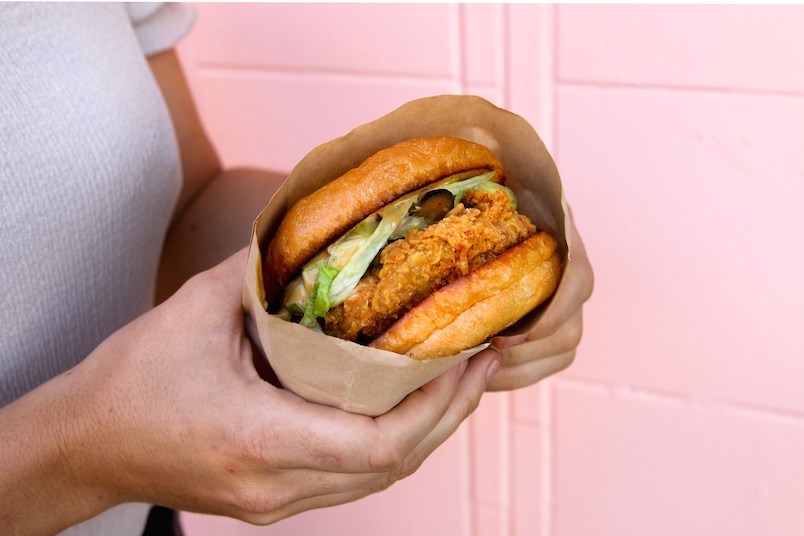 The Seitan Fried Chick-Un Sandwich: an instant plant-based, comfort-food classic combining breaded and fried seitan, miso 'aioli', iceberg lettuce and spicy pickled cucumber.
Address: 1074 Davie St.
Bandidas Taqueria: Vegan Cecil's Salad with Tempeh
An abundant tortilla salad with roasted corn, black beans, fresh-cut tomato salsa, tempeh, Daiya cheese and crushed tortilla chips on a bed of green leaf lettuce and dressed with house-made lime avocado dressing. A truly wholesome and scrumptious salad.
Address: 2781 Commercial Dr.
Additionally, many of these restaurants have an abundance of plant-based dishes on their menus, or ones that can easily be customized to be animal-free, so you can really embark on a vegan feast, any day. 
Vegan Week
When: Feb. 24 to March 1
Where: Participating restaurants in Vancouver (and in Portland, Oregon)