Sadly, it has become a tiresome refrain from your premier, your mayor and your prime minister – that in a country, a province and a city as rich and progressive as any others on earth, there is no reason children should be living in poverty.
Premier Christy Clark, in an April 17, 2013 editorial in the Vancouver Sun: "While political parties disagree on many things, we can all agree that even one child living in poverty is too many."
Mayor Gregor Robertson, in a Dec. 3, 2015 news release: "There is no reason that in a city as compassionate and prosperous as Vancouver that any child should be going to school hungry."
Prime Minister Justin Trudeau, in a Nov. 20, 2016 statement marking National Child Day: "Each child deserves to be raised in an environment that is free of violence, discrimination and exploitation; to grow up with proper nutrition, health care and a good education; and to have a voice in matters that affect them, and a real, fair chance to succeed."
Hard to disagree with their sentiments.
And, it should be acknowledged, all three levels of government have taken some action on this file in the way of the Canada Child Benefit, B.C. Early Childhood Tax Benefit, funding for school meal programs, an increase in childcare spaces, commitments to a living wage for workers contracted by the city, subsidized housing, rent supplements, rent bank assistance and job creation.
Yet, when all of those initiatives are added up, they have hardly put a dent in child poverty in B.C. In fact, B.C. -- at 19.8 per cent -- has the fifth highest child poverty rate in Canada. Manitoba has the highest at 29 per cent, Quebec the lowest at 15.1 per cent.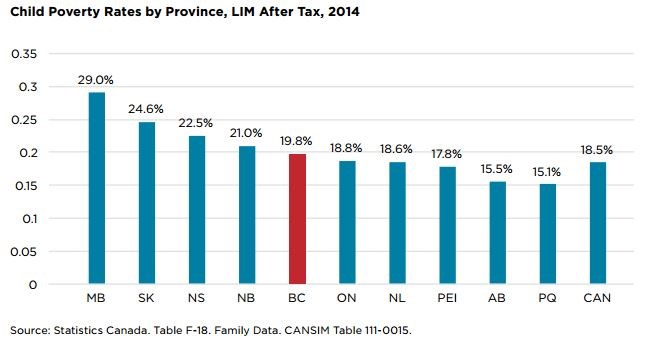 Here's the sad reality for our province:
One in five children in B.C. lives in poverty, which is higher than the national average.
A total of 82, 960 poor children live in Metro Vancouver.
The majority of poor children have parents who work.
In 2014, the richest 10 per cent of B.C. families received 27 per cent of the total income, while the poorest half of families shared only 25 per cent.
The facts don't get any better in a report released Nov. 24 by First Call, the B.C. child and youth advocacy coalition that tracks child and family poverty. As the coalition noted in its report, it's been researching the topic for two decades.
"Our first B.C. report card showed that one in five [over 170,000] B.C. children were poor," said the report, which used Statistics Canada data to determine poverty rates. "It is profoundly disappointing that, 20 years later, the data still shows one in five [163,260] B.C. children are poor."
So what does Christy Clark have to say this time?
She deferred to Children and Family Development Minister Stephanie Cadieux, who issued a lengthy statement the same day as First Call's report. In it, Cadieux covered some of the ground I mentioned above about taking some action.
Here's some of what she said: "No one wants to see families living in poverty, and government is working to reduce poverty in British Columbia through a focused approach that grows the economy and creates secure, well-paying jobs – including more than 180,000 jobs created since the launch of the B.C. Jobs Plan."
She went on to point out the $855 million the government has committed to build 5,000 new units of "affordable housing," with at least $50 million of that to be spent on 10 projects in Vancouver – funding the mayor has applauded.
There's also the Single Parent Employment Initiative, which funds people on income and disability assistance to be trained for jobs. Changes to the Medical Services Plan next year will also reduce premiums to about 40 per cent of B.C. families.
"We are making progress, but it takes time," the minister said. "There is still work to do."
First Call believes that work should include raising the minimum wage and boosting income and disability rates. Governments should also implement a $10-a-day child care program, increase funding for First Nations and provide funding and supports for youth aging out of foster care.
More of what First Call wants can be read in its report, which included this statement: "We like to think of ourselves as a caring, civilized society, but in fact we have been tolerating and sustaining shameful levels of child and family poverty for decades. By allowing our society's wealth to be concentrated in the hands of fewer and fewer wealthy individuals, we have allowed thousands of children to grow up in poverty that we know hurts their health and ignores their human rights."
Sadly, those words, too, have become tiresome.
mhowell@vancourier.com
@Howellings