One of the first stories I wrote when I joined the Courier some 15 years ago was about how merchants and business organizations wanted to revitalize Chinatown.
It was dying, they said.
The reasons were many, including development of large-scale Chinatowns in Richmond and Burnaby that lured customers away, exorbitant lease rates and property tax bills, drug-fueled crime and the lack of attractions for young people such as bowling alleys and movie theatres.
At the time, there was only one bubble tea house.
I heard much of this concern from Albert Fok, the operator of Kiu Shun Trading Co. on Keefer Street, a herbal medicine business that had been in his family for 25 years. Fok was then the newly elected chairperson of the Vancouver Chinatown Merchants Association.
"One must evolve with the trends or you will be eliminated," he said all those years ago.
I was thinking about what Fok and others told me in 2002 as I sat in the council chambers Monday and listened to speaker after speaker state their reasons for opposing a proposed 12-storey development at Keefer and Columbia streets.
You might know the property as a parking lot, adjacent to the Chinatown Memorial Square, where there is a monument to honour Chinese veterans and Chinese railway workers of the late 19th century.
Many say it is in the heart of Chinatown.
Beedie Holdings Ltd. owns the land and says its project will include 25 social housing units for seniors on the second floor and 106 strata residential units on levels three to 12. The ground floor will be for businesses.
Just another new building in Chinatown, right?
Some might think so, considering Chinatown has seen two highrises recently constructed just up the street at Main and Keefer. In the past decade, five other developments, all at least 90 feet high or taller, have also been built – or are in the works -- at 718 Main St., 221 Union St., 219 East Georgia St., 183 East Georgia St. and 129 Keefer St.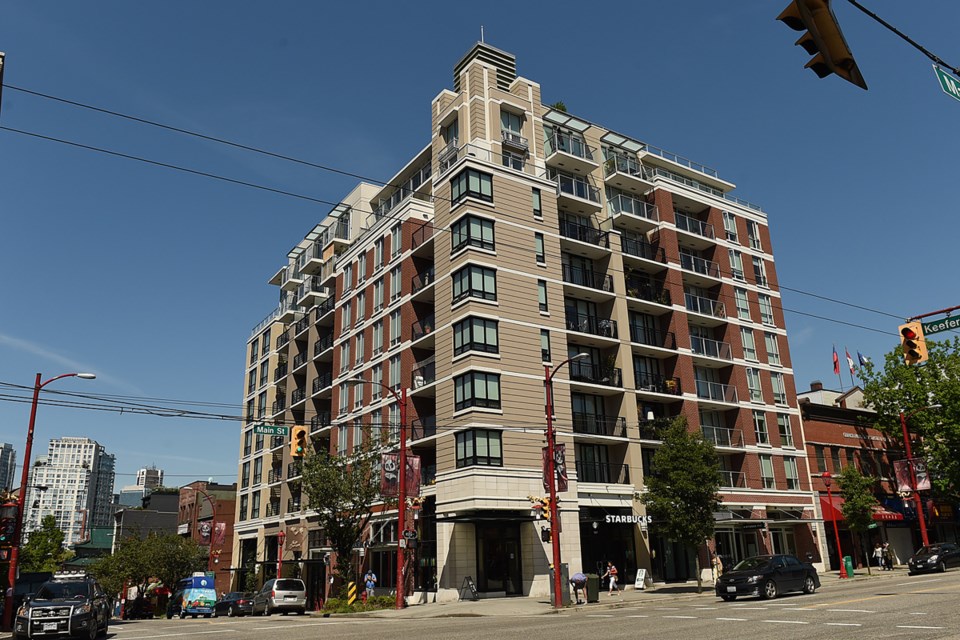 Public hearing sets record
I don't recall much pushback on those projects, although there has been some noise over the years about the gentrification of Chinatown. Nowhere near, though, have the dissenting voices been as loud as they were over four days of public hearings on the Beedie proposal.
More than 300 people registered to speak to council. That's got to be a record of sorts. It's more people than turned up to a hearing for the expansion of gambling at the Edgewater casino (141), the Rize development proposal for Broadway and Kingsway (160) and the reshaping of Point Grey Road for bikes (118).
The common complaints from the detractors of Beedie's proposal were that the building was too tall at 118 feet, too bulky, and a wrong fit for a cultural precinct that includes the Chinese Cultural Centre/ Chinese Canadian Military Museum, Dr. Sun Yat-Sen Garden and the Memorial Square.
The proposal, they said, also does little, if anything, to address affordable and social housing needs of seniors and others struggling to find and afford a home in Chinatown.
Some compared the fight against the proposal to the community's battle in the 1970s to stop a freeway from being built through the neighbourhood, and that this project — approved or rejected — will somehow represent a defining moment in Chinatown's history.
"My opposition is not because I'm anti-growth, anti-change, because I'm not," said Rachel Mai, a young architect, emphasizing the property is an anchor site for Chinese culture and should reflect that. "I'm a supporter of smart and well planned urban development."
Mai encouraged city council to have the city buy the land or work out a land swap with Beedie, which is an interesting but expensive suggestion. City staff told council Monday the land is worth at least $22 million.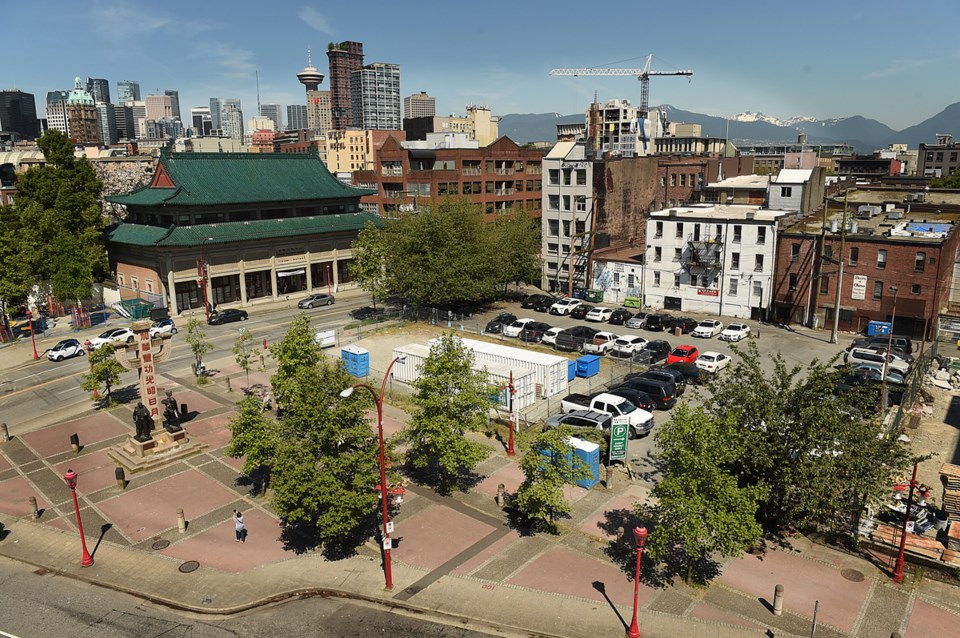 'Pure nostalgia'
Another architect – this one, retired – spoke in support of the project. Ron Yuen, who has worked on a variety of developments in Vancouver over the years, including those involving "hundreds of units" of social housing, noted the property at Keefer and Columbia has been vacant and used as a parking lot (and gas station) for 40 years.
"The site has no heritage structure and this area was in need of a development that would help stimulate the economy of a moribund Chinatown," said Yuen, who acknowledged in his opening remarks that his son worked for Beedie. "Those who think they can bring back the good old times, well that's pure nostalgia – and nostalgia will not pay the rent, nor bring back the energy or vitality."
Yuen went on to say those opposed to the project have provided few ideas for the property "that makes any sense, or how to revitalize our Chinese community."
"From my perspective, there seems to be the notion that if it wasn't owned by the Chinese, built by the Chinese, occupied by the Chinese, that it would be detrimental to Chinatown," he said. "That attitude, in my opinion, should not be tolerated."
He made the historical point that Strathcona was once home to a large Italian population before the Chinese moved in. Now, "a whole new multicultural society" is growing up in Strathcona.
"That's the evolution, that's the change, that's what keeps it alive and moving," Yuen said. "So what's going to happen in the next 10, 15, 20 years, I can't tell you that. But it will happen, or else it will die."
Yuen's words were in contrast to those of Casey Wei, an artist and musician. She warned council what approval of the proposal would not only say about the democratic process -- which saw the majority of speakers call for rejection of the project -- but what it will mean for Chinatown.
"If this proposal is approved, and yet another soulless condo is erected, this will only add in a monumental way to the insidious entitlement of gentrifiers who are nothing more than modern day colonizers," Wei said.
The Vancouver Chinatown Merchants Association, which I mentioned off the top and has worked for decades to revitalize the community, supports the project. One of its directors, Henry Tom, told council during the hearings that it will bring more residents to Chinatown and, therefore, more customers.
Was this what Fok was talking about in 2002 when he said, "One must evolve with the trends or you will be eliminated." I called him to find out and he answered: "That's part of it, of course."
Fok no longer belongs to the merchants' association but supports Beedie's proposal. He picked up on Tom's point about attracting more customers and noted the building calls for seniors' housing and cultural and recreational activity space.
'Reverse xenophobia'
Like Yuen, he is troubled by the idea from some in the community who argue that Chinatown is only for Chinese people. Over the years, Fok and other merchants participated in a "We speak English" campaign to attract non-Chinese customers. The idea for that campaign extends to attracting more non-Chinese residents and businesses, he said.
"I'll probably get in trouble for saying this, but there seems to be a reverse xenophobia in Chinatown," Fok said. "One needs not to be Chinese in order to be in Chinatown."
Asked to explain the insatiable interest from the community in the Beedie project, Fok reiterated it was related to the clash of what Chinatown represents to people and what they want it to be in the future. He doesn't buy the argument by those who compare the project to the freeway proposal that was scrapped in the 1970s.
"Every time there's an issue brewing in Chinatown, it always goes back to this highway thing, and I don't think that's fair," he said, noting the property in question was a former gas station site. "Keep in mind, we're not tearing anything down. That piece of land has been barren for 42 years."
At the closing of the hearings Monday night, Houtan Raffii, vice-president of residential development for Beedie, told council that "whatever happens, we're humbled by the process."
City council will decide June 13 on the proposal. I expect an overflow crowd.
Note: A great explainer piece on council's role and limitations at a public hearing can be found here. It's written by my colleague Naoibh O'Connor.
mhowell@vancourier.com
@Howellings