Before I begin, I recommend you take a seat, maybe get a beverage of your choice and indulge me as I try to make sense of these so-called money laundering/proceeds of crime concerns raised by city councillors at Vancouver city hall.
I don't normally state my opinion in this space, but it's Friday and I'm grumpy.
Right off the top, I'll tell you the comments politicians made this week regarding suitcases and bags of cash being brought in to Vancouver city hall to pay taxes don't pass the sniff test with this reporter.
In fact, it sounds made up.
Also, the comments from councillors that other municipalities were "stunned" to learn Vancouver still takes cash payments when their municipalities stopped the practice is not true.
I checked it out.
To reach my conclusions, I conducted interviews and/or email exchanges with the following people: NPA Coun. Melissa De Genova, Green Party Coun. Adriane Carr, NPA Coun. Lisa Dominato, Melanie Kerr, the city's director of finance, Coquitlam Mayor Richard Stewart, Michelle Hunt, the director of finance for Coquitlam, and spokespersons for the municipalities of Richmond and Surrey. I was also in touch with staff at Burnaby city hall.
What prompted my initial story about this topic earlier in the week were comments made by De Genova, Carr and Dominato in the council chamber Tuesday night. Council was debating a motion De Genova introduced to prevent or deter proceeds of crime money from being used to pay bills at city hall.
It passed unanimously.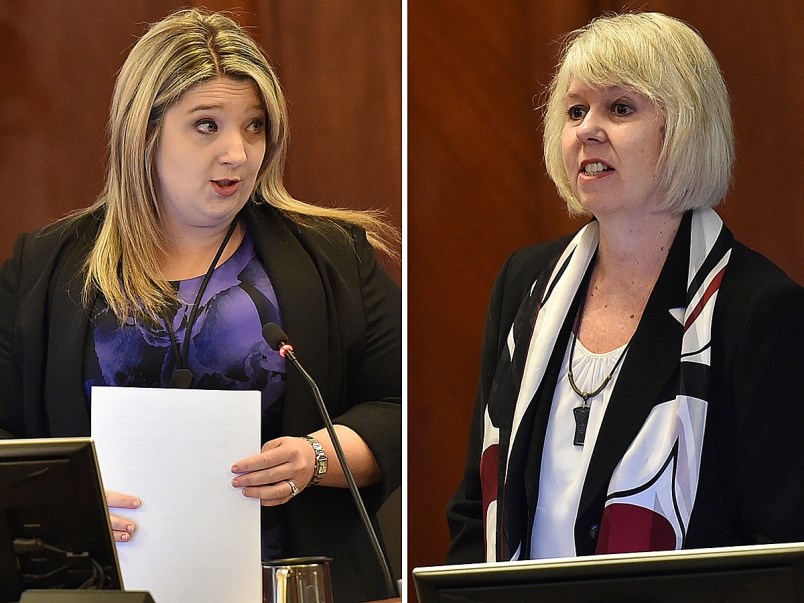 At that meeting, De Genova said: "I've seen this a few times now and this does concern me."
She was referring to two incidents last year. She told me by telephone the day after the meeting that she witnessed two people on two separate occasions in the main lobby of city hall with large amounts of cash in reusable grocery bags.
In the first incident, which she believed occurred in the spring, De Genova said:
"Someone was asking me where they pay their taxes, specifically their empty homes tax, and they again had a reusable bag—like one of those ones you would see in a grocery store—and it was just filled with cash. They weren't trying to hide it at all. I was just quite amazed to see that myself."
I followed up in an email after the interview to clarify some details, and she replied with this:
"I saw an individual in city hall carrying a bag that was open, had no closure that I could see. Visibly had a large sum of money in it. At that time I recall the individual asking me where to pay taxes--there is an empty homes tax sign in the lobby. I can't confirm if it was empty homes tax, property tax etc..."
So, she was sure it was the empty homes tax in the interview, but couldn't confirm in the follow-up email.
A few months later in July, De Genova said in the same telephone interview, she saw a man carrying a similar black bag in the lobby.
"[The money] was stacked in the bag. It was very obvious—I could see into the bag." She continued to speak before saying this: "The individual in July asked me specifically, 'Where do I pay taxes?'"
Property taxes, I asked.
"Yeah."
In a follow-up email to clarify details, De Genova wrote this: "I saw someone carrying a reusable black shopping bag. That's what it looked like to me—they did not ask me [where to pay taxes]."
So, DeGenova was sure in the telephone interview that a person asked her where he should pay his property taxes, but in the follow-up email she said the man did not speak to her.
In both cases, I wondered whether De Genova was suggesting the money she saw was from the proceeds of crime?
She sort of answered that in the council chamber.
"I'm not saying that all cash that comes in to the City of Vancouver is laundered, is the proceeds of crime. However, I think we can definitely deter and prevent that, or limit that by at least having some types of checks and balances."
Now to Carr's comments…
In the council chamber on Tuesday, she said: "I have not seen people bring suitcases of money in myself, but I have had people report to me that they have seen people bring suitcases of cash into city [hall] to pay for their property taxes."
I phoned her the next day and asked her who these people were. She said she didn't know their names. I asked how these people, on two occasions, knew there was cash in the suitcases—Was it spilling out from the sides? Open on a counter?—and how they knew the cash was specifically to pay for property taxes.
Carr replied that those were good questions, before saying: "These are anecdotal reports—this is not a formal thing that somebody said to me in writing, but they absolutely said they've personally seen people bring a suitcase of money into city hall and pull out cash to pay for property tax. That's what was conveyed to me."
Now to Dominato's comments…
In debate Tuesday at city hall, she said: "We were at the Metro Vancouver meeting last week and talking with other representatives from other municipalities where they don't accept cash transactions at all in their municipalities, and I think they were surprised to hear that we did."
Added De Genova in the chamber: "Yes, some of our Metro Vancouver colleagues were stunned."
So who were these Metro Vancouver colleagues who were stunned?
Both De Genova and Dominato pointed to Coquitlam Mayor Richard Stewart, whom I spoke to Friday morning about what he said about his city not taking cash payments. In fact, he said, Coquitlam does take cash payments and the councillors must have misunderstood him.
"I'm pretty careful how I put things and I don't think I could have said something that led [them] down that path, but obviously I did," said Stewart, who referred me to Michelle Hunt, Coquitlam's director of finance.
Yes, Hunt confirmed, the city continues to take cash payments of all sizes but could only recall about a dozen that exceeded $10,000 in the last five years.
"We do take them and there hasn't been any movement to not take them, and it is a rare occurrence," she said, noting people are required to fill out a form with personal information when paying with large sums. "In speaking to our mayor about this, I don't sense that council would be interested in stopping that form of payment."
The business about taking cash payments attracted some big news Thursday when the City of Vancouver announced it was no longer accepting cash payments greater than $10,000. In my story, I mistakenly included that other municipalities stopped taking cash payments—a statement based on comments from Dominato and De Genova.
I apologize, I should have checked this out.
Anyway, I found out after a few calls Friday that not only does Coquitlam accept cash payments, but so does Surrey and Burnaby. In Richmond, a person making a cash payment of more than $10,000 is required to provide identification and a passport, as well as fill out a form.
Richmond reports that information—even though it is not a requirement of municipalities—to the Financial Transactions and Reports Analysis Centre, which is Canada's financial intelligence unit. FINTRAC's mandate is to detect, prevent and deter money laundering and the financing of terrorist activities.
I have it on good authority, too, that the District of North Vancouver, Langley, Delta, Prince George, Kelowna, Revelstoke and Vernon continue to take cash payments from its citizens.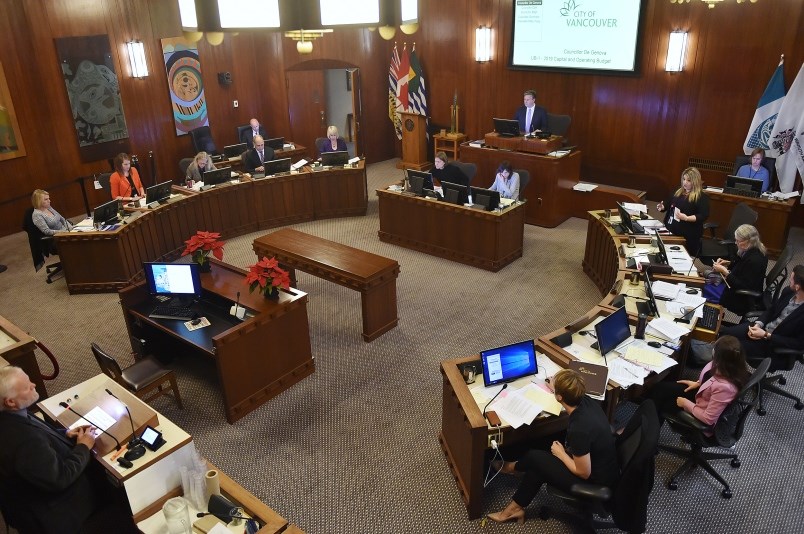 So to sum up: One councillor provides a story about people carrying bags of money with details that change from phone call to email, another doesn't know the names of people who told her about suitcases of money—or how the people knew the cash in the suitcase was to pay property taxes—and another councillor claims her Metro Vancouver colleagues were surprised to learn Vancouver was taking cash payments because theirs weren't (which is not true).
Sounds like a pretty solid case they've got there to bring in some money laundering policy.
For the record, the city's director of finance made it clear "there has definitely not been anyone bringing money to city hall in a suitcase." Sgt. Jason Robillard, a VPD media relations officer, said police had received no reports of suspicious transactions at city hall.
As I reported yesterday, the city received 19 cash payments last year exceeding $10,000 each. Three of those payments were for business licences, the others for property tax, according to the City of Vancouver.
As I was thinking how to finish this piece, I got a call from Dominato. She had spoken to the mayor in Coquitlam just after I did. The conversation was about what Stewart said about cash payments.
"I obviously misunderstood that part of the conversation," she said. "So I just wanted to apologize to you that I wasn't trying to mischaracterize."
That triggered a bit of a rant from me on how reckless comments from councillors in a public forum—that get repeated in the media and taken as the truth from the public—do nothing to help ease tensions people have in this city about insane real estate prices and how they've been tied to the drug trade, casinos and foreigners.
Check out Twitter for some insight on the nastiness, the racism. Facebook is brutal.
Police and government reports and great investigative journalism work from the likes of Sam Cooper, Kathy Tomlinson and others have shown money laundering is a big problem in these parts. But that problem was identified through the gathering of facts and presented without hyperbole.
Which is what the public wants.
Note: De Genova has put the Metro Vancouver board on notice that she will be introducing a motion at a later date on the same topic.
@Howellings