While I didn't know what to expect, it was definitely not what I was expecting!
This was my initial thought when I first saw a drawing of the wood clad pagoda-type structure proposed by the Swiss architectural firm Herzog & de Meuron for the new Vancouver Art Gallery.
As a former VAG trustee and a member of its Expansion Committee, I had been eagerly awaiting the plans. While I previously went on record as preferring an expansion on the existing site, I accepted that this was no longer the game plan.
Having left the Board of Trustees a decade ago, I had not been involved in the subsequent planning, nor the architect selection process. However, I was not a fan of the firm chosen, having recently visited their very unusual and over-budget philharmonic hall in Hamburg, and austere Tate Modern gallery in London.
Nonetheless, many of my friends are great supporters of the VAG and as a city resident, I want to see the new gallery project succeed. As Board Chair Bruce Munro Wright said at the unveiling, we must all be positive.
There are a number of aspects of the plans that please me. I am happy the architects have not designed a contrived geometric shape that would be expensive to build and difficult to use. I am also pleased to see a large, public outdoor space, although I do not like how the building design cuts off this plaza from all the surrounding streets.
More importantly, I do not like the massing and appearance of the building as viewed along Georgia Street, nor the unrelenting exterior wood cladding.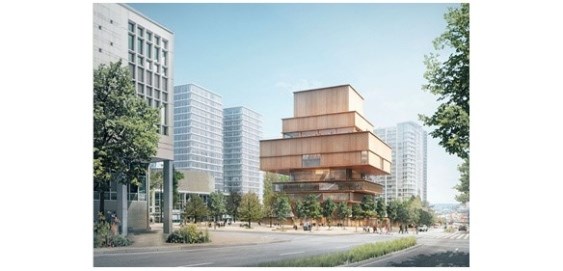 I love wood, especially when it is new, or like my outdoor deck, allowed to gracefully turn silver (before turning dirty and black).
Travelling around Europe I have seen wood used on a number of large, new buildings. However, when it is not properly maintained, it fades and looks quite unpleasant.
Architects are increasingly using wood, and wood-like products on new buildings around Vancouver quite successfully. However, the new art gallery has 12 storeys of wood cladding, with a lot more wood inside. I worry how it will wear over time.
I attended the architect's presentation at the Queen Elizabeth Theatre last Tuesday evening and left feeling disappointed. The senior partner, Christine Binswanger (sadly neither of the firms founding principals thought it important enough to attend) seemed rather vague as to how the wood cladding would be detailed, noting that in the past it had been burned or painted. Surely neither would be contemplated here.
Following the unveiling, as the design was debated on social media, one of my former colleagues now living in London UK, offered some interesting observations.
He noted it is difficult to design an art gallery that fits well with its surroundings since it is by its very nature an internally-focused structure. However, in evaluating this proposal one might ask some questions:
Does the building honour its urban context? Does it do an outstanding job of integrating ground floor uses and connecting them to the life of our streets? What will it feel like to be there at all hours of the day and night? How will the building age? Does it reflect our West Coast design culture? And does it approach the excellence of some of our other gallery-like buildings such as Arthur Erickson's Museum of Anthropology?
Having viewed the detailed plans, I believe aspects of the gallery layout could be very successful both day and night, including the many covered outdoor spaces. However, while the architects said the building design was inspired by its context and the city, I do not think it honours Vancouver.
Nor do I think it will age well.
More importantly, I do not think this is a beautiful public building, like the one that was universally admired when first unveiled in the early 1980s-the first Vancouver Trade & Convention Centre with its ship-like design and sails. It belongs here.
If this building is built, and I worry the design will not help raise the necessary funds as many hope, the building will need considerable redesign.
Otherwise, it will never meet my expectations.
Twitter @michaelgeller