Another week, another steady stream of news about the deadly drug overdose crisis.
And if you're a Twitter type who follows Sarah Blyth of the Overdose Prevention Society, Federal Health Minister Jane Philpott and Vancouver Police Department Supt. Michelle Davey, you get a good sense of what's going on — or not going on — with what has become an international story.
First up, Blyth: "Our overdose prevention site saw 545 people yesterday. That's the most we have seen. We are happy [that] people are choosing [to inject at the site] instead of alone."
Blyth and volunteers operate a supervised injection site out of a construction trailer in the Downtown Eastside. She and the society, which includes longtime harm reduction advocate Ann Livingston, originally set up a tent last year for users to inject drugs, despite it being against the country's drug laws. The B.C. government, with approval from the feds, eventually allowed more "overdose prevention sites" in Vancouver and across the province as a measure to save lives.
Now to Philpott's tweet: "Thrilled to see C-224 – Good Samaritan Act – receive Royal Assent today. This will save lives."
The Act is a new law that provides immunity from simple possession charges for witnesses who call 911 in the case of an overdose. Evidence has shown witnesses to an overdose often don't call 911 for fear of police involvement and potential arrest for possession of drugs or outstanding warrants. (The VPD has a longstanding policy that it doesn't attend overdose calls, but will investigate overdose deaths).
I saved Davey's tweet for last.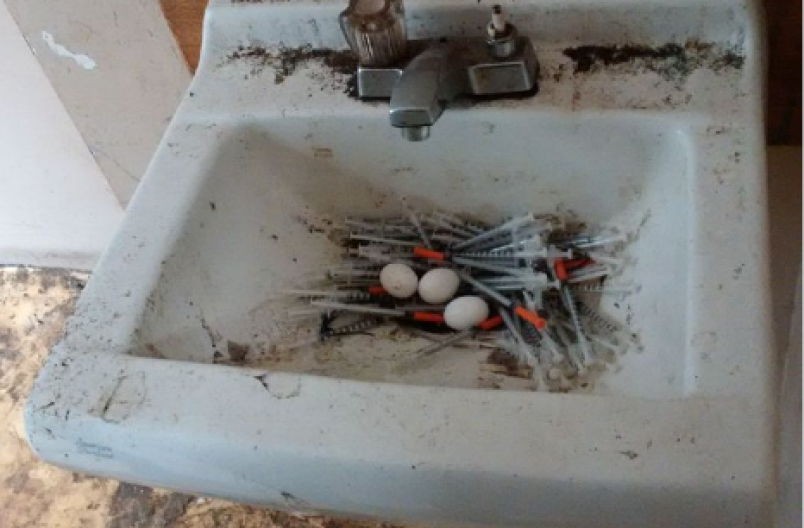 That's because the photograph she attached to her tweet was remarkable in many ways, and not so remarkable in other ways. The photograph shows what appears to be a pigeon's nest built from several dozen hypodermic needles piled in a ratty sink.
Three small white eggs rest on top of the pile.
A colleague of hers snapped the photo in a single-room-occupancy hotel in the Downtown Eastside.
Here's what Davey wrote: "Pigeons spotted making a nest out of #needles in a #DTES SRO room. Sad reality of the #opioidcrisis  #fentanyl #frontline #notstaged."
Her tweet, as they say, went viral.
I guess I'm not surprised at the interest, since the conclusion here could be there are so many needles being used in the Downtown Eastside that birds are building nests out of them. Or you could conclude that some single-room-occupancy hotel rooms are in such bad shape that birds have moved in.
You'd be correct on both accounts.
The room in question was not occupied by a tenant, and Davey isn't saying publicly in which hotel the photograph was taken. It doesn't matter. Here's why: Discarded needles in Vancouver is not exactly news, nor are dilapidated, vermin-infested hotels that provide shelter for drug dealers and injection drug users.
Vancouver Coastal Health told me this week that 251,964 used needles were collected in Vancouver last year (including many outside the Courier's office in Mount Pleasant). As for the hotels, they are still making news for all the wrong reasons, as they did 17 years ago when I first wrote about them during my days at the Vancouver Sun.
Here's what then-VPD Const. Jodyne Keller said all those years ago: "From my investigation of these hotels, it is clear that the owners are benefiting financially at the expense of their clients' health and are making no efforts to maintain an acceptable standard of living."
So, as I said, not news.
What's sort of news here, sadly, is the three white eggs.
It's unusual, it's weird, it's unsettling — I get it.
In fact, I was one of the hundreds who re-tweeted the image.
But I ask you this, Vancouver: Is a photo of a man or woman splayed out in an alley, with firefighters and paramedics injecting that person with the overdose-reversing naloxone, not worth a re-tweet anymore?
Comfortably numb is not where we want to be on this.
Then again, if three white eggs bring more attention to a mounting death toll that could surpass 500 by Christmas, then re-tweet away. I know that sounds desperate, even hopeless. Unfortunately, it's where we are right now.
@Howellings