In the mid-1950s, Vancouver city bureaucrats steered a malleable and willing council down the road to "urban renewal." It was a course pretty well every major city in the western world was taking as they tried to shake off the economic lethargy following the Second World War.
Here and pretty well everywhere else it was a strategy that had two major pieces: slum clearance and freeway construction. It was the time when the car was king and the middle class was moving to the suburbs.
Inevitably in most cities in North America that meant bulldozing homes and businesses populated predominantly by either blacks or Chinese. In Vancouver it meant both.
None of this plan was put in place with either residents' consent or even their knowledge.
Chinese Canadians living in Strathcona adjacent to Chinatown formed the largest number of residents to be displaced. They undoubtedly took the biggest hit as successive waves of demolition tore apart acres of neighborhoods and destroyed their homes and businesses. In exchange they were offered meagre sums insufficient to buy elsewhere. What was put up instead, if anything, was social housing not well suited for the extended families many of them enjoyed as part of their culture.
And it was the Chinese Canadian residents and business owners, who most effectively organized and gained city-wide support and ultimately the ear of the federal government that was encouraging this policy, that finally put the brakes on.
A small part of what was destroyed — and you would have to say a less politically potent group at the time — were the houses and the people living in just a couple of blocks running from Main Street to Jackson around Union called Hogan's Alley.
It was in fact a mixed population of poor immigrants, but at its heart it was primarily black folks drawn there in part by the proximity of the two railway line terminals, the Canadian National and the American Great Northern. Both were in the practice of hiring reasonably well-paid black porters who either laid over in the city or had their families here.
Vancouver at the time of the '30s and '40s was also a terminus for vaudeville acts and had three major nightclubs — the Palomar, the Cave and Izzy's — that attracted top acts in North America including major black performers such as Duke Ellington, Sammy Davis Jr., Ella Fitzgerald, Count Basie, Louis Armstrong and Lena Horne.
It was not uncommon, after they finished playing, for these stars to make their way over to Hogan's Alley and Vie's Chicken and Steak House, which was open until four in the morning.
Much of Hogan's Alley was among the first "slums" to be demolished when the new Georgia Viaduct was installed as a major link to the planned freeway. The black population was simply scattered.
Last week, Vancouver council was presented with a door-stopper of a report — nearly 400 pages and the culmination of nearly a decade's work, titled "North east False Creek Plan and Viaducts Replacement Project."
In practical terms it lays out what is likely the most ambitious redevelopment project in the city's history. It will take at least 20 years to complete. And it will be Vision's most significant legacy.
It not only deals with the last south facing bit of undeveloped waterfront in the city's downtown but it promises "a vibrant, inclusive and sustainable, residential and commercial waterfront district."
It is also clearly a bookend piece, a gesture of reconciliation, for the damage done by urban renewal over a half century ago.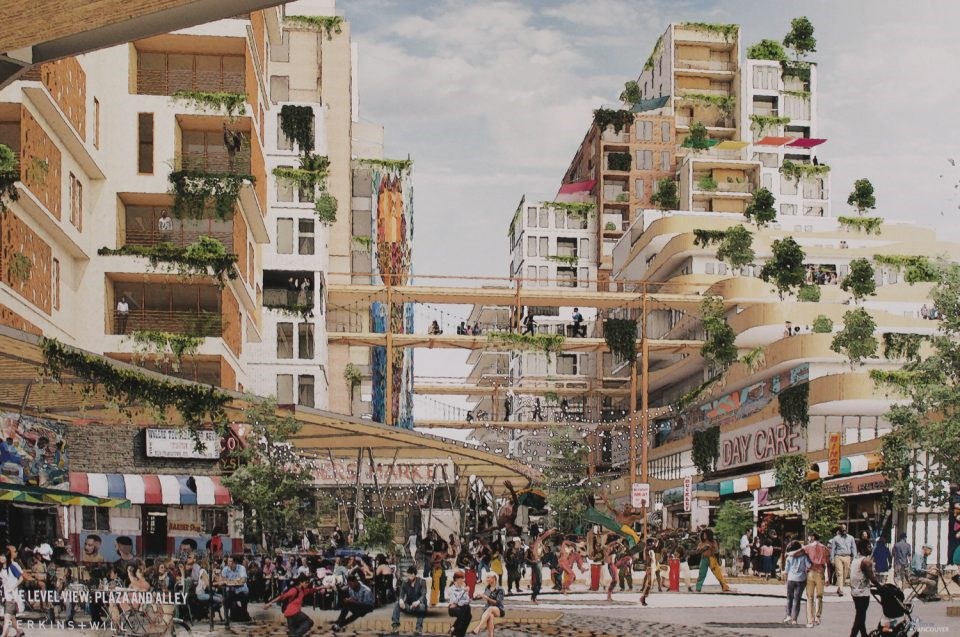 Unlike then, community engagement was fundamental to this plan and much lauded by the speakers at council that day.
That included a member of the Hogan's Alley Working Group, June Francis.
The SFU professor was hardly a twinkle in her Jamaican parents' eyes when the bulldozers were razing that part of town. Her presentation was delightfully theatrical and decidedly pointed at times and began this way: "This is the first time I have ever seen a good reason to be at city council."
Heroes in this piece would have to include former Vision city councillor Geoff Meggs, who originally pressed council to take the viaducts down so all this could happen. And there's Kevin McNaney, the director of the project office. His colleagues credit him with effectively putting this together.