You may have heard—city council unanimously approved Wednesday a motion from OneCity Coun. Christine Boyle to have Mayor Kennedy Stewart write a letter to Premier John Horgan to urge him and his government to launch a public inquiry into money laundering in B.C.
Richmond and Victoria councils have done the same.
So far, Horgan and Attorney General David Eby have not relented to the political pressure, noting various police investigations and government reports are either completed or in progress into money laundering in the province.
Casinos, the real estate sector, horse racing and the luxury car market have or are being examined.
If you've been following the news, you already know this.
You may have also heard that Simon Tremblay, a former deputy chief prosecutor of the Charbonneau Commission, was in town Monday with Boyle at a news conference at city hall.
The Charbonneau Commission was the fact-finding inquiry launched in Quebec in 2011 into the awarding and management of public contracts in the construction industry.
The findings revealed corruption of the highest level and involved organized crime, construction companies, unions and, most notably, municipal politicians. At least three mayors resigned in the wake of the findings.
So it was interesting that Tremblay was with Boyle at city hall Monday, where he was joined by former Crown prosecutor and anti-gambling crusader Sandy Garossino and Port Coquitlam Mayor Brad West, who has also called for a public inquiry into money laundering.
I didn't attend the news conference for two reasons: one, it was my day off; and, two, our newsroom didn't get an advisory or phone call to let us know about the event. But I read the news reports and got the gist of the foursome's push for an inquiry.
I also spoke to Boyle, who I'll get to in a few sentences…
What I wanted to get to first is despite Tremblay's presence at the news conference, and Boyle naming him in her motion—and calling for an inquiry into money laundering in B.C. "similar to the Charbonneau Inquiry in Quebec"—there is now no mention of Charbonneau in her final motion.
That may not seem like a big deal, but it was to Mayor Kennedy Stewart, who explained his concern to council Wednesday before all references to Charbonneau were wiped from Boyle's motion. Stewart said the reference to the Charbonneau Commission made him "uncomfortable."
He noted that "at the core of what happened in the Quebec scandal was mayors, councillors and unions working with organized crime to award government contracts."
Added Stewart: "I don't have evidence that's come to me that there is that level of corruption here in city hall."
His point: Does the mayor really want to write a letter to the premier that implies corruption of the Charbonneau Commission-kind is happening at Vancouver city hall when there is no evidence to suggest that?
Council answered that with a quick edit to Boyle's motion.
Boyle said she was fine with the change.
"What I heard some nervousness about at council was that Charbonneau was very specifically focused on municipal corruption," she said. "That's certainly not what we're suggesting a provincial public inquiry would be focused on. The focus here clearly needs to be province-wide."
So you wouldn't want to see the mayor, councillors or staff—current or past—investigated as part of a provincial inquiry?
"I think if the inquiry finds that there are questions to be asking around city hall, then those questions need to be asked. I'm just saying that that's not where the reports we're hearing pinpoint the source of the problem. So I just want to be clear in using Charbonneau that I'm not accusing the municipality or local governments of anything."
That said, councillors Melissa De Genova and Adriane Carr have told council they've either personally seen people with bags of cash in city hall (De Genova) looking to pay taxes, or heard reports from the public (Carr) of people with suitcases of cash paying property taxes at city hall.
Was it proceeds of crime money?
No one has been able to answer that, but the city has now stopped taking cash payments that exceed $10,000 and will report back before the end of the year on other measures that will or could be implemented to deter or prevent money laundering.
As for the issue of money laundering at casinos, regular readers will know the city collects annual profits from Parq Vancouver and Hastings Racecourse. The city's cut of casino revenue was $45 million between 2013 and 2017. The revenue is used to fund the departments of the police, fire, parks and engineering. The funds also pay for community grants.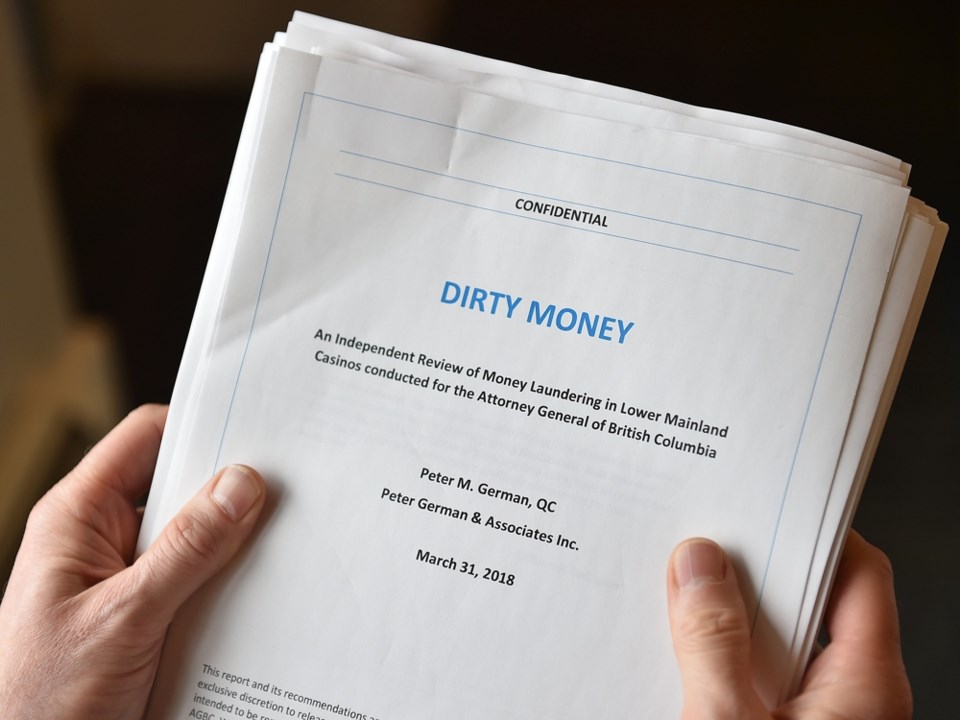 Last July, I had a conversation with Greg Krueger, the city's director of financial reporting, and asked him how the public can be sure the money the city collects from casinos is not "dirty?"
The question was in reference to former RCMP deputy commissioner Peter German's "Dirty Money" report, which revealed that "certain Lower Mainland casinos unwittingly serviced as laundromats for the proceeds of organized crime."
Krueger's response: "Well, we don't know, but the money we get is from the province. We don't question the source. It's gaming revenue. If the province decides to put in controls that impacts that, then that's the province's area of business. It's not the city's, I don't think."
I put the same question to Boyle.
"These are good questions to be asking and that's why we need a public inquiry. I think we need all the information we can get so we can make the right informed decisions. If that [casino revenue] money is a problem, we'll have to find a way to work without it because I don't think we should avoid finding out about it because of our own budget implications."
It should be noted that for many years, casino companies were regular contributors to Vision Vancouver, which was in charge at city hall for the past decade. One of its founders, Larry Campbell, later joined the board of Great Canadian Casino.
Slot machines exist in Vancouver because of votes from previous councils.
The NPA, which was in power from 2005 to 2008, also took in casino cash, with one of its former councillors-turned-attorney-general Suzanne Anton publicly stating that she wanted to expand gambling in Vancouver after she initially voted against a proposal involving what is now Parq Casino.
Real estate developers and unions also gave big dollars to both parties.
Should these relationships be looked at in an inquiry?
Only someone presiding over an inquiry can answer that question and so many others that have, so far, gone unanswered.
In the meantime, more insight into the level of money laundering in this province will come in March when German releases his second report, which examines how the real estate sector, horse racing and the luxury car market is tied to the financial crime.
German also plans a visit to city hall.
No date has been set for his visit.
Until then, Vancouver council's call for an inquiry is just that—a call.
@Howellings