"If you have a living room, start living in it."
"Enjoy your own reality show. Don't watch somebody else's"
"Over 65 with all your assets in a $2-million home? Sell it and live."
"Over 70? These are crazy times. Protect what you have. Keep half your portfolio in cash."
"To survive in 2020 and beyond, become a student for the rest of your life."
 "Don't eat kale. Eat steak. Die from something tasty."
These are just a few of the brainchilds offered by Ozzie Jurock at his 27th annual Real Estate Outlook 2020 conference held at the Sheraton Wall Centre this past Saturday. (Full disclosure: Glacier Media was a sponsor of the event.)
German-born, 75-year-old Jurock is a legend for many in the real estate industry, and regular listeners to Michael Campbell's Money Talks program on CKNW. Once the national president of Canada's largest real estate brokerage firm, today he is an entrepreneur, real estate advisor, author and highly sought-after public speaker.
At his annual spring and fall conferences, he dispenses his own brand of real estate advice, life philosophy and oftentimes surprisingly accurate predictions to hundreds of people who pay good money to attend.
In 2012, he told attendees to expect Christy Clark's government to win the forthcoming provincial election and plan accordingly. In 2016, he correctly predicted Trump's victory and expects him to be reelected.
Given the political events unfolding in our federal election, he is no longer certain whether Trudeau or Scheer will win. But he does predict a minority government. He is quite certain the NDP will win the next provincial election.
Over the years, Jurock has helped a lot of ordinary people make money by investing in real estate. When asked what is now going to happen to the Vancouver housing market, he responds there is no Vancouver housing market. There are many markets.
There is a single-family market that performs differently from the multi-family market. There is a rental market and condominium market.
Downtown Vancouver is not the same as Maple Ridge, Port Coquitlam or West Vancouver.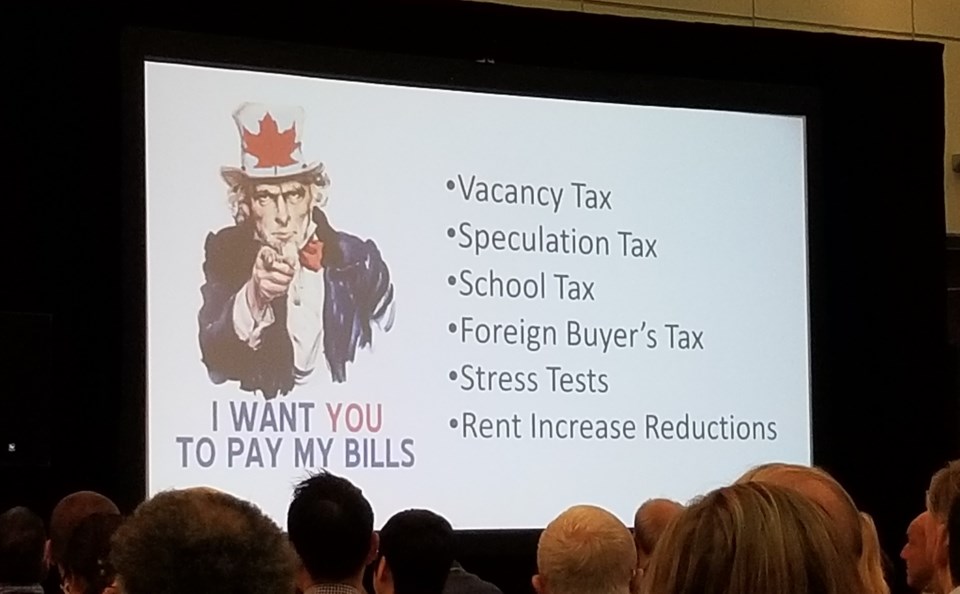 For the past decade, Jurock has told investors to buy in Phoenix. Today, he maintains it is still a good place to invest, along with other American cities such as Dallas, Houston and, more recently, Seattle.
Closer to home, while prices have softened considerably over the past 18 months, Jurock remains bullish on Vancouver and many British Columbia regions. He expects a third of the 300,000 Canadian Chinese in Hong Kong to eventually come back to Canada.
He observes that 70 per cent of Canadians say they would like to retire in British Columbia, and this bodes well for many retirement communities on Vancouver Island, the Sunshine Coast, the Kootenays and Okanagan.
Approximately 60,000 people move to B.C. every year, and this is expected to increase to 75,000 and higher.
Jurock was joined by a variety of experts, including an engaging Englishman who travels across America buying distressed properties, tax deeds and liens at auctions. His recent purchases included a $10,000 eight-unit multifamily project in Indiana that he fixed up and now rents for $850 per month per unit.
Another speaker, who owns an Edmonton property management firm, asked landlords in the audience how many of them give their tenants an annual Christmas gift. Quite a few did.
For 15 years, Jurock has been urging business owners to buy their own offices, and invest in industrial space, mobile home parks, mini-storage and prime recreational property.
Don't buy hotel condos, time-shares or ski resorts that do not have golf and other year-round activities.
Over the years, he has urged his audiences to buy rental properties, but only if they offer positive cash flow.
He agreed with apartment realtor David Goodman that we can expect more apartment buildings to come to market since long-time owners are fed up with new government regulations that don't allow rent increases to cover costs, or tenant removal to carry out renovations.
Observing how the retail industry is changing, Jurock advised investors to avoid traditional retail centres, but invest in inner-city warehouses to store all that "next-day-delivery" product.
Jurock concluded the day by observing that real estate markets have come and gone for thousands of years, but we only have one life to live. So, live it to the full, and take the occasional bubble bath. Oh yes, and drink beer. He is German after all.