A year ago this month, you may recall that a majority of city council voted in favour of boosting their $6,000-a-year discretionary budgets to $30,000 a year.
So that meant a total of $300,000 was allotted to the 10 councillors in 2019.
You may also recall it was Mayor Kennedy Stewart who introduced the motion to have this happen, citing other cities where councillors had bigger budgets to do their work.
"Your voices are so important," he told council at the time and noted the city's at-large voting system means councillors are accountable to more than 600,000 residents.
Currently, none of the councillors has full-time assistants, which means they share a city employee who helps with organizing their calendars and other non-partisan administrative duties.
The politics around the vote had four NPA councillors voting against the motion, with Lisa Dominato and Sarah Kirby-Yung citing the optics of such a move after saddling residents with a recent property tax increase.
The NPA's Colleen Hardwick was absent for the vote.
I've done some number crunching to find out what happened to that $300,000 and whether any councillors took advantage of the five-fold increase to their budgets.
Turns out only $43,095 of the money was spent, with COPE Coun. Jean Swanson spending the most ($11,452) and NPA Coun. Melissa De Genova not spending a dime.
The others are as follows:
• Green Party Coun. Adriane Carr, $7,714.
• Green Party Coun. Michael Wiebe, $5,531.
• Green Party Coun. Pete Fry, $5,395.
• NPA Coun. Sarah Kirby-Yung, $544.
• NPA Coun. Colleen Hardwick, $5,974.
• NPA Coun. Lisa Dominato, $1,466.
• Former NPA Coun. Rebecca Bligh, who now serves as an independent, $622.
• OneCity Coun. Christine Boyle, $4,392.
Before I get to what some of them spent the $300,000 on, keep in mind what they were allowed to spend the money on, according to the city's website.
Here it is: "communications expenses, fees for consulting or other contracted services, costs of research and information gathering and costs of community outreach and events."
Nowhere does it say "political staff salary," as was the description many councillors used in describing in city finance documents what they spent their money on in 2019.
Also, none of the debate last year suggested councillors needed more money to hire a person who aligns with their political views to promote the agenda of the councillor, party, or both.
But that's what happened with some of them.
I'll begin with Carr and her Green colleagues, who pooled their money (a total of $18,640) to hire Alex Brunke, who was the party's communications person in the 2018 election campaign.
Carr said Brunke has helped with research and provided daily briefings on key issues raised in the media and at public meetings.
She also brought in experts to help with drafting motions about housing, climate change and eliminating noisy gas-powered generators.
"It's absolutely been a benefit for our work," Carr said. "It's made us more efficient and it's brought us more information that we couldn't otherwise get because of how busy we are."
Doesn't she consider Brunke a partisan hire?
"It's a fine line, but it's not directly political," said Carr, citing the importance of facilitating the agenda that Green supporters voted for in the 2018 election.
"She's not out there promoting us as Greens. She's just working for us as city councillors who are elected. So that's the politics part of it — we are elected officials."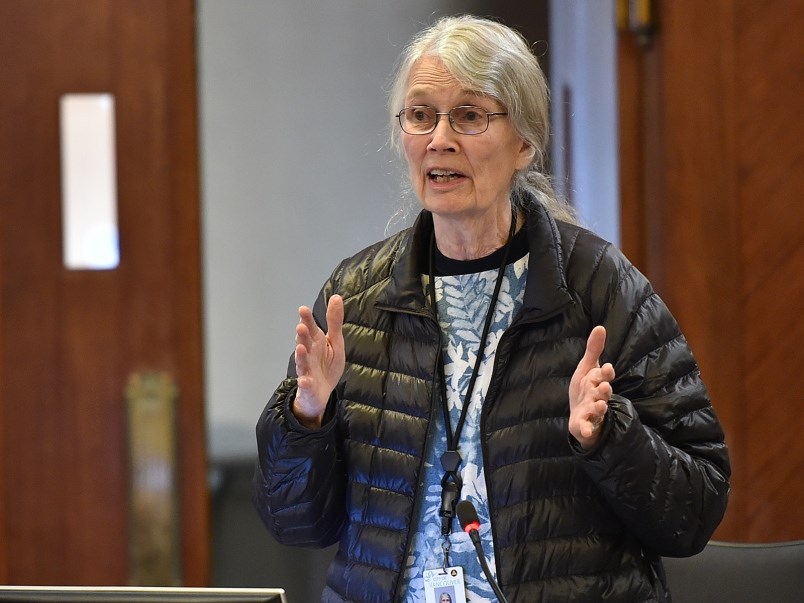 Swanson said she hired Sarah King to help research and write motions, review council agendas and, like the Greens, arrange meetings with people related to the subject matter on motions.
King most recently worked as a researcher at the University of B.C.'s Residential School and Dialogue Centre.
Swanson doesn't believe King is a member of COPE, but has since attended COPE meetings with Swanson, who pointed out her half-time administrative staffer is limited in her scope of duties.
"If I want to put forward a motion that some of the other councillors might not like, I can't use my city hall staff to do that," she said.
"I want someone that's aligned with my views. I don't want to hire an NPA person to go out and meet with the people who want free transit and help me craft a motion on that. I want to hire people that agree with me."
Added Swanson: "My role as a councillor is partisan. I want to stick up for people who are homeless, I want to stick up for low-income renters, I want to stick up for people of colour, Indigenous people, poor people, for lower-income people. That is partisan, and I need help to do that effectively and that's why I hired Sarah."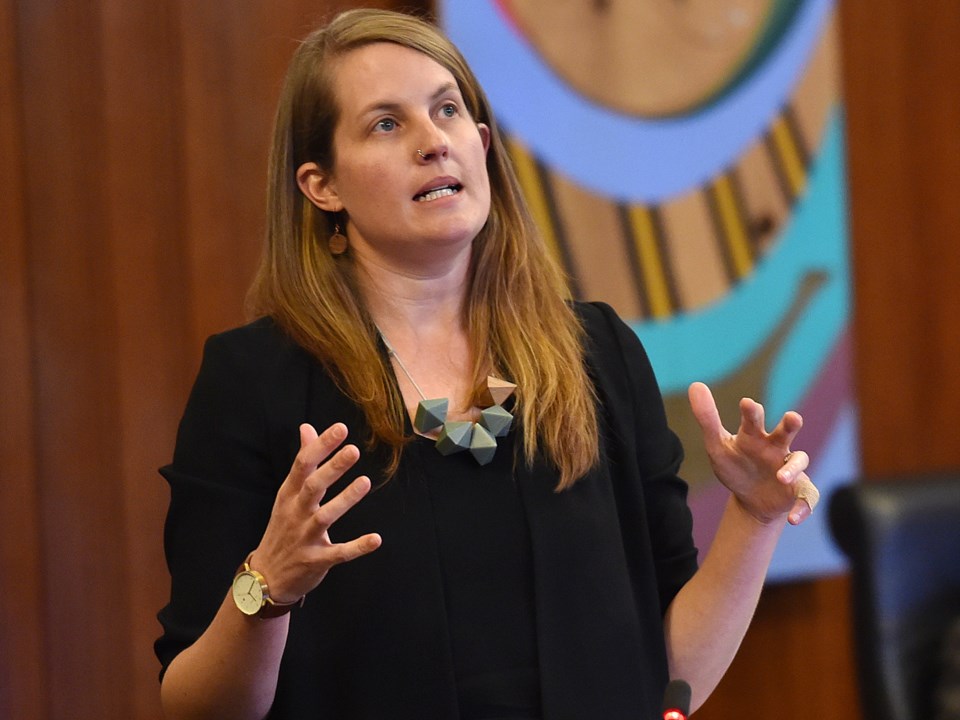 Boyle said she hired Matthew Norris for 15 hours a week to help with policy work, review council agendas, write motions and basic communications. Norris is a PhD student at the University of B.C. and not a OneCity member, she said.
Boyle described Norris's work as non-partisan, noting she was "hyper conscious" of the nature of his role because of the fact public funds are being used to pay him.
"I am very conscious of those optics and want to make sure that people trust that this money is being put to good use, so we have put a lot of effort into making sure those roles are kept far apart," she said.
I asked Boyle what was preventing council members belonging to the same party from annually pooling their $30,000 each of public funds to promote their agenda up until the 2022 election.
"I do think it's a question of public accountability and for us to be as transparent as we can about that money… and to make sure it's clear what we're spending this money on so that it's not being used for partisan efforts — that it's focused on the work of the city," she said.
The motion approved by council in January 2019 included a clause to have the five-fold increase to the councillors' discretionary budgets reviewed during the 2020 budget process.
That didn't happen.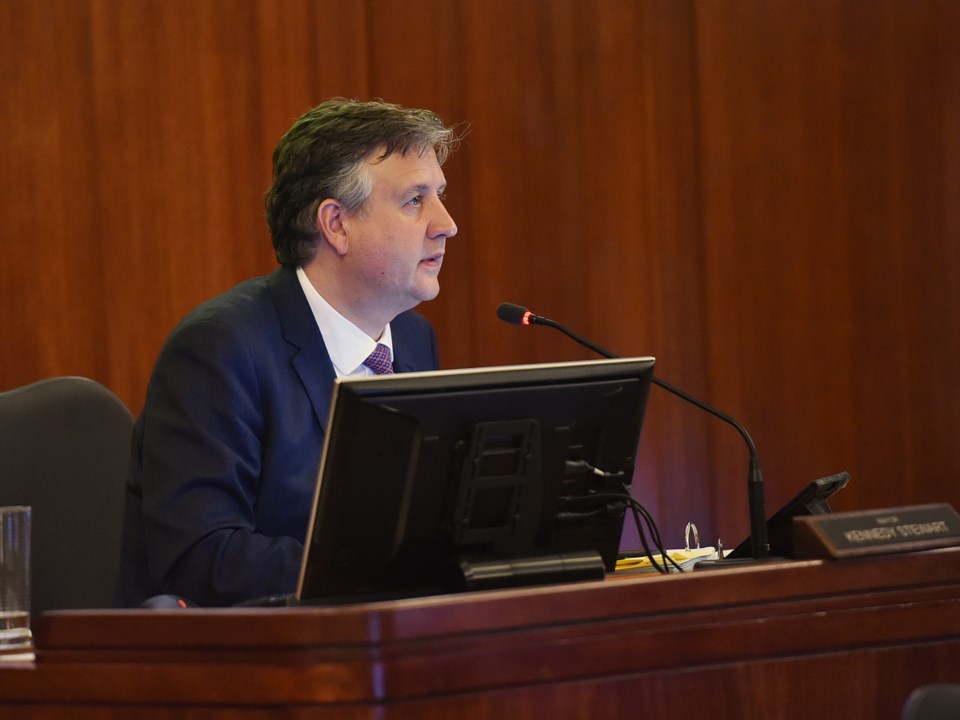 Here's the mayor on that:
"I know we were supposed to evaluate it in this budget cycle, but we'll make sure we do it for the next one," he said.
Then I asked him whether his intention of his motion was to have councillors hire partisan staff with public funds. (Keep in mind, Stewart is surrounded by staff who helped run his mayoral campaign.)
"When you're having discussions about policy, they really have to be partisan," he said.
"I know in Ottawa [when I was an NDP MP], we tried to hire neutral people in the office and it didn't work. So you need to have somebody that has a political sense of what you're trying to accomplish in council."
Reminded of the criteria of what a councillor's discretionary budget can be spent on — and that "political staff salary" is not included — the mayor responded:
"Well, it all is inherently political," he said, before going on to repeat some of the stuff Carr said about having like-minded people facilitate an agenda supported by voters.
"I don't think it's any kind of nefarious thing."
@Howellings