It has already been a month since A&W Canada launched the Beyond Meat burger.
And despite initial quarrels by some vegans, the plant-based burger has been embraced by Vancouverites.
So much so that A&W Canada says: "In downtown Vancouver, some locations are selling more Beyond Meat Burger than our classic Teen Burger."
"Some guests have told us it's now one of their favourite options at A&W," A&W CEO Susan Senecal said in an email.
As an omnivore — don't hate me for saying this — it baffled me as to how a vegan patty could outsell classic beef. 
My first thought was, of course, it's just a spike in sales from vegetarians and vegans wanting to taste Beyond Meat. My second thought was: could meat eaters be opting for the plant-based patty?
And thirdly, would I ever choose Beyond Meat over real meat?
I had to know. My curiosity had been sparked.
So, after a month, I finally gave in to the hype and tried my first A&W Beyond Meat burger.
I'm from Australia, so I had never eaten A&W before. For good measure, I also bought the Teen Burger to see how they compared (I just wanted to eat two burgers).
My first bite of Beyond Meat…
I wasn't sure what to expect. To be honest, I haven't eaten a lot of plant-based patties in my time.
On the A&W website it says the Beyond Meat burger patty is "made with a whole bunch of simple, plant-based ingredients, including peas, rice, mung beans, coconut oil, pomegranates, potatoes, apples and beets."
How this combination could taste like meat was beyond me. 
On my first bite I was actually very surprised. I thought, "Did I pick up the right burger?"
I'm not going to lie; it actually tasted pretty good.
I was almost fooled into thinking I was eating meat — well, a mild flavoured, sweet version of meat.
If you're a meat lover and you've tried the burger, you might be thinking "she's crazy"… but hear me out.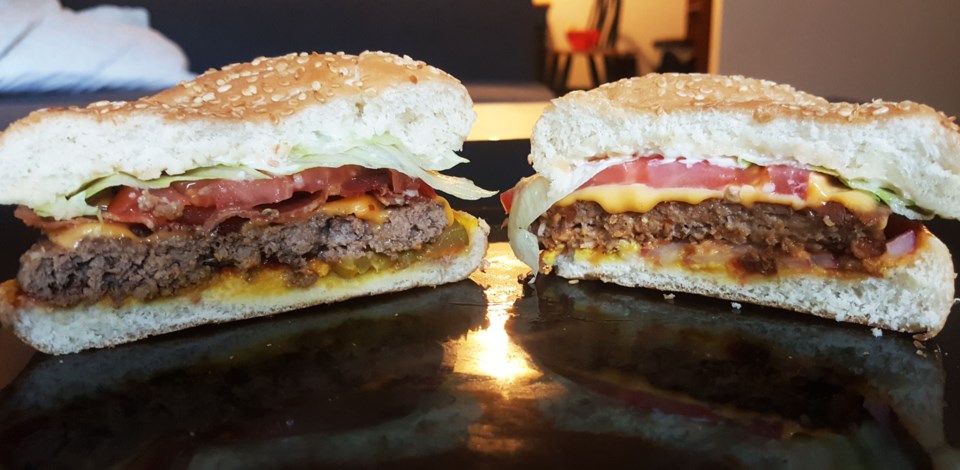 The texture of the patty was actually somewhat like meat. The colour not so much — it had more of an orange tinge.
But it was the smell that got me. The patty definitely doesn't smell like meat. It had a sweet smell to it that I couldn't quite put my finger on.
What I found was when the Beyond Meat patty was masked by all the other ingredients in the burger it's kind of hard to realize it's not meat, unless you're thinking about it.
Well, that's until you bite into the Teen Burger.
Then your tastebuds say: 'oh that's right, that's what meat is.' The smoky char-grilled flavour carnivores crave.
To be sure of my thoughts…  I pulled some of the patty out of each burger and ate them without the extra ingredients.  That's when it was clear to me that I wasn't eating meat and the recipe still needed a few tweaks.
For vegetarians and vegans, who want to feel like they're eating a real meat burger, it's not a bad substitute… and if you have no comparison, you'll never know what you're missing.
Which brought me to my next question: How can you rebuild meat?
The science behind Beyond Meat is actually quite interesting.
Beyond Meat CEO Ethan Brown said the goal wasn't to create a meat substitute but a true build of meat from plants.
It sounds a little advantageous to me… but this guy is passionate.
"For us, it became apparent that it was in fact possible to build meat from plants if we were willing to invest in the people (scientists, engineers, managers) and infrastructure required to make it happen," Brown said.
He said the company had gone to great lengths to understand the composition and architecture of meat.
"If you strip meat down to its core parts, they are available outside the animal—in abundance," Brown said.
"Meat is an assembly of four major parts — amino acids, lipids, trace minerals, and water.
"All of this makes intuitive sense: the animal is eating plants and drinking water and using their digestive system and their muscular system to build muscle, or meat.
"We are just bypassing the animal and building meat directly from plants."
It still seems a big ask, and Brown did not deny there's still a little way to go.
"We aren't there yet but we are getting closer and I see no material obstacle to someday reaching our goal of a perfect build that is indistinguishable from its animal protein equivalent," he said.
"Our latest burger which is now available at A&W is the best we've done thus far.
"We expect consumer demand to be very high."
The bigger picture
In a province that leads the country when it comes to plant-based eating — according to a study by Dalhousie University professor Dr. Sylvain Charlebois — it should be no surprise so many Vancouverites are sinking their teeth into Beyond Meat burgers.
"If I told you that we could make simultaneous and dramatic progress against chronic disease, climate change, natural resource depletion, and animal welfare objectives by replacing animal protein with plant protein at the center of the plate, would you invest heavily in an effort to build meat directly from plants?" asked Brown.
"I think for the overwhelming majority of people the answer is yes."
Well, perhaps in Vancouver.
Maybe it's the hype, maybe it's the message behind choosing Beyond Meat, maybe people just really like the taste. All that can be said is the burger remains popular amongst Vancouverites.
As for me, I'm still not quite ready to stop eating meat.
If the future recipes go above and beyond what's already been done, they might have me on their side.