Is between $2,050 and $2,750 a month reasonable for two or three-bedroom co-op apartments and townhouses in Vancouver?
Readers balked at those numbers after the Courier published a story outlining such rents for the first phase of the new Fraserview Housing Co-operative in River District at 2910 East Kent Ave.
The figures are 10 to 20 per cent below market rent in the area and they're geared toward families earning $82,000 to $110,000.
To find out how the rents were set, we talked to Thom Armstrong, executive director of the Co-operative Housing Federation of BC (CHF BC) and the Community Land Trust.
"I agree that when you say 85 per cent of market, the stock reply is, yeah, but the market is crazy so 85 per cent of crazy isn't really very satisfying," he said.
"But the thing that I think people will notice — and this has certainly been the case in the Athletes Village co-op and it will be the case in the Railyard co-op, in addition to Fraserview — is that on day one, that's as expensive as it ever gets. Relative to income, and relative to market, it just gets better and more affordable every year after that."
The development
Fraserview co-op is the product of a 2014 development agreement between the Community Land Trust — the non-profit that serves as the real estate arm for CHF BC — and the City of Vancouver.
The deal involved creating 358 units of affordable housing on city-owned sites: 90 at the East Kent Fraserview co-op site, 188 in Fraserview co-op's two towers under construction nearby on Southeast Marine Drive, 32 non-co-op units in townhouses to be run by Tikva Housing Society just to the south of the towers, and another 48 units at 1700 Kingsway (Sanford Housing Society).
The development agreement required the land trust to carry out a market rent appraisal for the surrounding area. The numbers that came back indicated that $2,050 to $2,750 amounted to between 80 and 90 per cent of the market rate.
The use of the standard measure of affordability for rent — 30 per cent of gross income — produces the income range of $82,000 to $110,000 a year.
"If you think of a young couple, each in a fairly modest job, earning $55,000, they get to the $110,000," Armstrong said, while acknowledging other costs such childcare and transportation may make the rent a bit of a squeeze for monthly budgets. 
Facebook comments on the Courier's original story posted below were highly critical of the rates:
The big picture
What Armstrong said people might not understand, partially because the project is being developed in phases, is that because there's no government subsidy coming in, you have to figure out a way to generate enough revenue to hit the affordability targets you're aiming for in the overall development portfolio.
He said the two towers that are part of the portfolio wouldn't have been economic to develop on their own. They're on a steep incline up to Southeast Marine Drive and the excavation is "horribly expensive."
Since the overall development agreement calls for 358 units, that leaves a balance of 268 units after accounting for the 90 units in phase one on East Kent Avenue.
The target for the 268 units is to arrive at housing costs (a.k.a. rents) that are no more expensive than 75 per cent of the market rate, with a target of 20 per cent of the units being for the lowest income bracket, some of which will be at a shelter rate of $375.
Creating the 90 units is what generates the cash that makes the rest of the portfolio more "deeply affordable," Armstrong said.
"Seventy-five per cent of the market — that's the worst it gets [for the 268 units]. Because you're operating on a non-profit basis, it only gets better than that. If you want to offer a couple of hundred units at those very affordable rates, the cash to subsidize them has to come from somewhere," he said.
"Some people might feel that's not ideal. I'd say if there was a government subsidy program that drove all the housing charges down lower, that would be fabulous, but there isn't. I know if you've lived in a co-op for the last 30 years and you've seen your housing charges fall every year relative to market, and you're paying $900 a month, the housing charges in Fraserview do seem very high but that's because you've been sheltered by the government program your co-op has developed under for the last 30 years."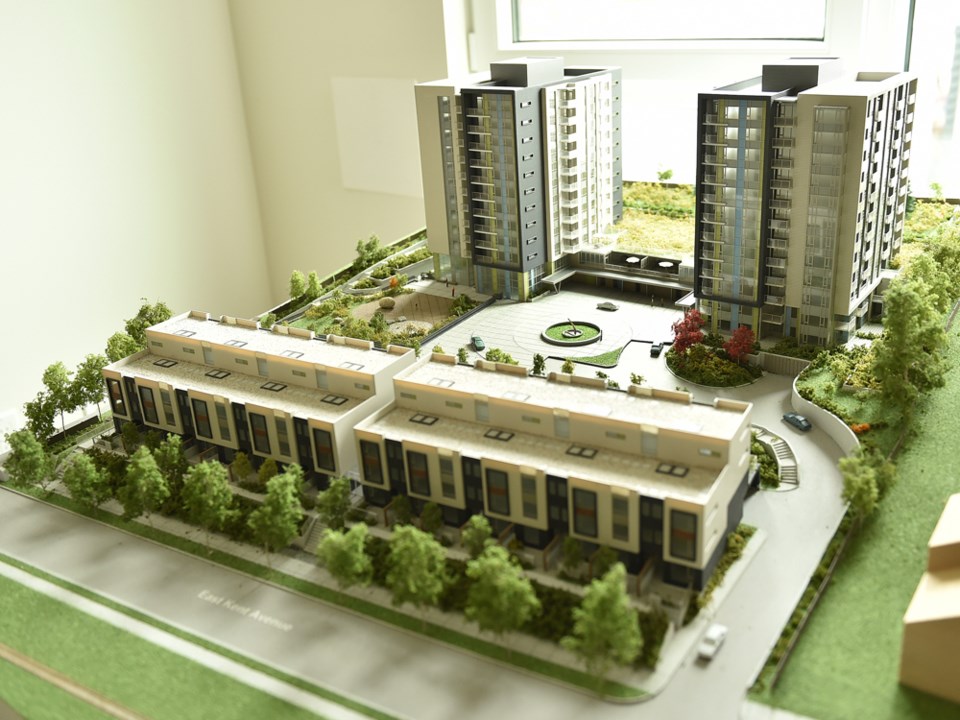 Looking into the future
Housing costs in co-ops, which cover debt service, operating expenses and allocations to reserves, don't have to go up unless the operating expenses or the financing costs go up.
Armstrong said there will likely be increases to housing costs, but the increases won't be as steady or as rapid as in surrounding market rents.
"They don't have to be because they're not trying to deliver a profit to a shareholder or a developer," he said.
Any increases would be based on whatever the co-op needs to keep paying the mortgage and meet its operating expenses. That's determined by a vote of the members who elect a board of directors, which hires a management company.
A budget is put together and members vote on housing charges. Armstrong said as long as they don't vote to put the co-op under financial water, they can set rents at whatever they want.
"There's no obligation to raise the housing [costs] by any set measure unless you have to because your expenses have gone up. Financing expenses should go down over time and it should be pretty reasonable," he said.
Aside from the set housing cost in Fraserview co-op, there is a one-time share purchase, which ranges between $2,500 and $3,500, which is refundable when the resident leaves.
One parking stall is included in the housing charge as is a Telus service package, but members are billed separately for heat, hot water and electricity, and there is an extra charge for additional parking.
For his part, Armstrong said while he understands what people are thinking when they see housing costs of more than $2,000, it's a complicated and unique model of development.
"You always evaluate this kind of thing based on your own circumstances, but co-ops have always been mixed-income communities. You'll find people with very, very low incomes and people with quite moderate incomes living in the same co-op. That's how the financial model has always been built," he said.
"So, if you use that 30 per cent threshold, that's the income band you get — the $82,000 to $110,000. I know lots of people in that income band who say they can't afford to live in Vancouver. At these rents there will be fewer people saying that."
@naoibh