Putting together previews for an NHL game is a pretty thankless job. It can be a lot of work to nail down the right lines from each team's morning skate, to research the trends for each team and figure out key matchups. Then, of course, all that work gets thrown out the window as soon as the game starts, with little to no reason to ever revisit it.
It's a bit easier if you don't take it quite so seriously. Often the "Keys to the Game" on most broadcasts are like this. Does the opposing team have a good power play? The key to the game is to stay out of penalty trouble. Is a player on a point streak? Well then, the key to the game is for them to stay hot. 
Is it a little bit low-effort? Perhaps, but it's understandable too, especially on a television broadcast when you have a 20-second segment; you're not going to try to do a full systems breakdown of a team in that timeframe.
Of course, there's low-effort and then there's no-effort, and that's how you get this comedic goldmine of a graphic from NESN, a.k.a. the New England Sports Network, the regional network that carries Boston Bruins games.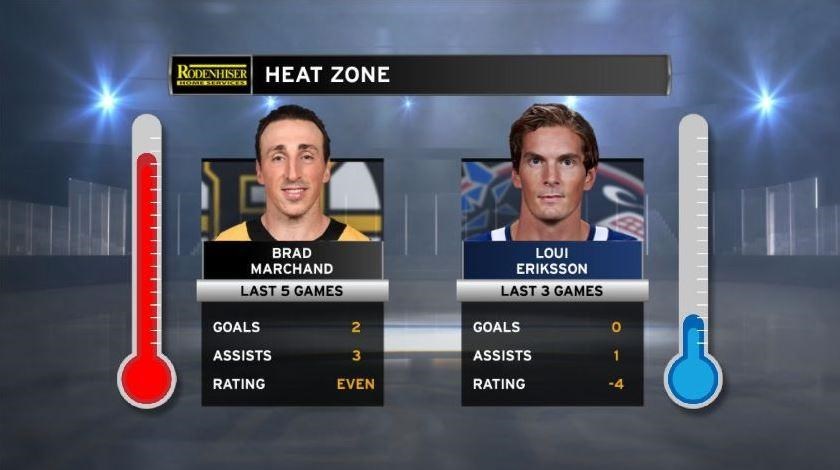 That's from the NESN Twitter account, a little piece of SponCon called the "Heat Zone." Only, the two players highlighted as hot and cold aren't exactly on an even playing field: one is Brad Marchand, who is sixth in NHL scoring and on-pace for his second-straight 100-point season.
The other is Loui Eriksson.
As much as Eriksson has been winning fans over recently with his empty net prowess, comparing him to Marchand is like comparing Elias Pettersson to Chris Wagner of the Bruins, who should evidently be utterly ashamed that he's gone 10 games without a goal.
Everything about this graphic is hilarious, but first you have to look past Loui Eriksson. No, literally, look past him: the logo they used for the Canucks is a relic from the West Coast Express era, with the maroon-red teeth and trim.
Then you might notice that NESN took Marchand's last five games, but only the last three games for Eriksson. If they had looked at Eriksson's last five games, he'd have three points in five games — not half bad and certainly not worth a blue thermometer. Why not just show the last two games for Eriksson, where he had zero points and was minus-four: ice cold.
Also, a point-per-game for Marchand this season is a cold streak, quite frankly. He's averaging over a point-per-game, so why would less than that mean he's hot? Meanwhile, one point in three games is pretty much a hot streak for Eriksson a this point in his career. They got the thermometers reversed.
The trouble for NESN is that if they had compared Marchand to someone like J.T. Miller, Marchand would have paled in comparison. Heading into this game, Miller had four goals and eight points in his last five games. Throw in his plus-six rating vs. Marchand's EVEN rating, just for kicks. That might have broken their poor thermometer, though. 
Of course, just like all game previews, none of that mattered once the game itself actually started. And I watched this game.
With the Canucks ensuring a .500 record on their five-game road trip with their shootout loss to the Carolina Hurricanes on Sunday, there was a sense that the remaining two games on the trip were just a nice bonus. Playing their third game in four nights against the second-best team in the NHL, the end result wasn't particularly surprising: the Canucks got outworked by the Bruins and suffered the consequences.
 
They weren't helped by some shoddy officiating, though it wasn't as bad as some Canucks fans might suggest. The trouble is when you're primed by some lousy calls (or non-calls, in this case), you start to look for more, especially in a rivalry where officiating has played such a central role. There was no conspiracy in this game, just a couple blown calls and some odd, but apparently correct, decisions.
 
The biggest blown call came early in the game, when Matt Grzelcyk threw a late hit on Elias Pettersson that saw the Canucks star take an uncomfortably long time to get up. The hit was a full two seconds after Pettersson passed the puck — the threshold is supposedly 0.6 seconds — but the ref standing 20 feet away somehow missed it and there was no penalty call.
The NESN broadcast didn't even show a replay of the hit right after it happened, as clear a sign as you can get that it wasn't a clean hit, as the Bruins broadcast otherwise wouldn't hesitate to glory in the hit in excruciatingly slow motion if there was even a question of it being clean.
 
Canucks head coach Travis Green was livid after the game, letting reporters know in no uncertain terms how he felt about the hit and the non-call: "He's totally defenceless. It's two seconds after he lets go of the puck… That should have been a penalty all day long."
Travis Green's full quote on Matt Grzelcyk's late hit on Elias Pettersson. There was no penalty called. #Canucks pic.twitter.com/nKqDknsbzy

— Brendan Batchelor (@BatchHockey) February 5, 2020
Jacob Markstrom kept the Canucks in this game until there was about six minutes left, but could only do so much against the 42 shots he faced. Like a tourist on vacation in New Zealand, Markstrom made some stunning stops. He robbed David Krejci with a superb kick save against the grain on a one-timer in the first period. In the second, he faced down a shorthanded breakaway from Chris Wagner and slammed the door like he didn't realize a window was open.
 
Markstrom's biggest save came in the third period on Jake DeBrusk. He absolutely robbed Debrusk with a glove save in the splits, taking away what looked like a sure goal. The overhead view on the replay shows that DeBrusk didn't just shoot it into Markstrom's glove, like some impressive-looking saves: Markstrom had to make a stab with the glove like Mack the Knife.
That save could have been a massive turning point to the game, except for the fact that the Canucks couldn't score a single goal on Tuukka Rask. They had a few decent chances, but Rask never truly seemed at risk of giving up a goal: pucks seemed to cling to him like a helicopter parent.  
 
A sign of how little the Canucks bothered Rask is who took the shots. Eleven of the Canucks' 25 shots came from defencemen and none from Quinn Hughes. Their top line of Elias Pettersson, J.T. Miller and Brock Boeser combined for one shot on goal.
 
It didn't help that one of the Canucks' best chances was negated by an uncalled hook by Charlie McAvoy. Brock Boeser was alone in front of the net with the puck off an Alex Edler rebound, but McAvoy put the hook into Boeser's hands to take away the chance. It inexplicably went uncalled and later in the shift there was an automatic penalty to Troy Stecher for clearing the puck over the glass. That's the inevitable consequence of putting away the whistle: you still have to call the dumb penalties. 
 
The Bruins' opening goal came with a side order of controversy, as the Canucks challenged for offside and, at first glance, had a rock-solid case. The puck absolutely crossed the blue line before Sean Kuraly cleared the zone, but McAvoy made the heads up play to release possession of the puck, lift up his left skate so he wasn't in the zone at all, then waited to play the puck until Kuraly cleared. In that sense, it was a delayed offside and didn't get called.
There's some ambiguity to the rules when it comes to judging whether a player has "possession" of the puck, but this assessment isn't without precedent. In 2017, the Penguins lost a challenge in a similar situation: Anders Lee of the Islanders lifted his skate as Josh Bailey entered the zone, but got it back down outside the blue line before Bailey touched the puck in the offensive zone. It was deemed onside, just like this situation. 
 
In both situations, everyone seemed confused, from fans to announcers to coaches. Everyone seemed certain that the goal would be called back for offside. Even the Bruins announcers were stunned that Charlie Coyle's 1-0 goal stood, but it was the right call.
 
Breaking down the other three goals in the 4-0 loss would just be frustrating. Suffice it to say, it was a tough night for pretty much every Canucks skater not named Adam Gaudette, who had a strong performance in front of 100-plus family and friends in his hometown. The Canucks out-shot the Bruins 9-2 when Gaudette was on the ice and he created a couple of their more dangerous chances, but couldn't buy a goal.