Since humans started cooking inside, there have been thousands of gadget inventions meant to make our lives easier and more convenient. Some, like the slow cooker, have outlasted their novelty and become staples while others, like The Hotdogger, only live on in the darkest corners of eBay. Below are some classic cookware inventions and the current-day products that are still popular.
Countertop dishwasher from the 1950s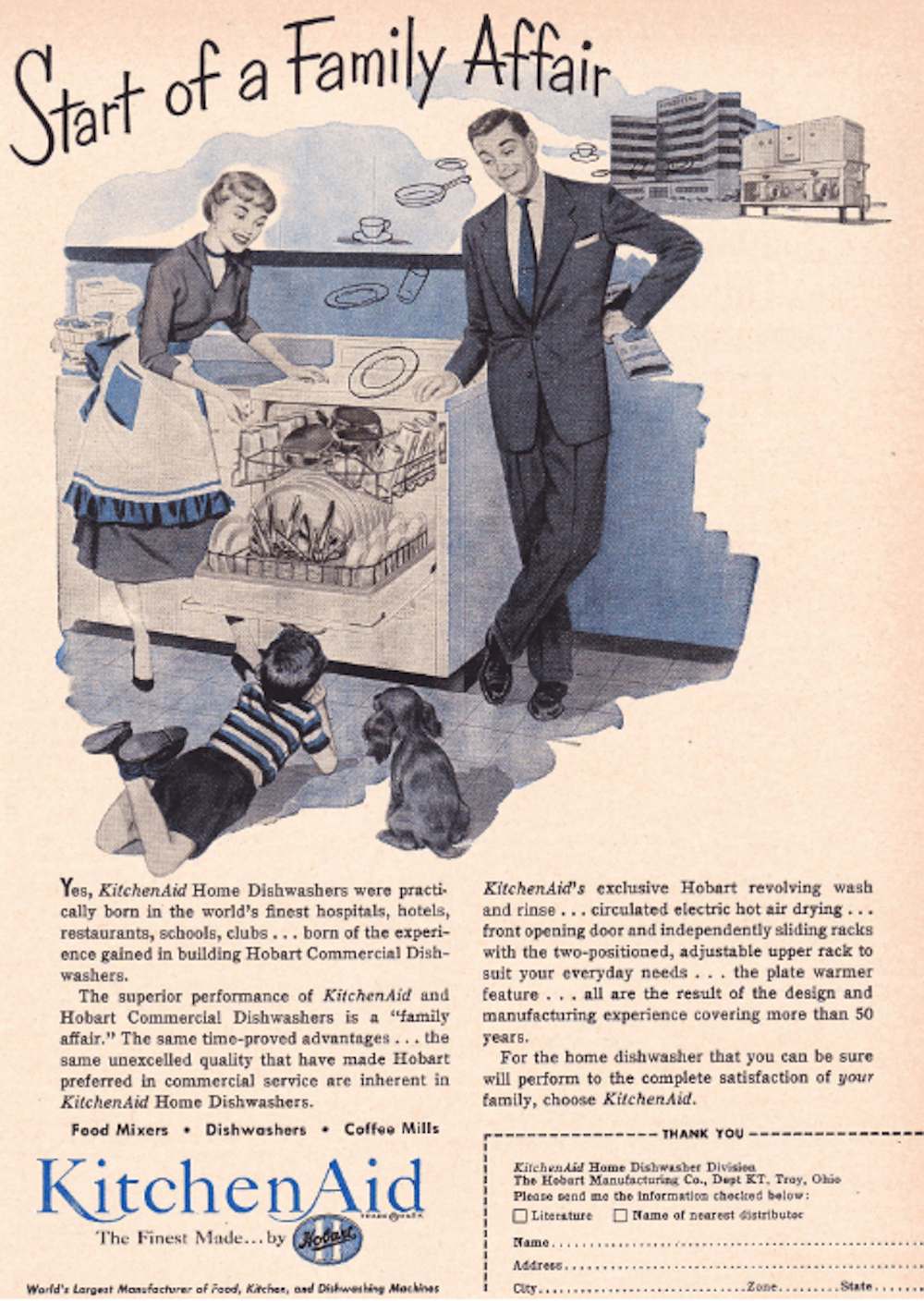 The first version of the dishwasher, a wooden barrel with scrubbers, was patented in 1850 by Joel Houghton. But it was Josephine Cochrane, a socialite who frequently hosted dinner parties and was frustrated by her chipped fine china, who invented the modern version we are familiar with. It took years to work out the mechanics (she wanted water pressure rather than scrubbing) as the men hired to work for Cochrane did not want to take her direction, which led to high production costs. She patented her version in 1886 and began selling to hotels and restaurants.
Today's version: Some homes have a built-in dishwasher but for the ones that don't (or for frequent small loads), some countertop dishwasher are powerful and sanitizing. Ventray Portable Counter Top Dishwasher ($498.99) at Amazon and Danby Counter Top Dishwasher ($498.98) at Walmart.
Fondue sets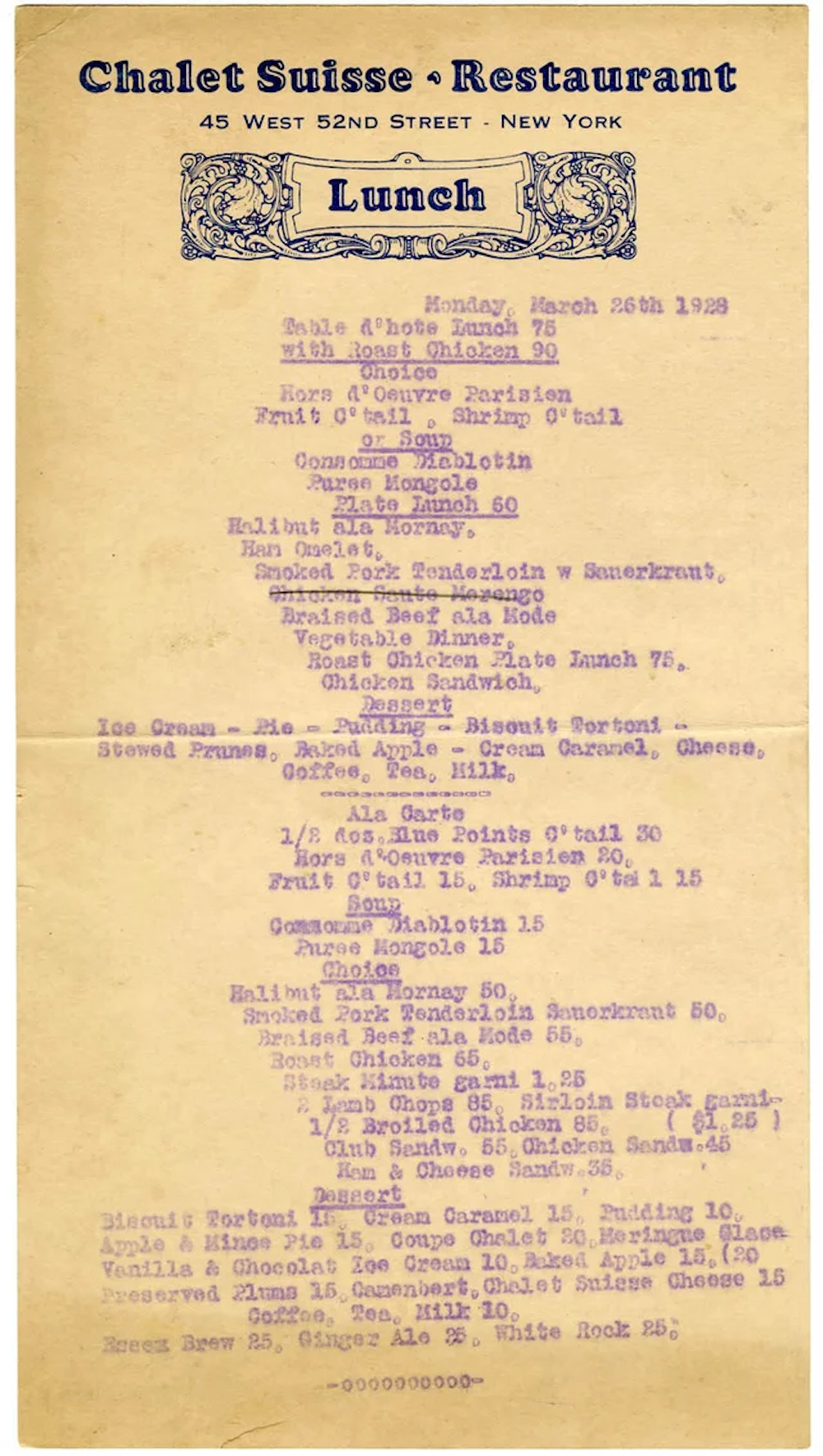 In North America, fondue first started popping up on menus in New York City (like the swanky Chalet Suisse) in the 1950s and become a popular dinner party centrepiece through the '60s and '70s, thanks in part to an appearance in the Swiss pavilion at the 1964 World Fair.
Today's version: Fondue made a comeback in the 2000s and while COVID has put a pause on a communal dipping pot, a serving of bubbling cheese or chocolate is never not going to be a hit.
Starfrit The ROCK Electric Fondue Set, $104.99 at Bed Bath & Beyond.
Starfrit 20-piece, 3-in-1 fondue set with magnetic fork, $39.97 at Walmart.
Twine Farmhouse cast iron fondue set, $101.99 at Amazon.
Ginsu knives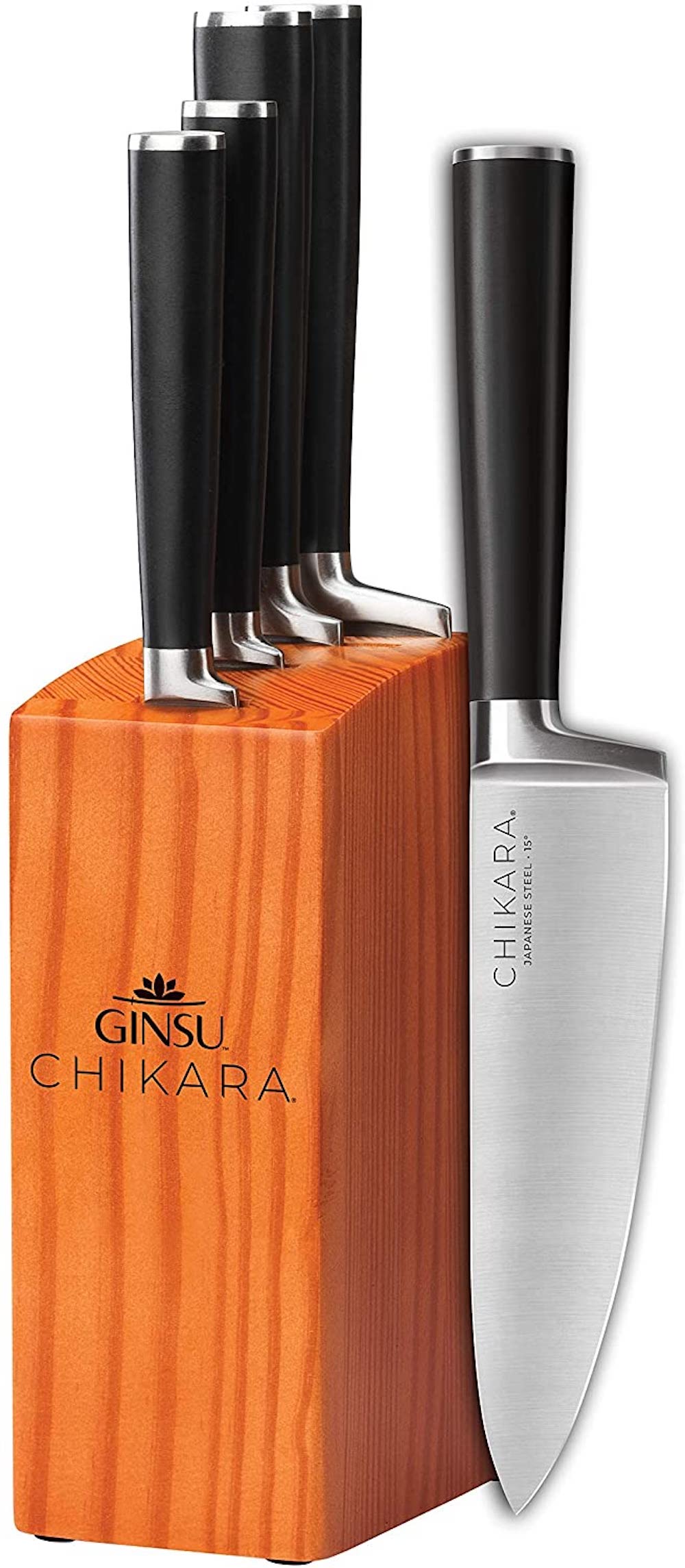 Invented by American Barry Becher and popularized by the dramatic (and pretty racially insensitive) commercials, Ginsu knives were sold through a 1-800 number and a marketing budget that rivalled Coca-Cola. Cutting through a can was a memorable sales pitch in a very infomercial-heavy era.
Today's version: Ginsu knives are still available for purchase in-store and online: $43.99 at 8" cleaver Bed Bath & Beyond and Ginsu Chikara set ($94.59 at Amazon).
Popcorn makers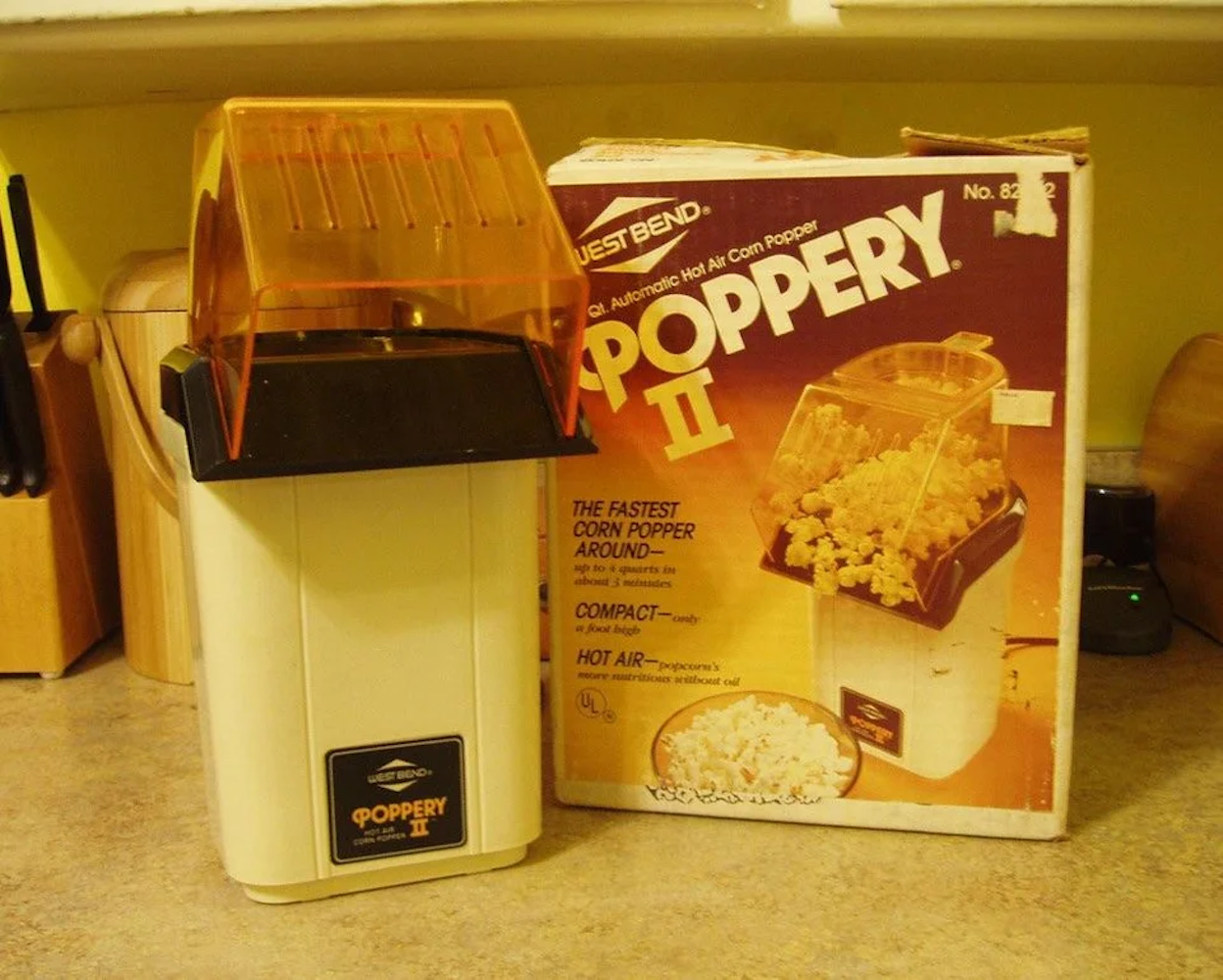 Lidded and hot air poppers shot to popularity through the '60s and '70s and like a colour TV or record player, every modern home had one. The snack's popularity hasn't waned, although microwaves nearly wiped out electric popcorn makers. Over the last few years, the retro styles have made a comeback for several reasons: the kernels are cheaper in bulk, the toppings are more natural (like real butter) and can be customized with fancy flavours like Parmesan cheese and dill, and the popcorn tastes super fresh.
Today's version: The newer versions of retro popcorn makers haven't changed much – it's all about heat circulation. For different variations, there's the Cuisinart lidded popcorn maker that goes into the microwave ($30 at Amazon), the retro-style Cusinart EasyPop Hot Air machine in red ($55.99 at Amazon) or a machine that combines the lidded popper but with a plug-in instead of a microwave, the Cusinart EasyPop ($84.99 at Bed Bath & Beyond).
Mushroom kitchen canisters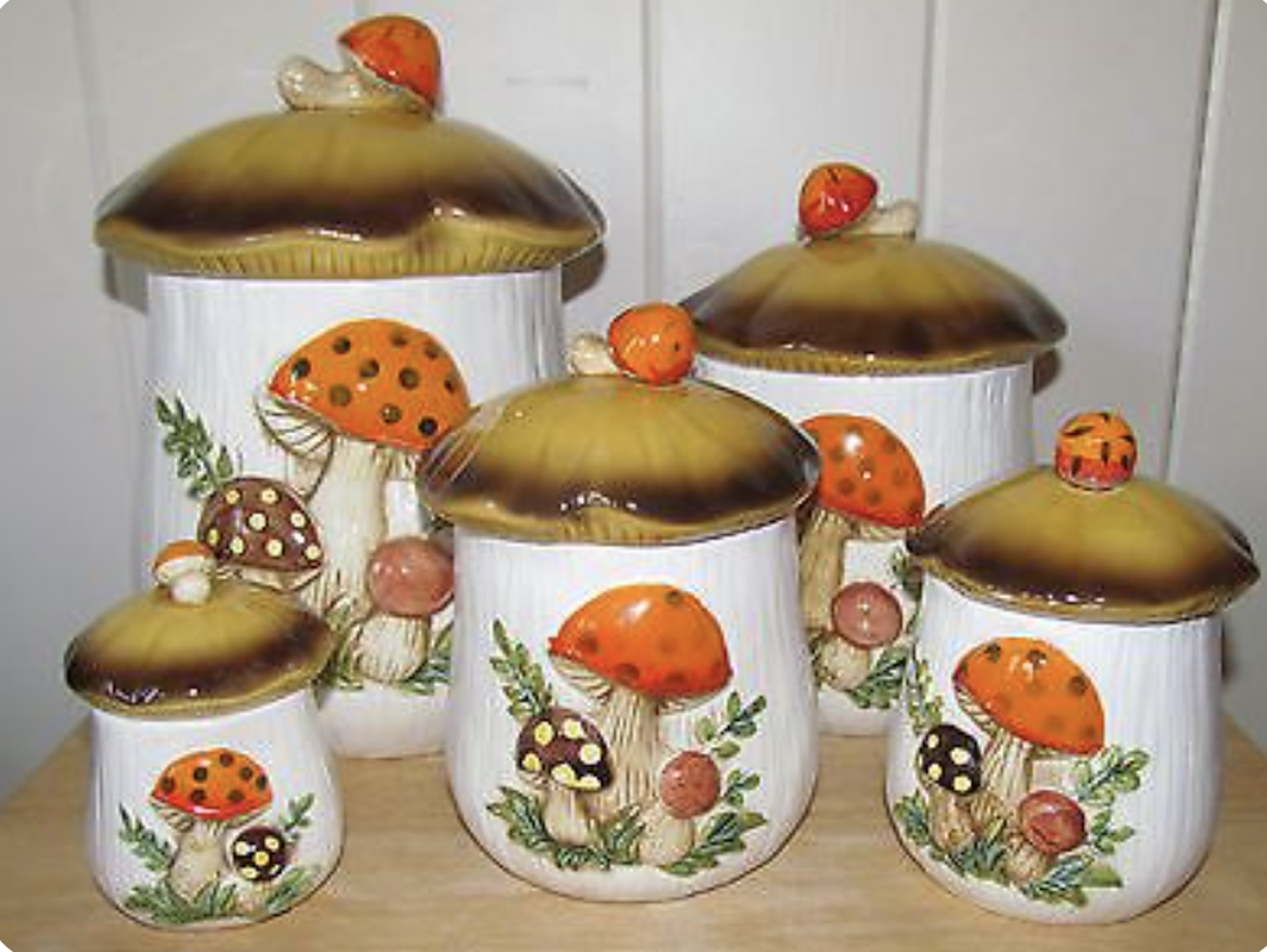 Young people will never understand the hold these mushroom canisters held on '70s kitchens. There's no designer name attached to this specific motif, but the set was a big seller for Sears and even now, when a set is listed on eBay it will note if there is packaging or inscription from the store. On the practical side, the canisters were for flour, sugar and other pantry staples.
Today's version: Thanks to obsessive pantry organizing accounts, clear glass is the go-to choice for many. Seven-piece airtight food storage containers, $42.47 from Amazon.
The 1930s smart fridge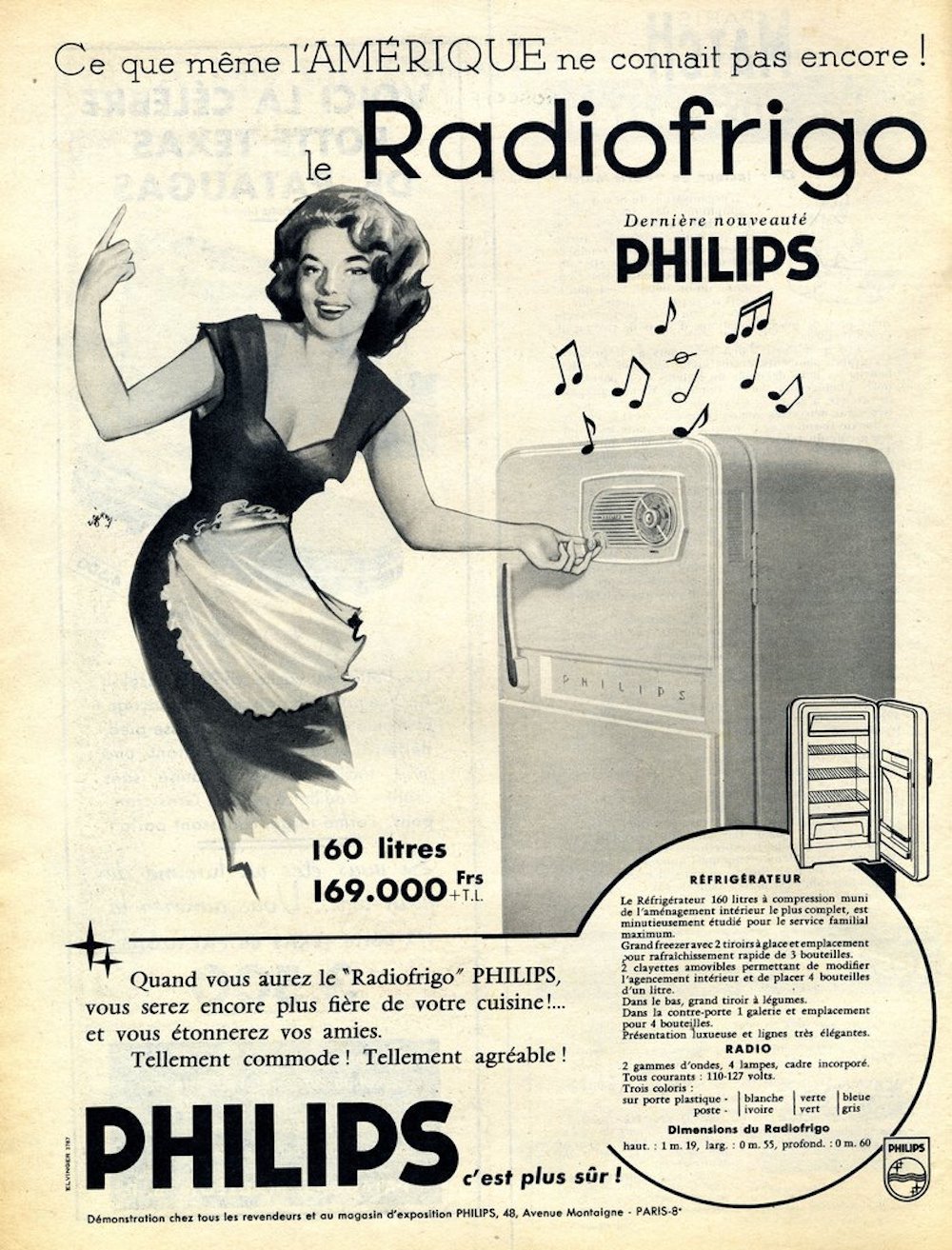 In the 1930s, some homes had fridges and most homes had a radio so a very optimistic person tried to marry the two appliances in order to bulk up radio sales (there's more on that in this Gizmodo story). The concept didn't quite take off but that doesn't mean inventors have stopped trying: fridges have gotten bigger (like double doors and pull-outs), smaller (like mini skin care fridges) and smarter.
Today's version: 36" Samsung Family Hub fridge with 21.5" Wi-Fi touchscreen ($3,199) at Best Buy.
Slap Chop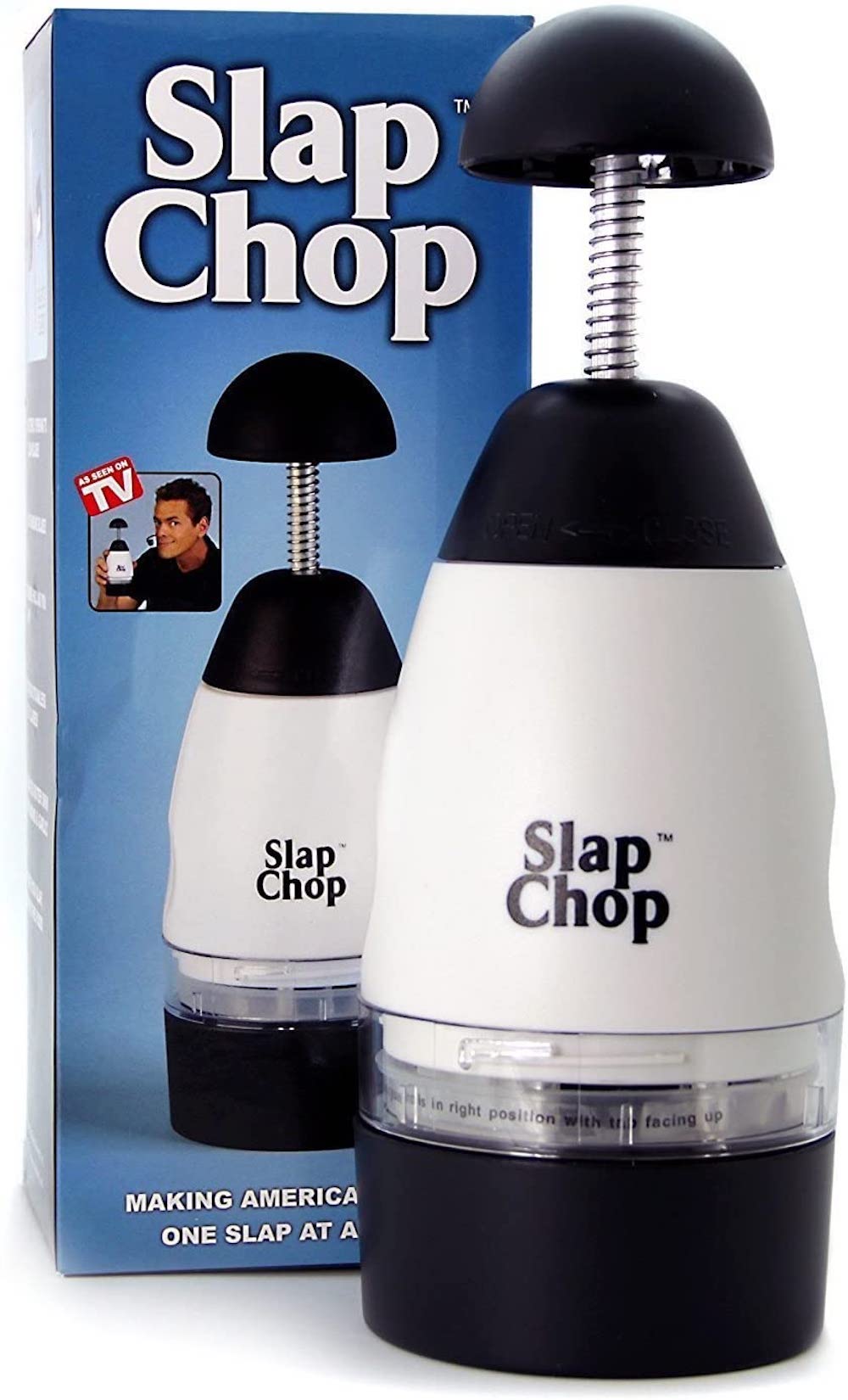 If you watched TV in the early 2000s it was hard to avoid the Slap Chop guy (a.k.a. the Sham Wow guy) who enthusiastically demonstrated how to dice onions, fruits, vegetables and nuts. The "As Seen on TV" product is still available (as are many imitators) and the product and spokesperson have been involved in countless lawsuits and scandals.
Today's version: You can find the Slap Chop on Amazon ($39.99) or a similar Shark Ninja express chop ($34.97 at Amazon) and the Hamilton Beach food processor and mini chopper ($39.99) at Amazon.
George Foreman Grill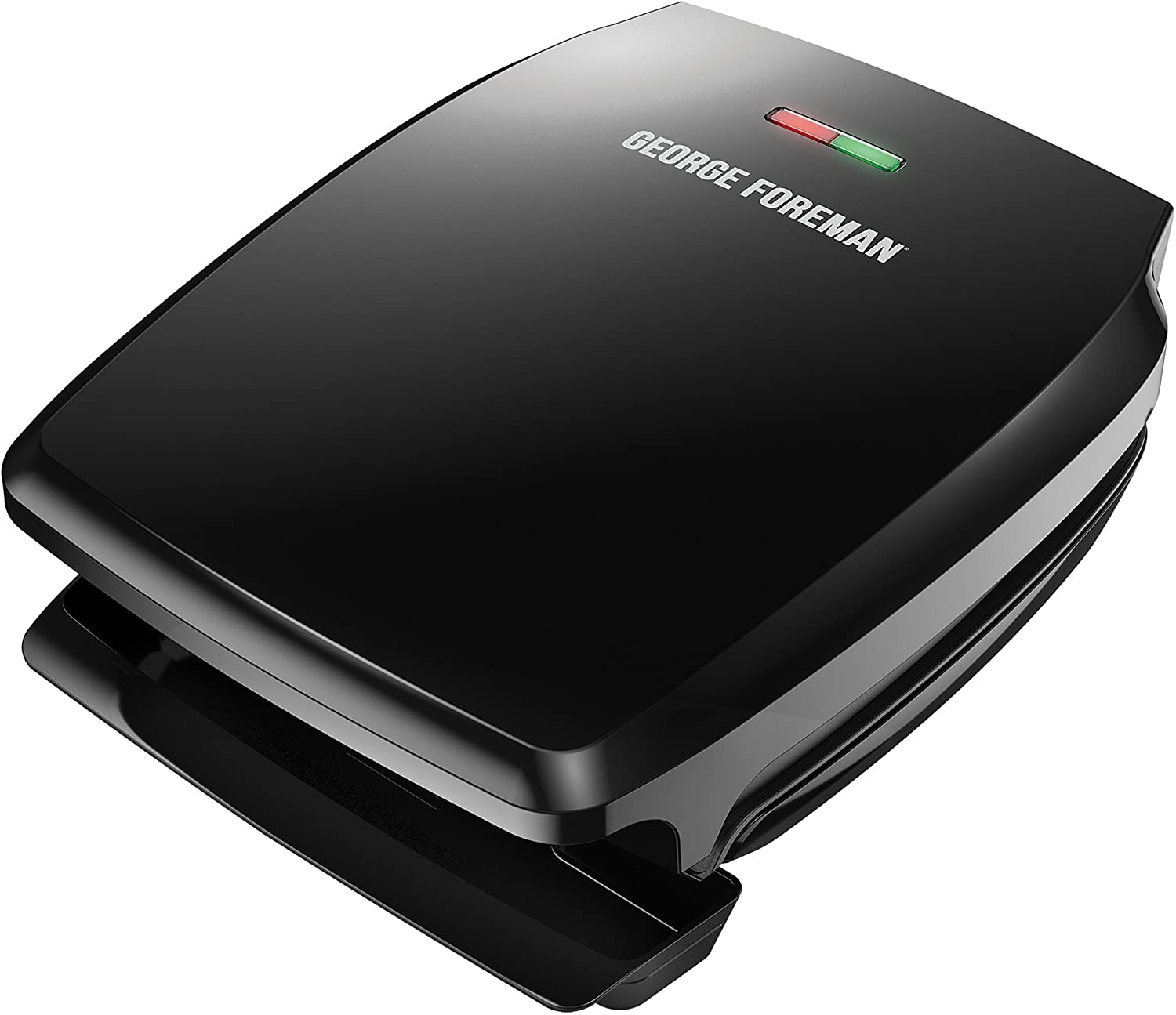 The George Foreman Grill has many claims to fame besides its name: it is one of the best-selling infomercial products of all time and in an episode of The Office, Michael Scott burnt his foot on one. (How's that for product placement?)
Today's version: The George Foreman Grill is still going strong with multiple sizes and price points, as well as excellent user reviews. A four-serving electric indoor grill is $44.71 at Amazon.
Salton Peanut Butter Maker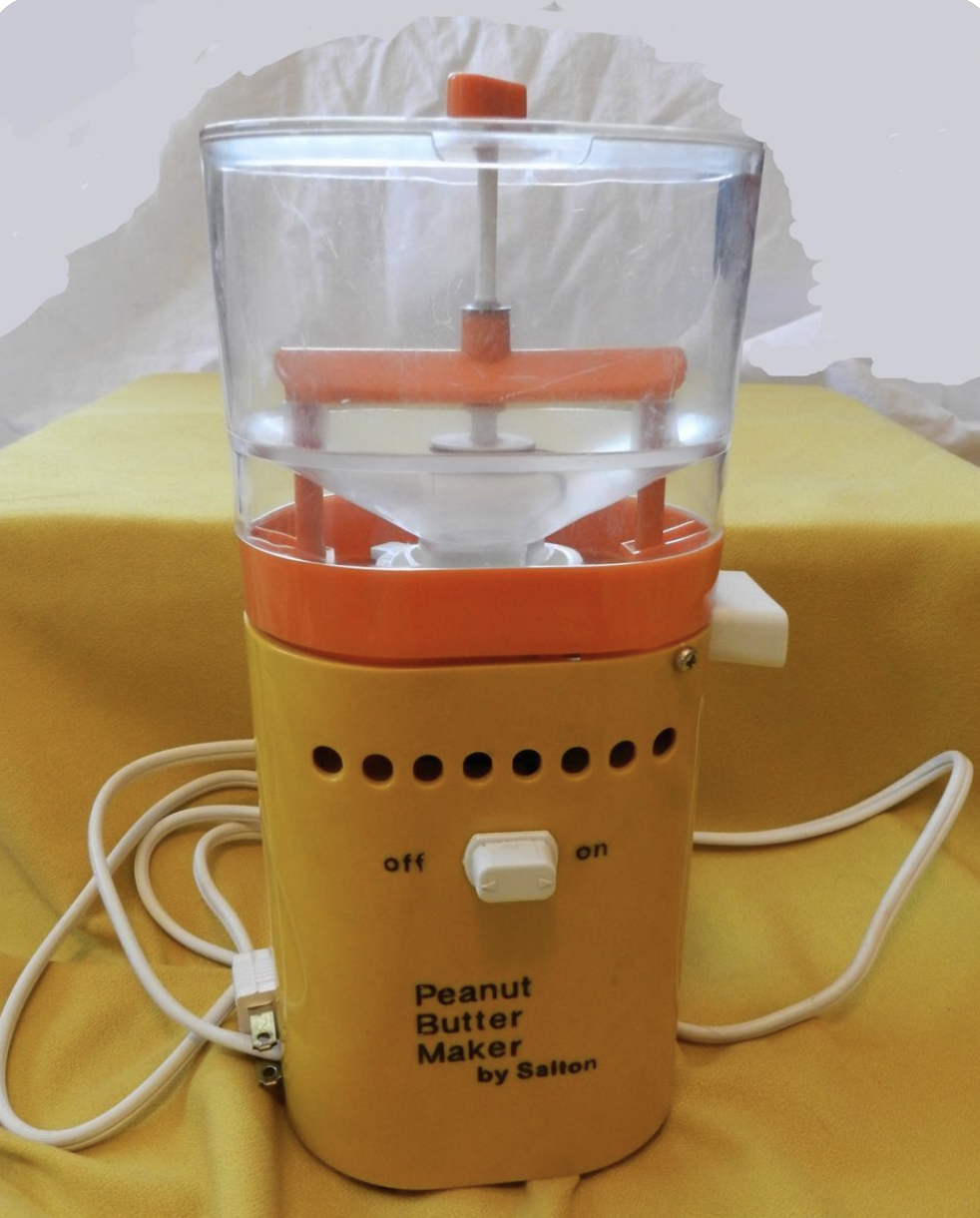 Craving a fresh scoop of peanut butter? Enter the Salton Peanut Butter Maker, which churns up PB right in the kitchen to preferred specifications (like chunky or smooth, salted or unsalted). While this kitchen appliance never really took off, nut and seed butters are going strong and can be bought fresh or made at home.
Today's version: Believe it or not, electric peanut butter makers are available (but don't get very good reviews); instead, a food processor can blend those butters and handle other kitchen tasks like chopping, pureeing and dicing. Ninja Professional Food Processor, $129.98 at Amazon and Breville Sous Chef Food Processor (12 cup) is $399.99 at Best Buy.